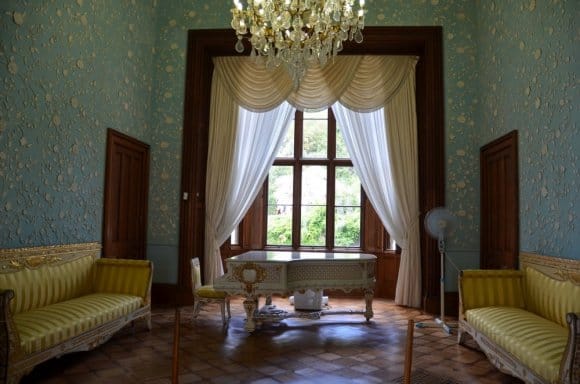 [ July, 2013 ] The piano in this picture was played by Rachmaninov.
The chandelier above shook when Chaliapin sang there.
The surrounding wall was made by hand and the each flower is different slightly.
This is Vorontsovsky Palace which is 16 km west of Yalta.
It is the third Crimean governor, Mikhail Vorontsov's residence.
They started building this in 1828 and took 20 years to complete.
Mr.Vorontsov spent his youth in England, so he was influenced by England a lot.
So he chose an English architecture to plan this palace and as a result this palace is quite Anglicized.
I was impressed to see a balcony high in the wall in the grand hall for musician to play for the guests.
The musicians came to this balcony through a breezeway from a separate building for servants.
Every corner seemed to be made very nicely and it was worth looking.