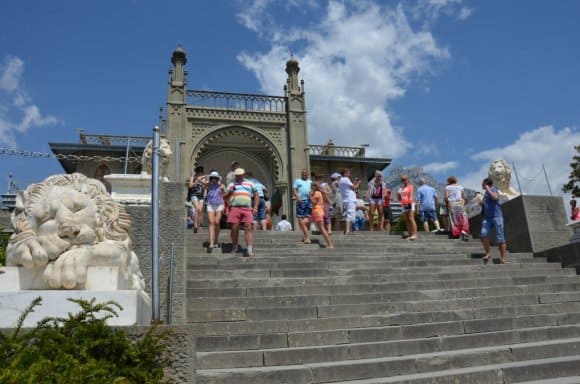 [ July 2013 ] Regarding the exterior of Vorontsovsky Palace in southern Crimea, the land side is Anglicized, but the sea side is more like somewhere in northern India.
That is because in those days of early 19th century, this kind of design was trendy in Britain.
The elaborate entrance facing the garden was copied from Taj Mahal apparently.
There are a few statues of lions in the garden and one of them is sleeping.
When Churchill stayed here in 1945 for the Yalta Conference, he liked this sleeping lion very much, saying it looked like himself.
He even wanted it.
Actually he had an expert eye, because according to our guide, this sleeping one was made by an Italian maestro, but others were all done by his pupils.
Of course Stalin did not give this lion to Churchill.
They disliked each other.