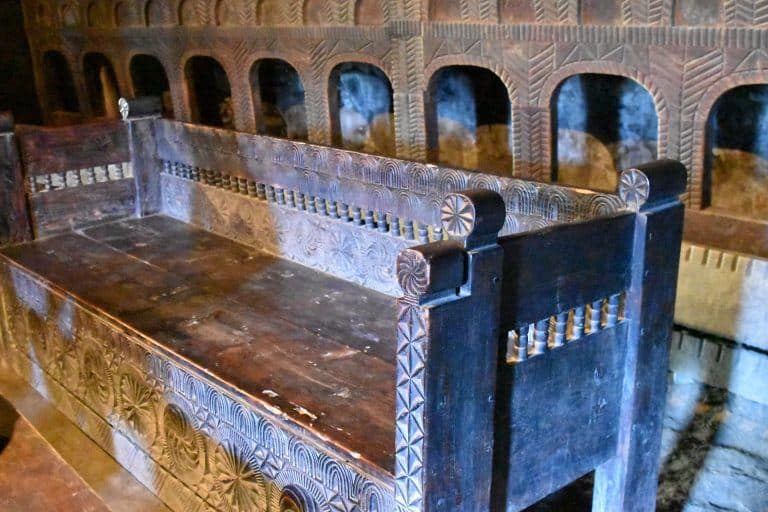 [ July, 2018 ] On the next day in Mestia in Svaneti in Georgia, the weather was fine.
Our hotel, Banguriani Hotel, had a great view and there were no problems,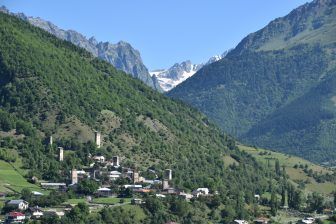 but the water supply was cut twice during our stay.
According to the hotel staff, it was a problem not only in this hotel but all over the town and they had not had this problem before.
Anyway, on the day, we first visited the house of Margiani's, an old and wealthy family in this town.
This place is now a museum.
They were rich enough to have as many as 8 towers and they were living in this stone house rather than in the towers even in the old days.
We had a tour of this house.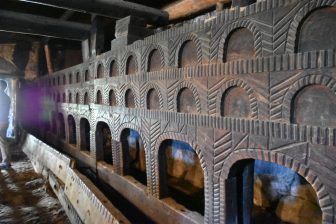 Although they were rich, they lived together with their animals.
There was only one room and in the centre, there was a fireplace.
People sat around the fireplace and the animals lived behind the surrounding partitions.
Apparently, they made the fireplace first and built the house around it.
The head of the family sat on the carved chair and near him, the more important family members sat in order.
They slept in this room, too, which means that they did not have any privacy at all.
The animals were there, too, so imagine the smell!
The carvings on the furniture, including the symbols of the sun, were beautiful.
I thought it would be nice if they made some souvenirs using these motifs if they wanted to make this area more touristy.
So far, they only have the model of towers as the souvenirs around here.
There was an upper floor in this house, but historically it was only used as storage.
We went up the tower belonging to this family.
The structure was firmer than the 'Tower of Love' we visited the day before, but still, it was very difficult to go up and down inside the tower.
Just around the corner from this house, a middle aged woman was making and selling the special salt specific to this region.
They call it salt, but in fact it is a spice made of 8 different ingredients, including cumin and coriander.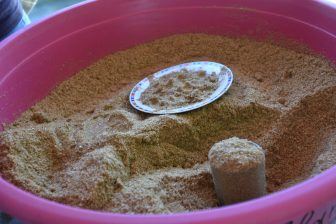 The woman was proud, saying "Mine is made in the proper way".
It had a very strong smell.
According to her, they use it with meat and potatoes.
She was selling 1 bag for 2.5 Lari (£0.7, €0.8, $0.95) and we bought 8 bags as souvenirs for our friends.
Since then, the inside of our car smelled of this spice all the time.
We bought a container similar to Tupperware and put them in to carry them back home.