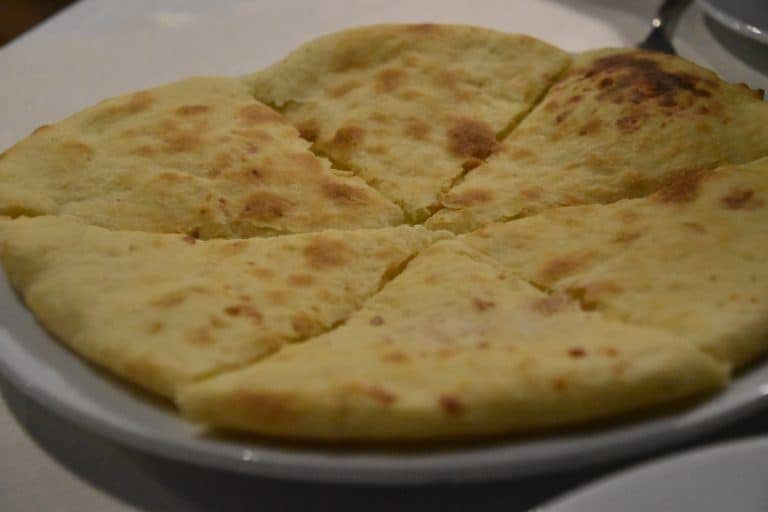 [ July 2018 ]  On the first day of our holiday in Tbilisi in Georgia, we went to have a bath in the hot spring bath house, as we had booked after 6pm.
There are many bath houses around this area, but we chose one with a gorgeous Islamic pattern on the entrance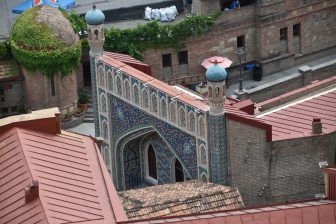 because our guide, Ana, had recommended it.
Here, you rent a bathroom for one hour.
We chose the most expensive one with the hot bath and colder bath, which costs 120 lari (£37, €41, $47) as well as the massages (20 lari per person).
We entered our room and found that the first room had a changing room and an area with a table and chairs where we could relax.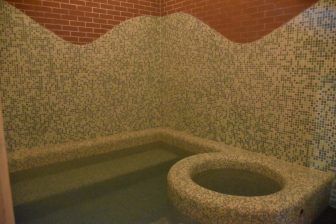 The second room was showers and the sauna and the last room had bathtubs and a table made of tiles.
It was too big for just the two of us.
People probably rent this place as a group of 4 or 5.
According to Ana, people can have the bath naked, but we wore swimming costumes just in case.
Because we are used to the hot spring baths in Japan, we did not get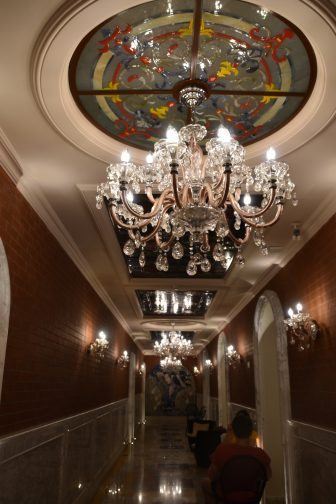 surprised, but had a good time soaking in the hot bath and relaxed.
My husband looked into it on the internet and found that the hot water here is good for bronchi and bones.
By the way, the time was passing, but the masseurs did not appear, so we had to complain to the reception.
Finally the middle aged woman came for my massage first.
What she did was body scrubbing.
I lay down on the hard table and she started scrubbing.
Then, she made a huge amount of bubbles using a cloth and put them all over me.
She massaged me and poured the hot water on me at the end.
I have experienced similar massages in Spain and in Turkey, so it was not surprising, but I felt I became clean and refreshed.
After a while, the masseur for my husband came in.
He did the same thing to him but my husband had his head washed, too.
His massage was too strong even for my husband, who is used to strong massages, and had to ask him to loosen up a bit.
Because they came too late, in the end we stayed in the bathroom for about 1 and a half hours but, of course, nobody complained about that.
The receptionists here were not very friendly and not very willing to help the customers.
After the bath, it was the time for dinner.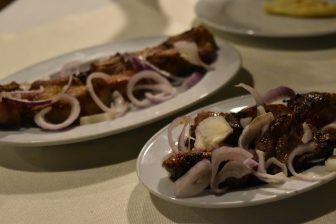 We went to a restaurant called "Bread House", recommended by Ana.
It was a large restaurant and there were seats outside, too, but we chose an indoor one on the first floor.
We tasted one of the typical Georgian dishes called Khacharuri, which is a bread filled with cheese, as well as the grilled veal and pork rib, which were good.
The local wine we had there had an alcohol percentage of 14% and tasted very nice and rich.
So it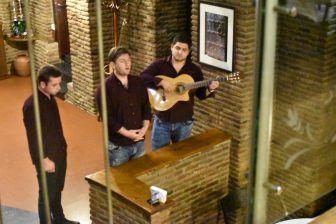 is true that the sweet Georgian wine is something of the past.
Some musicians came and sang some songs with lovely harmonies.
We had a plate of water melon and melon for dessert.
The melon tasted strange, but the water melon was excellent.
The bill was 115 lari, which I thought was reasonable at that time, but in fact this was the most expensive dinner we had on this holiday.