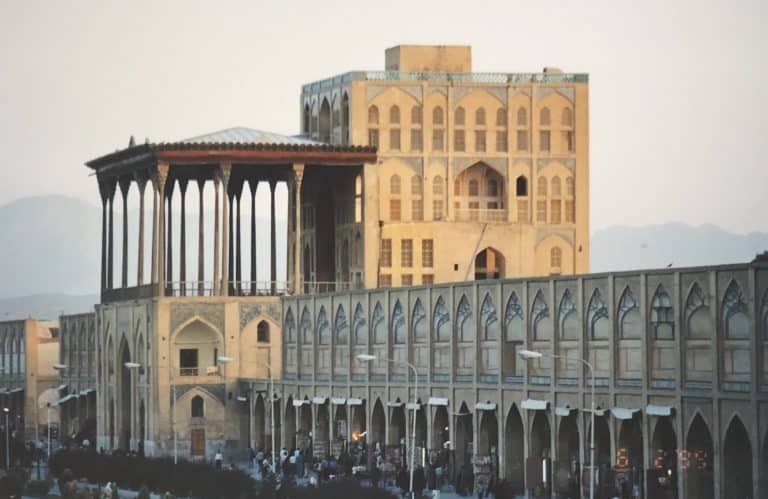 [ Jun.1999 ] In Isfahan, the ancient capital in Iran, we walked towards Vank Church from our hotel after lunch.
On the way, we came across a carpet shop.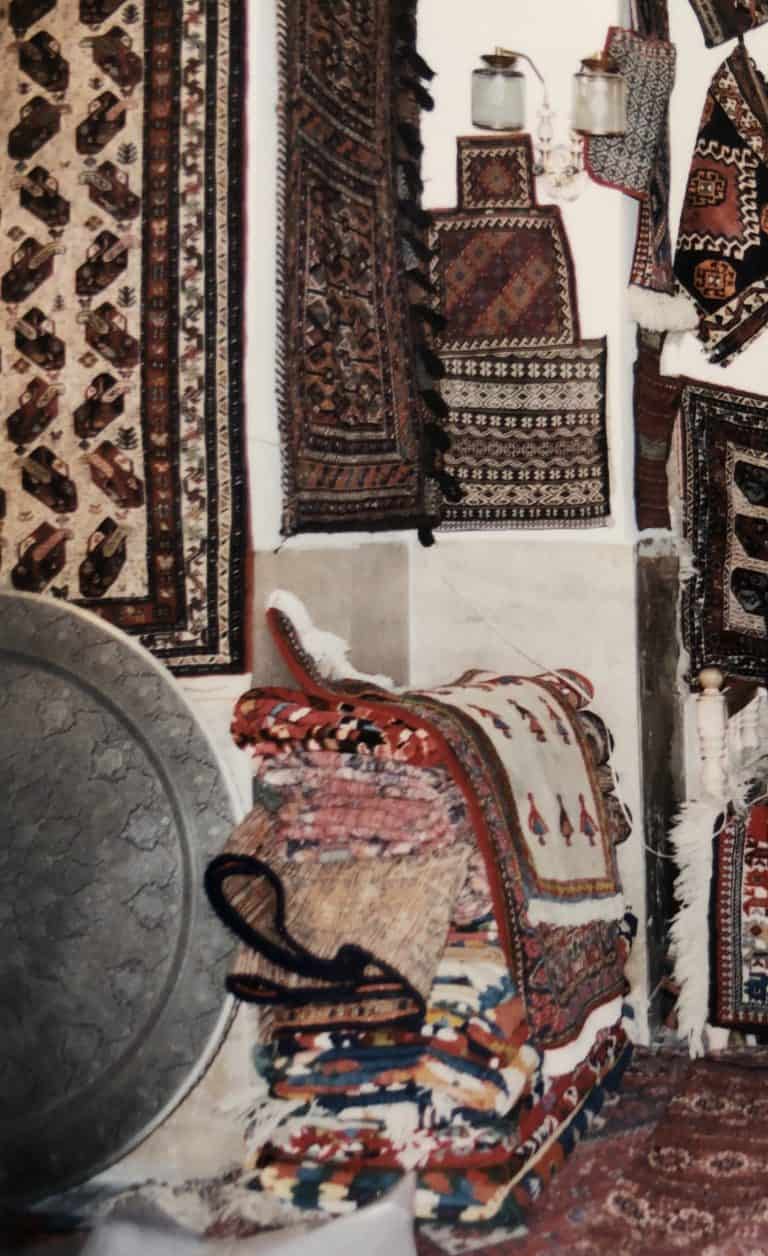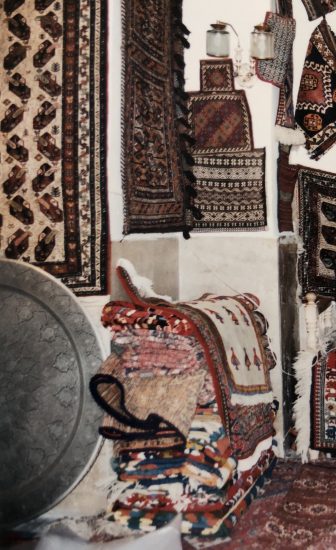 I popped in just to see what kind of carpets they have and to get some idea about prices, but ended up buying a couple there.
One was a knotted rug woven by Baloch people, nomad people who lived south eastern Iran and the other was flat woven Sofreh of Shahsavan people whom we had met earlier in this holiday.
And I paid 400 dollars for them after negotiation.
Sofreh is a square cloth that the nomad people put down when they eat and all the foods are served on it, so it is a a sort of tablecloth.
As a rule, foreign tourists can buy one knotted rug per person (as of 1999).
The antique knotted carpets could be an investment as the price were going up and up.
According to our guide, Khalil, even an expert was not necessarily able to tell how old the carpets are and where they were originally from.
Anyway, I did not buy them for investment.
I was very satisfied just because I liked the colours and the pattern and the price was reasonable.
So I visited the Vank Church feeling happy.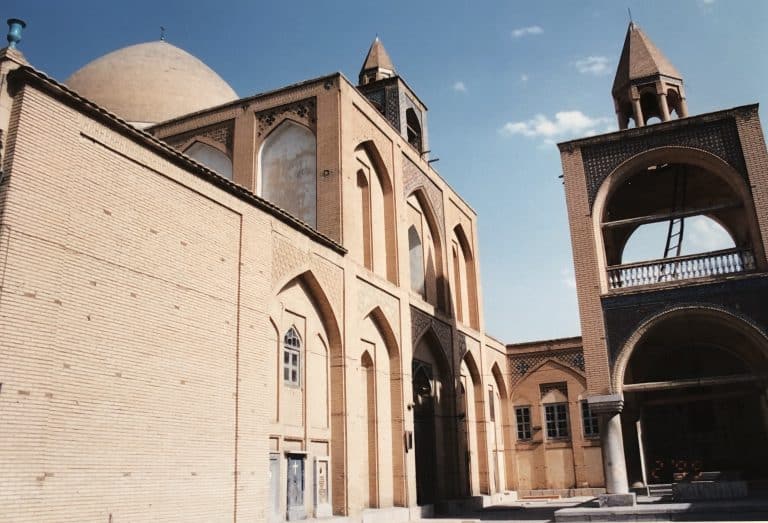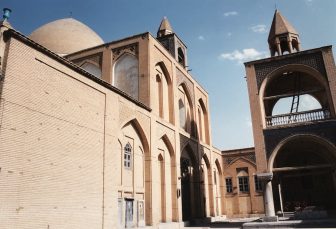 Vank Church is a Christian church for Armenian people who were forced to come here to help building the city when Isfahan became the capital at the wend of the 16th century and they started building it in 1606.
Inside the church was full of frescoes and in its museum there were many historical treasures, but the most interesting thing for me was the writing on a hair.
I wondered if Christians were oppressed in those days and that was why they made this kind of artifact secretly, but in fact, apparently the Abbas the Great who brought Armenians here protected them.
After the church, we went back to Imam Square and visited Ali Qapu Palace, which we did not visit this morning.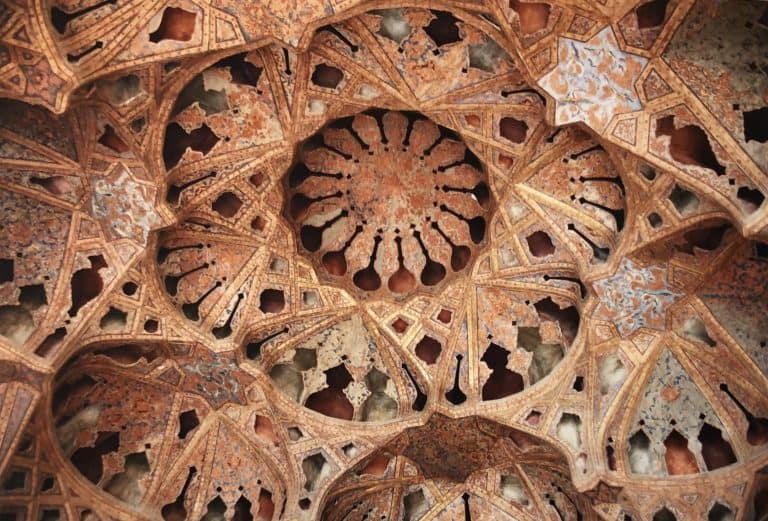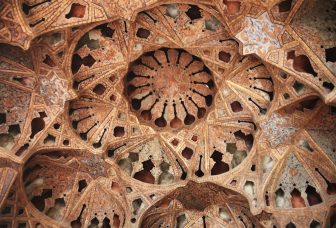 This palace had been here before the square was built and Abbas the Great expanded it.
The music hall in the palace was beautifully decorated in pale pink, which gave me a great impression.
Then we had a rest at a cafe facing the square.
There was a group of old German tourists and behind them, there was a young man standing alone, who looked like a Japanese.
I talked to him.
He told me that he was travelling overland from India to Istanbul in Turkey for three months.
He said that his image of Iran improved very much since he arrived here.
The roads in Iran were in good condition so he could sleep well during his travelling on the night buses.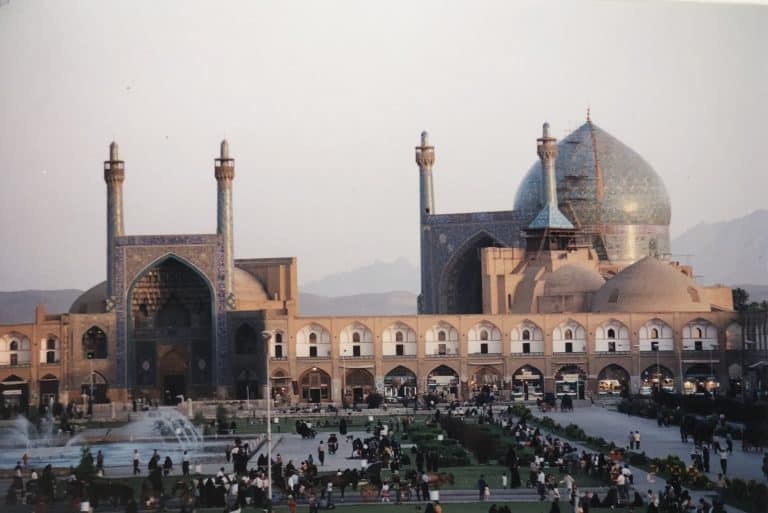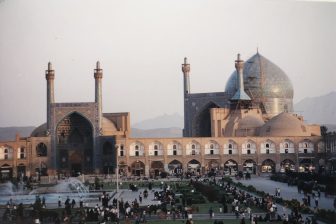 Apparently in his hotel, there were about 15 Japanese people who were travelling alone like him.
Later, I met one girl who could be one of them.
She has been in Iran for about two and a half months already and in Isfahan for three weeks.
It could be that Isfahan is another backpackers' gathering spot like Turpan in China or Marrakesh in Morocco.
While we were doing the last shopping, it was getting dark.
We went to see the two bridges over Zayandeh Rud River.
It seemed that the riverside was the hot spot for the locals to spend evenings.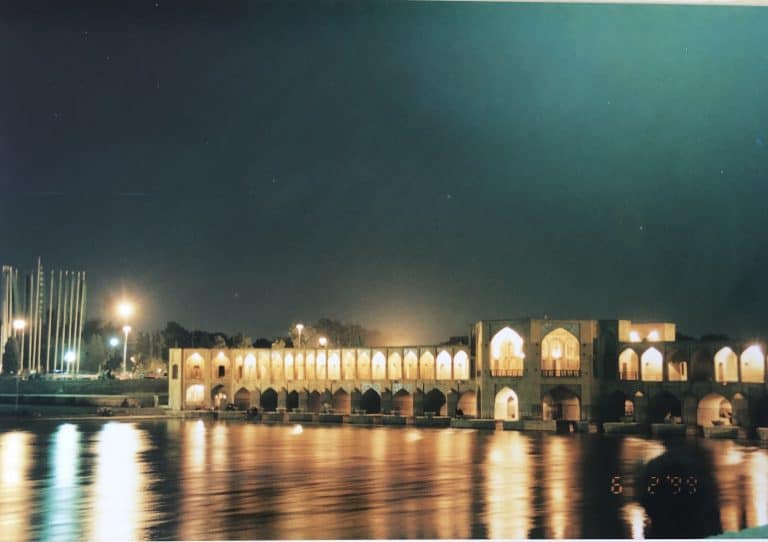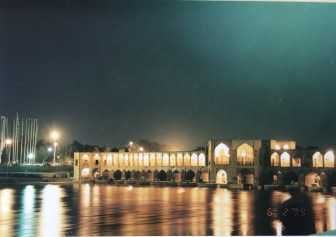 There were many people hanging around in the dark.
We listened to the flute on Khaju Bridge and listened to the loud singing under the bridge.
And we ate a bowl of soup with beans, noodles and some spices for supper at a cafe inside the bridge.
The interior of the cafe was lovely with folksy furniture.