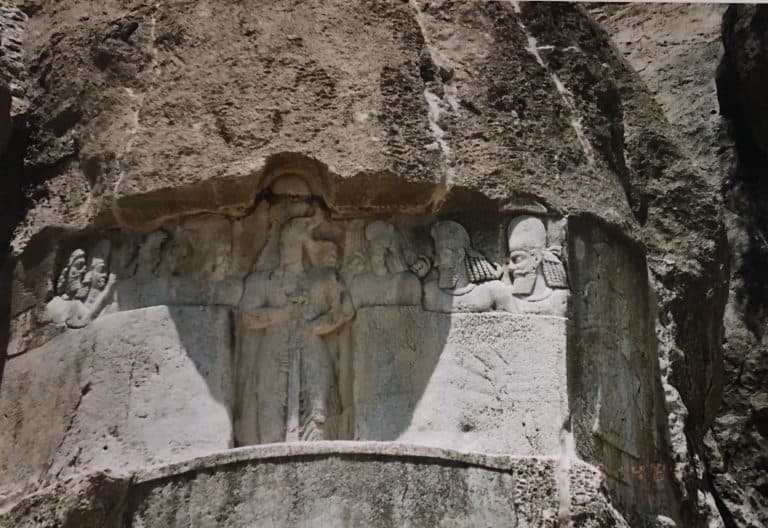 [ Jun.1999 ] Next day after staying one night in Yasuj, the south western town in Iran, we went directly to Shiraz without visiting a waterfall which was in the itinerary.
It was the day of the 10th anniversary of Ayatollah Khomeini's death and today and tomorrow were holidays in Iran.
And according to our guide, Khalil's research, all the tourist attractions in Shiraz were open today, but not tomorrow.
But when we arrived in Shiraz, we found that all the places were closed.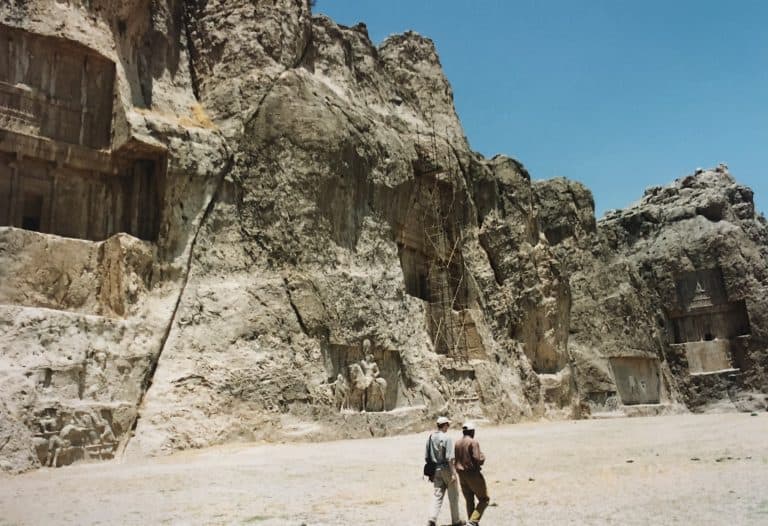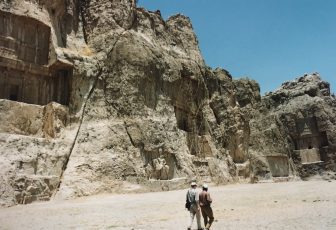 Luckily we managed to get in to only one place, the ruins called Naqsh-e Rostam by asking them to open it.
They were rock reliefs of Achaemenid (the 6th~4th century BC) and Sassanid (the 3~7th AD) periods.
The tombs of Darius I and Xerxes I were here and reminded me of our history lessons all those years ago.
After this visit, we could not go anywhere, so we went back to the hotel and rested.
In fact, this was the first time we had a resting time during our busy holiday, so I did not feel that we suffered a loss.
At 8 pm, we met up with Khalil and Ali, the driver and went to Qur'an Gate.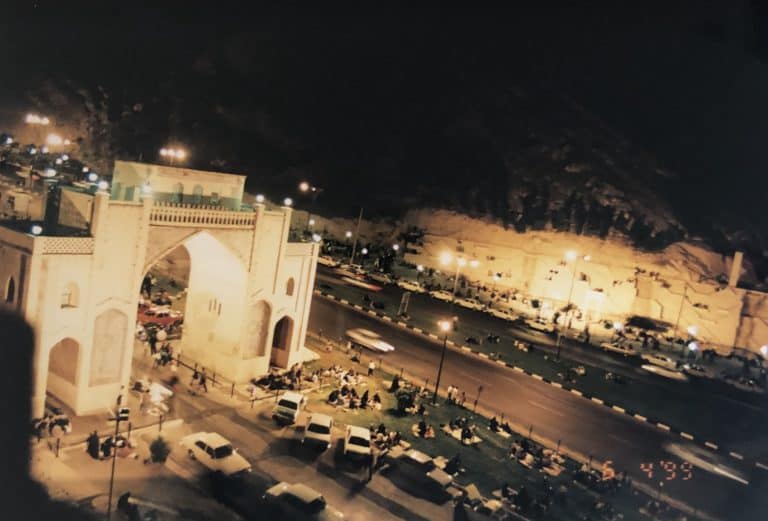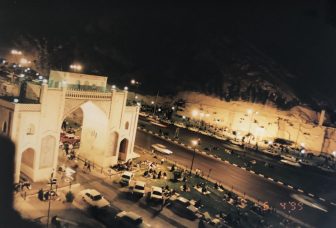 Near there, there was the tomb of internationally famous local poet, Hafez.
And there were many temporary cafes set up around there.
It was completely dark, but there were so many people hanging around.
Some families were even having picnic in the dark.
It seemed that this was the way they spent their holidays in Iran, or at least in Shiraz.
For me it looked rather surreal.
We spent some time at a cafe, smoking Hookah.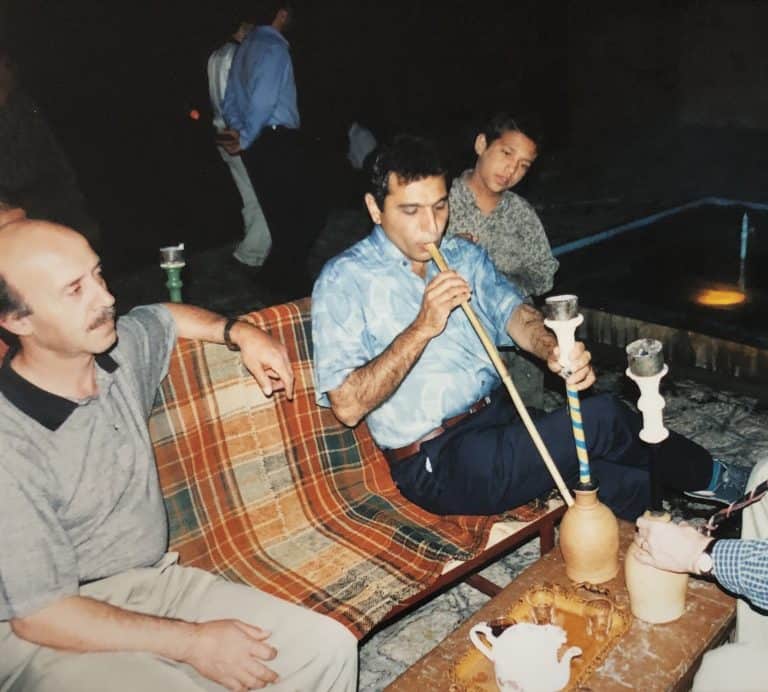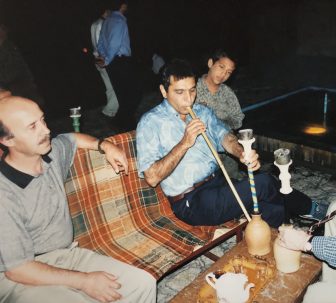 After that, we went to a shrine which was supposed to fulfill your dreams called Shah Cheragh.
It was lit up nicely and very beautiful.
This is the mausoleum of two sons of some noble Imam of Shiah and originally built in the 12th century and a Queen in the 14th century, who had the good artistic sense rebuilt it gorgeously and since then, it has been a pilgrimage site.
If you are a woman, you have to wear a chador which covers from top of your head to your toes to enter here.
They lent one to me which was good, but it smelled sweat…
A woman helped me wearing the chador and secured it using safety pins.
Now I could hardly move.
The inside the building was completely separated for men and for women, so I went into the women's section on my own.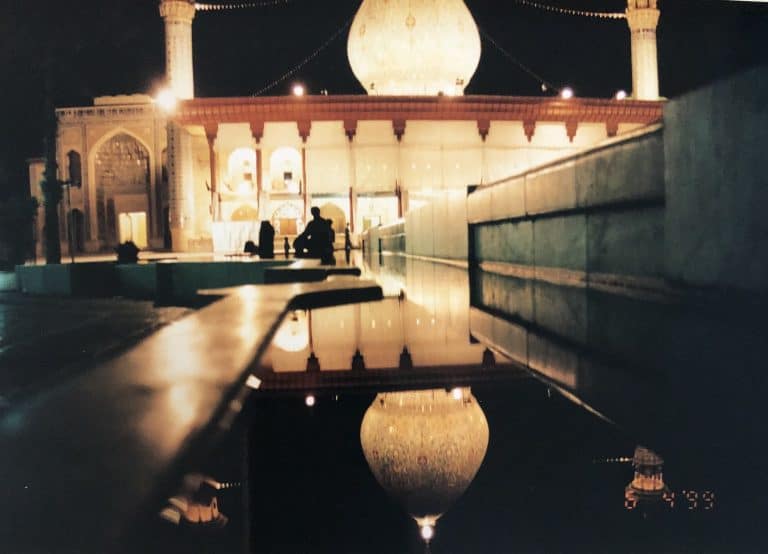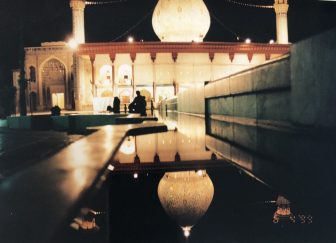 Two calm women helped me separately telling me what to do.
Main thing was that people went around the tomb kissing the fence now and then and wishing things at the same time. 
One of the women called Sara was taking care of me and she invited me to sit down at one point, so we talked for a while.
She seemed proud that she had been to Mecca two months before.
She reminded me of a Christian nun.
It was after midnight, but more and more people were coming into the shrine and it was crowded.
I could see some wailing women.
Sara explained that they had been in difficulties in their lives.
I also saw that a group of disable people sitting or lying down on the floor.
It was really a surreal space.
Later, my travelling companion told me that the men's section was crowded, too and Ali, the driver started hitting his chest being overcome with emotion.
"Those who believe shall be saved" — Well, probably because I believed the merit of this shrine too casually, my wish did not come true.