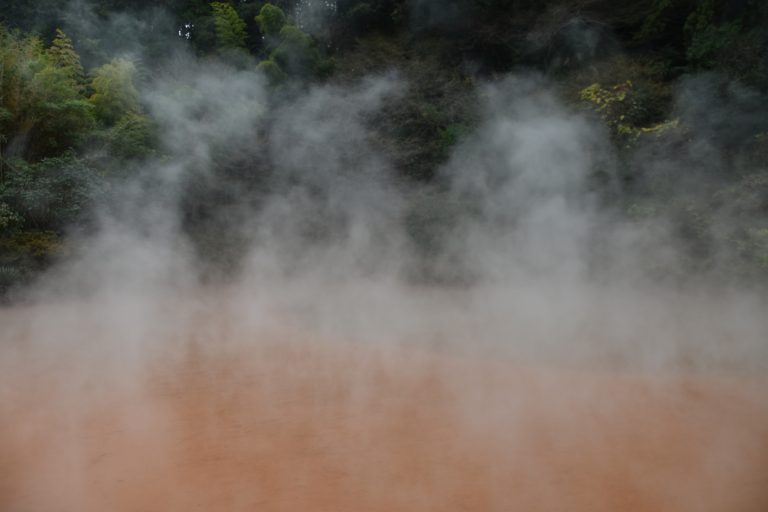 [ Dec.2019 ] In Beppu in Oita in Japan, we did the "Hell Tour", which means visiting 7 places called Jigoku (hells) where the hot springs well up.
5 of them were in Kannawa Onsen area and after seeing these 5, I was quite satisfied, so we decided to go to the railway station without seeing the remaining 2 Jigoku.
We got on the taxi, but my husband seemed to want to see the rest, too.
So I asked the taxi driver if they were worth visiting.
He was not the person who said his opinion decisively, but at least he said "You have bought the combined tickets, haven't you? So you'd better see them".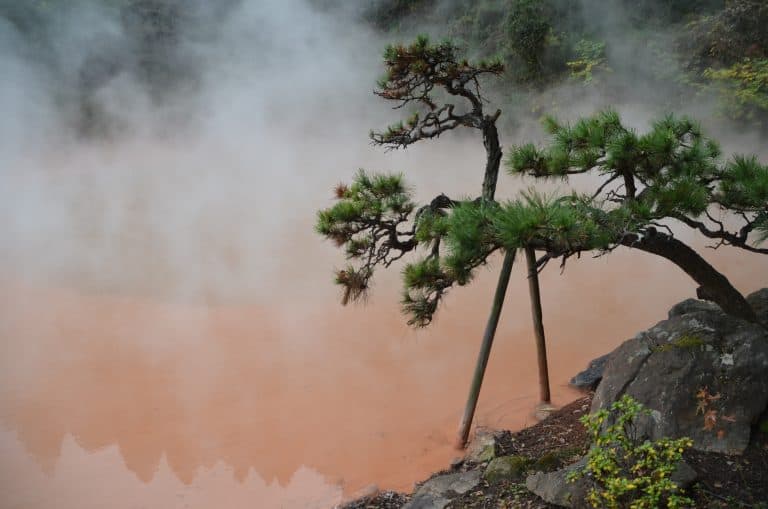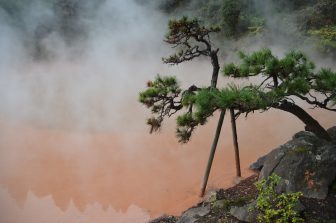 We were already on the way to the station, but because he said that, we asked him to turn around and go to those Jigoku.
And they were quite far away, which made me nervous because the taxi meter went up and up.
Those remaining two Jigoku were "Chinoike Jigoku" and "Tatsumaki Jigoku", which were situated in Shibaseki Onsen area.
When we got off the taxi, we found them next to each other.
First, we visited "Chinoike Jigoku", which means 'blood pond hell'.
According to the leaflet, this is the oldest natural Jigoku in Japan and as the name suggests, it was reddish colour, though because of the white steams, the colour was soft.
Apparently, they make 'Chinoike Ointment' which is effective for skin diseases, made from the red clay produced here.
And in the past, they used the clay for dye, too.
This Jigoku had a good souvenir shop, so we did some shopping here.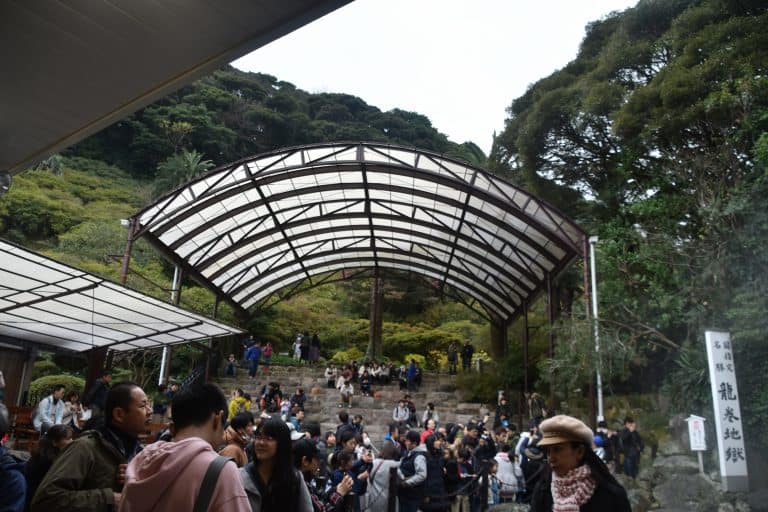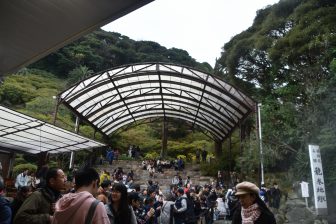 After that, we went to the last Jigoku, "Tatsumaki Jigoku".
This one was different from the others and it was a geyser.
It spouts out boiling water and steam every 40 minutes for 7 minutes.
There were seats for the audience to watch that.
This geyser was at the rocky area, so when I took photos, it looked like a water fall, but in fact the water movement was upward.
The leaflet says that this geyser is famous for its short intervals between spouts, compared with others in the world.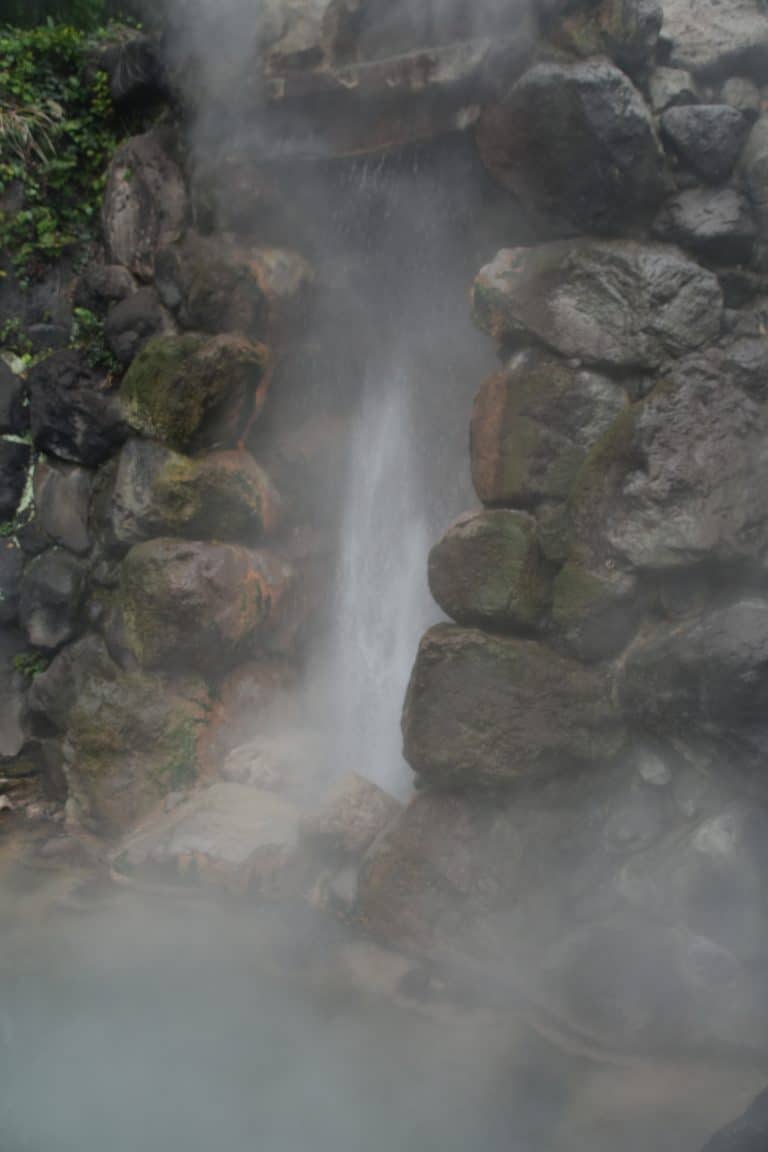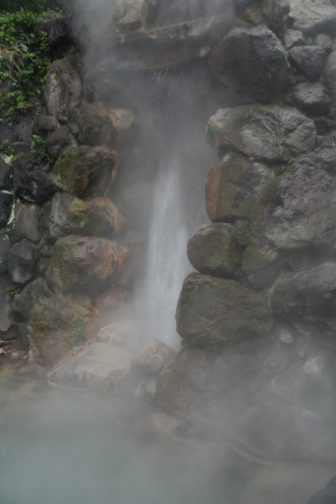 Long time ago, I have seen a bigger geyser in Iceland which was located in the wild nature and that was much more powerful.
And I remember that the colour of the small pond there was amazing blue.
By the way, the leaflet of this Hell Tour has the words by Kon Toukou, a writer who admires Hell, which is interesting so I quote a couple of sentences: "Heaven, as described by Dante, John Milton or William Brake, seems neither beautiful nor interesting at all for me.
However, I find the visions of hell conjured by these literary masters to be tremendously interesting.
The cruelty of beings is so vividly expressed in them that I almost feel that I would prefer to got to hell rather then heaven."
Now, this was the end of our Hell Tour.
This Hell Tour is a must in Beppu now.
Apparently a local businessman called Aburaya Kumahachi established this tour in 1928 and that was the first sightseeing bus tour with a tour guide in Japan.
The sightseeing bus is still running.
Maybe we should have taken that.