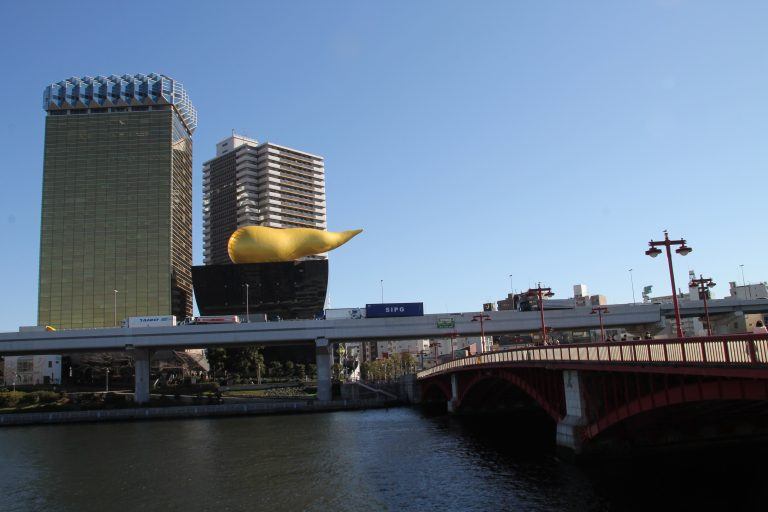 [ Dec.2017 ] We spent our Christmas and New Year holiday in Japan.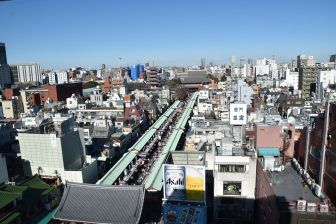 A friend of ours organised a day in Tokyo for us.
We met her in the Asakusa Culture Tourist Information Center in front of Kaminarimon.
We have been to Asakusa many times including in spring this year, but this was the first time for us to get into this place.
It is run by the local government of Taito-ku ward and they provide information for many foreign tourists in Asakusa among other things.
We went straight up to the observation terrace on top.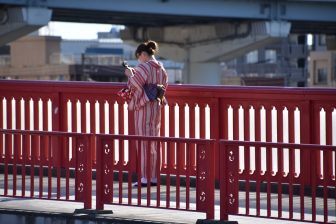 It was very interesting to see the Nakaqmise Dori street in which we have walked many times from above and it looked close, too.
The weather was very good.
In winter in Kanto region where Tokyo is, they have many fine days, though it may be cold.
After looking at the view, we crossed the red Azumabashi bridge to the famous Poo Building whose proper name is Asahi Beer Hall.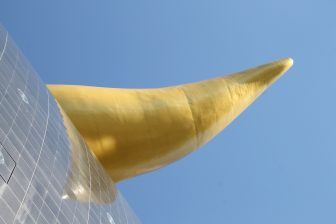 The Goldern Turd symbol has been familiar for long, but this was our first time to see it so closely.
I have been here before they made this object d'art and at that time I watched the fireworks of Sumida River from the beer garden on top of the old Asahi Beer building with my old colleagues.
I checked on the internet and found that they built this Poo Building in 1989.
It was designed by Philippe Starck, a French designer and this symbol is not supposed to be a turd but a golden flame.
But among Japanese people it is famous as the Golden Turd.
I wonder what Mr. Starck thinks.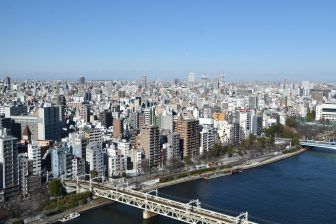 Apparently they completed some maintenance work recently, so it was shining nicely.
We went into the Asahi Beer Tower next door and had rice bowl with seafood on the higher floor.
We sat next to the window and the view was spectacular.
As far as we could see, Tokyo was made up with numerous buildings very tightly built next to each other and nothing else.
After lunch, we took the water-bus on the Sumida River.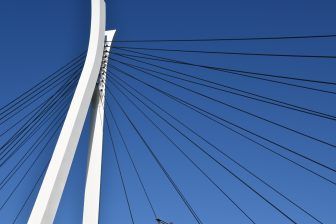 The view on the river was not particularly beautiful, but we had a relaxing time taking photos, going under the various bridges.
We got off the boat at Hamarikyu Gardens.
Because it was winter, no flowers in the garden and the grass was brown, which was not so pretty, but we enjoyed learning about the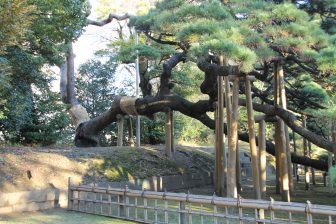 duck hunting in Edo era.
Also we saw a very old pine tree, which was more than 300 years old.
The visitors here were almost all foreign tourists, maybe because it was a weekday.