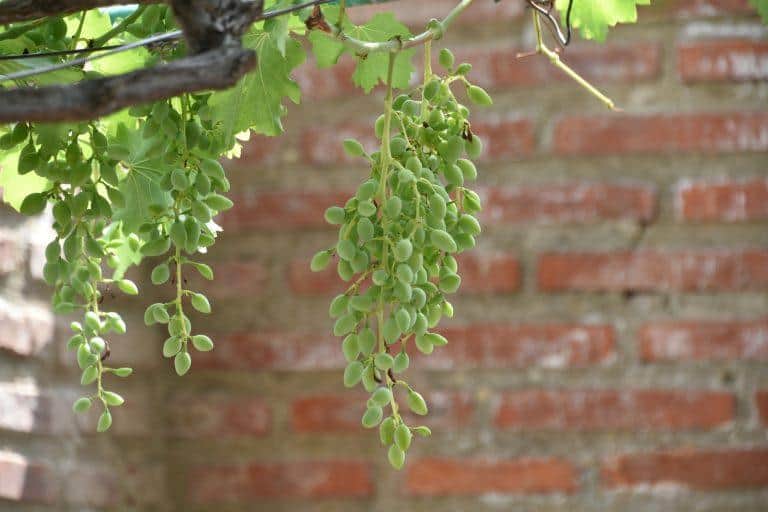 [ July 2018 ] I continue talking about our sightseeing tour in Tbilisi, the capital city of Georgia.
We walked down from the hill where the Nariqala Fortress is situated towards the area of the hot spring, which was the beginning of Tbilisi.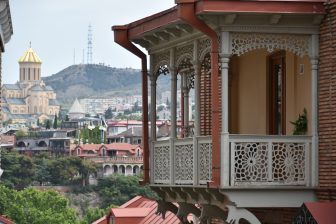 Around here, there were many traditional houses with balconies with elaborate wooden fences.
These houses were originally from the 18th century but the current ones were rebuilt or renovated.
They were lovely and exotic.
Near this hot spring area, there is the only mosque in the city which is still working.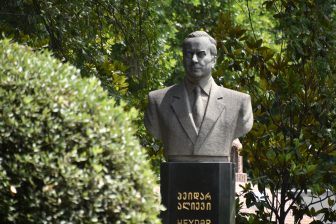 We went to one of the hot spring bath houses, which looked gorgeous like a mosque, and booked for that night.
After that, we went through a park where there is a bust of the former president of Azerbaijan, the neighbouring country.
Our guide, Ana, said "We don't have any statues of our presidents, though".
Apparently, Azerbaijan and Turkey are the two most important trading partners for Georgia.
Georgia exports wine, nuts and, surprisingly, sheep!
We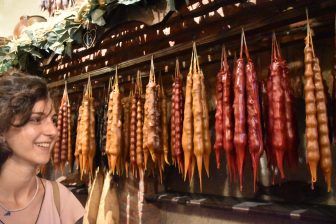 went to an underground passage, which was a big souvenir shop called Meidan Bazar.
Here, Ana introduced us to a kind of sweet called Churchkhela.
They look like candles.
Apparently, these are made by dipping nuts into grape juice and drying them.
Ana's grandmother makes them, too.
We tried them and found that it was an unusual taste, a mixture of nuts with sweet and sour grapes.
If I got used to it, I would probably get hooked.
Then, we went out of the city centre to the Open-Air Museum of Ethnography.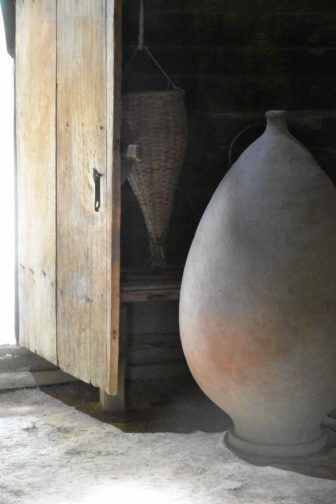 It is a museum of old Georgian traditional houses, which were removed from their original locations and reconstructed here.
We have visited this kind of museum in Bucharest in Romania, Stockholm in Sweden and Chiba in Japan.
What we learned here was that Georgia is the birthplace of wine.
Apparently, they have been drinking wine since 6,000 BC.
It is proved by some specialist groups from the different countries.
However, the wine-making method was different from the European way.
The Georgian way is that they put the wine in a big pot and bury it in the ground.
That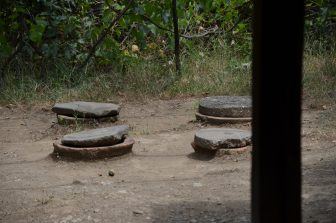 makes the wine last as long as 50 years.
Also, they use the skin of the grapes.
Apparently, nowadays Georgian wineries use the European method, too, but each winery still makes a small amount of wine in the traditional way.
In Georgia, the vines grow everywhere and at least one of the members of each family makes his/her own wine.
Even the crooked shapes of the Georgian alphabet came from the vine trees.
According to our guidebook, Georgian wine used to be too sweet for Europeans, but when Russia banned the import of Georgian wine in 2006, the wineries improved the quality of their wine to be able to sell in Europe and Asia.
We came across some very good bottles during our holiday and we bought some at the airport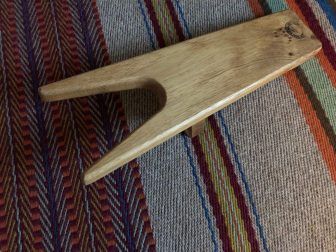 on the way back.
By the way, one interesting thing I found at this museum is a simple wooden tool exhibited in one house.
This is for taking off your boots and I have one at home.
When Ana explained about this tool, I said "I know. I have one." and she looked at me, puzzled.
I bought it in England, though.