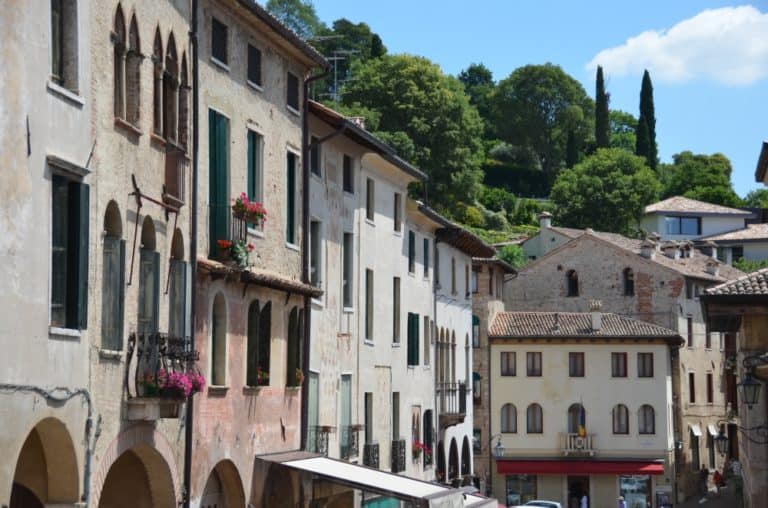 [ Jun.2016 ] We had a short holiday in Veneto in Italy. The first place we went was Asolo, a pretty town on top of a hill. We parked our car on the way up the hill and went up the rest on foot. It is a small town but there were many porticos. The season was just right and the town was full of flowers. Every window had a flower pot, which was making the town very beautiful.
Because it was just about the lunch time, we went into one of the simple restaurants in the portico. The starter was a generous portion of ham, cheese and vegetable. I ate roasted pork for the main, which came with aubergine, pepper and a big piece of cheese. My husband had a rabbit stew with Polenta. Polenta is food originally from around here. To drink we had Prosecco.
Prosecco has been very popular all over the world last few years and it is from around here, too. There was a small old lady who apparently comes to the restaurant every Friday. I was impressed that she was eating a lot.
I learned afterwards that Asolo belongs to "I Borghi piu belli d' Italia (the most beautiful villages in Italy)". It is a private organization which helps small pretty villages which are not so well known to get more popular. It started in 2001 with 100 villages and now there are about 230 villages belonging to it. The places we went in the past such as Pitigliano in Tuscany and Otranto in Puglia are listed there. I would like to visit those villages as many as possible.