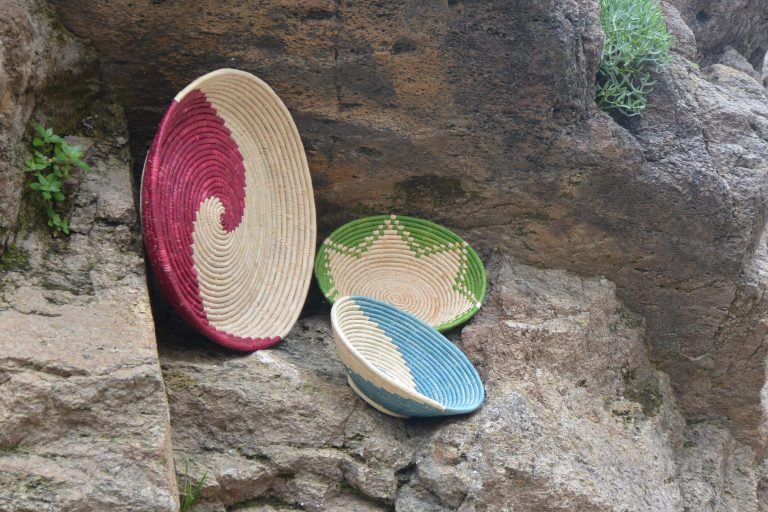 [ May 2018 ] When we were walking in Castelsardo, a town in the north of Sardinia in Italy, we noticed that there were many shops selling knives with sharp blades and colourful handles.
The ones in the shop windows were mainly table knives, but when we entered the shop we found some with  strangely shaped blades.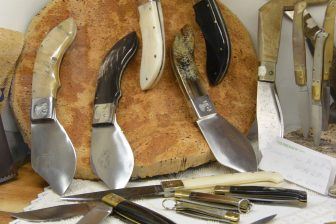 I asked what they were for and the shop person said they were for slaughter.
Oh…
Anyway, we were interested in the table knives.
Because they were all handmade, they were fairly expensive: the set of 6 was €250 and the set of 2 was €150.
After hesitating for a while, we bought the set of 2.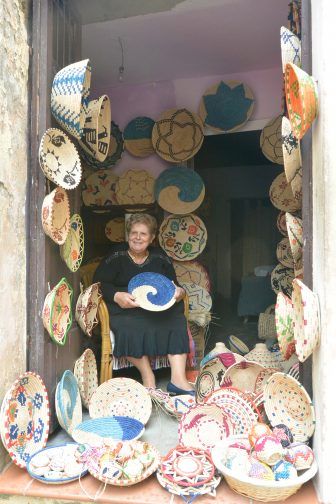 The handle was green and, apparently, this is the natural colour.
They were not made in Castelsardo, but in Pattada, about 90 km south from here, where it is famous for knife-making.
The folding blades, called Sa Resorza, are the original style and their blade has got the shape of the leaves of Mirto trees, which the famous liqueur, Mirto, is made from.
The handles of the typical knives are made of horns of muflon, a kind of wild sheep.
We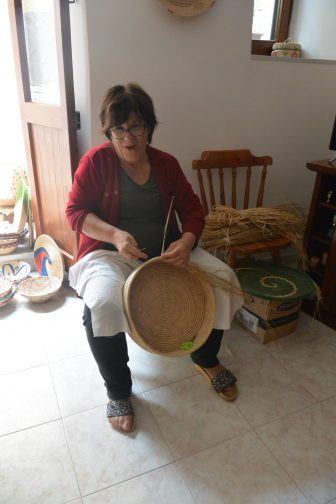 carried on climbing up towards the castle on top of the hill.
This time, we found an old woman who was selling baskets.
She had many goods lined up in an empty room and sat in the middle with presence.
She showed us a big dish like a colander and told us that this was for making Gnocchi.
We bought one of the fairly big baskets with the blue spiral pattern, which was €25.
We walked on and found another house in which a woman was demonstrating the weaving.
In the house, she and her grandmother were there and this grandmother was a good saleswoman.
She started explaining about basket weaving.
There was an antique basket on the wall and she said that she had woven it about 60 years ago.
In the past, apparently, they used to take the woven goods to the town to barter them for food and bed linens and so on.
The weaving technique is inherited from mothers to daughters.
She held one of the baskets up to the sun to show us how tightly it was woven.
The one the granddaughter was weaving was a case with a lid for Carasau, the special bread in Sardinia.
Here, we bought another smaller basket with a more complicated pattern, which was €38.
The grandmother said "This year, the German and French people do not have money. They were good customers in the past".
She may be the most realistic economist.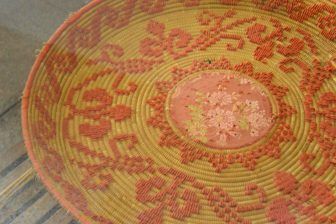 This basket weaving is the important craft of Castelsardo.
The castle we arrived to in the end was the basket museum.
Those exhibited baskets were even more elaborate and refined than the current ones sold in the town.