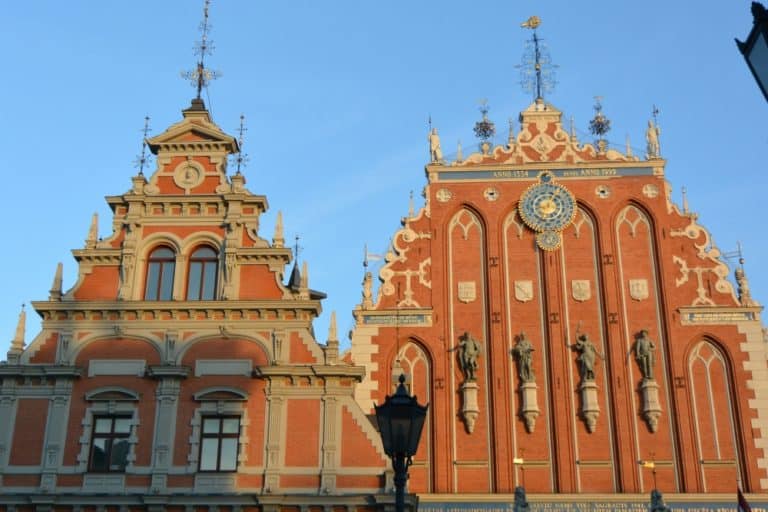 [ July2016 ] I cannot remember where I learned this, but apparently the view of the famous building, Blackhead's House, at sunset is very beautiful, so we set out to see it.
The sunset on the day was 10:19pm. Certainly the view was beautiful with the rich colour of the soft light. Blackhead's House is famous and nearly always used in the photos of Riga. The original was built in 1344 as the meeting place for the members of "Blackhead Brotherhood" which was an association for unmarried merchants.
This association was in practice from the 14th century until 1940 in Latvia and Estonia. The members were notorious revellers and they say that in their prime time, the royalty went to attend their parties in disguise.
After being damaged in 1941, the building was completely demolished by the Soviet government in 1948. But people remembered that a medieval saying "if I should fall, build me again" was written above the entrance, so they started rebuilding it in the late 1990s and completed in 2001. Fortunately they had the blueprints, so it was built as it used to be. Currently not open to the public, it is used as the Latvian Presidental office.
In front of the building, there is the statue of St. Roland, Riga's patron saint. The point of the sword he is lifting is apparently the centre of Riga. From here we moved towards the Daugava River and walked on Akmens Bridge. When we looked over to the west, the sun was just on the top of Vansu Bridge. It was an amazing view. We were lucky to see this as it rained all day next day.