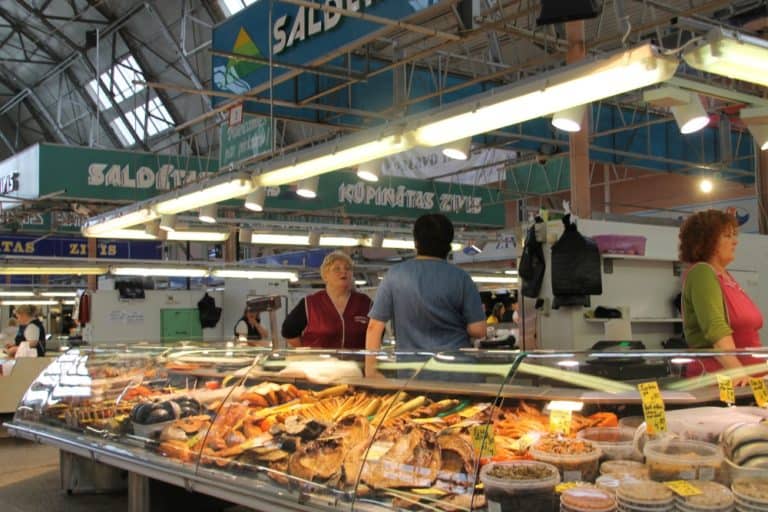 The forecast was correct. It was raining all day on the next day. We went out to see the Central Market of Riga, a huge place consisting of 5 buildings which used to be hangers for zeppelins. The market was only about 200 metres away from our hotel across a big road, but the atmosphere was totally different from the pretty old town of Riga.
Each of the 5 buildings were selling different things; meat block, dairy product block, fish block and so on. The surrounding outdoor area of the buildings was the vegetable market. The vegetables were very fresh and there was an abundance of berries. We could smell dill.
The Uzbek bread seemed popular, so much so that there was a queue. It seemed that the people here were the common Latvian people. There were many older women wearing rather unfashionable clothes and the language we heard was Russian. At the far end of the market, they were selling incredibly tasteless clothing. I suppose there must be demand for that. The bad weather could be the reason for the gloomy atmosphere, but we felt people were poor there.
When we walked further, we saw the Latvian Academy of Sciences, which is an example of Stalinist architecture. This kind of building is found in Moscow and in Warsaw, too. The historical context is not very nice but the building was photogenic.
Next to it, there was a Russian church. A ceremony had just finished and many people came out, so we went in. Women had to wear scarves and there was a kiosk that lent them out. I decided myself that the hood of my jacket was good enough, so I wore it and went in. There were some people kissing the icons. We have seen this many times, but here I felt they were dead serious, more than anywhere else.