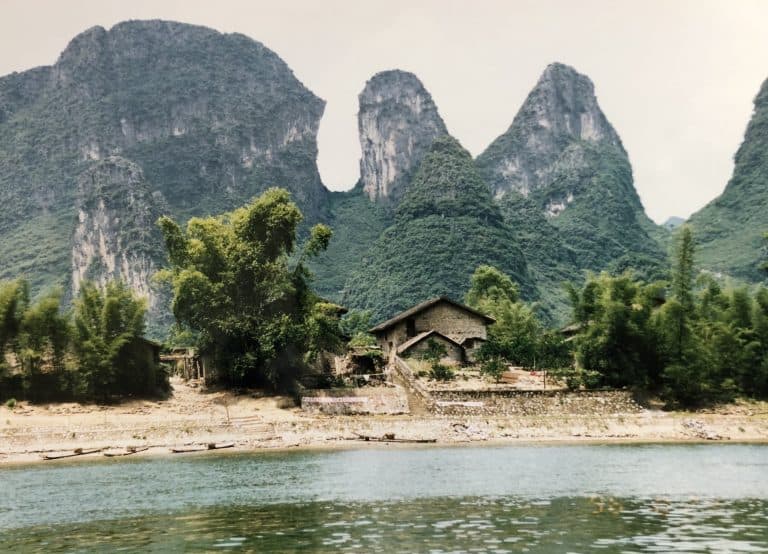 [ Aug.1996 ] On the second day in Yangshuo in China, my bottom was hurting so much that I could not sit on a chair easily and that was because of our tough cycling the day before.
My palms were sore, too and I could not even rest my chin on my hand.
On top of that, my left eye was hurting probably because I had had a lot of dust in the eye during the cycling.
I could not concentrate on my surroundings, which was sad.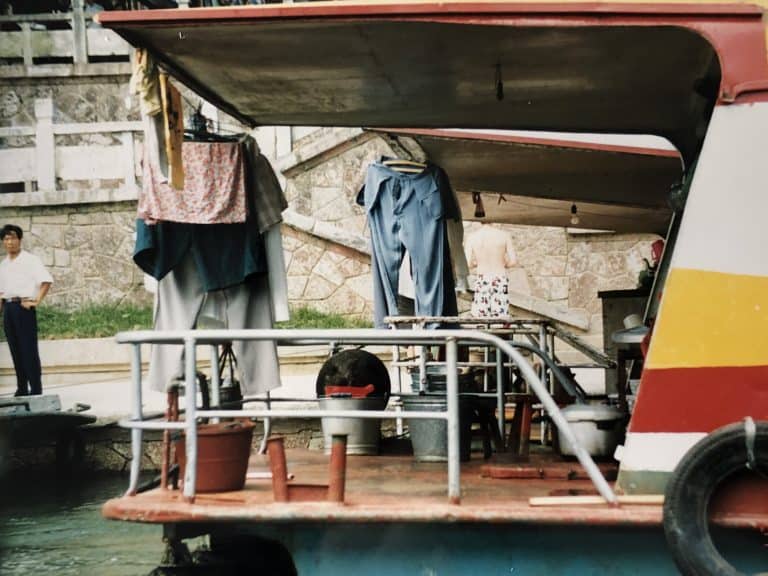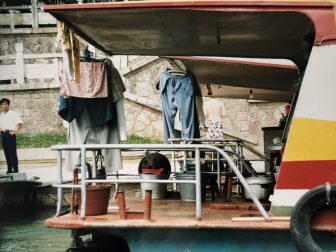 We went to a cafe where Erik, a Swedish man we had met the day before recommended and had square deep fried bread with strawberry jam for breakfast.
They called it doughnut and it was quite good.
Erik came in later and had a Chinese breakfast which were a bowl of rice porridge and some small steamed pork buns.
He seemed to have already adapted himself to China.
His purpose of staying in China was to study about Chinese tea and he was visiting the tea production areas.
He was saying that he was even invited to a village where foreigners could not visit normally.
Our plan for the day was to take a boat trip on the Li River.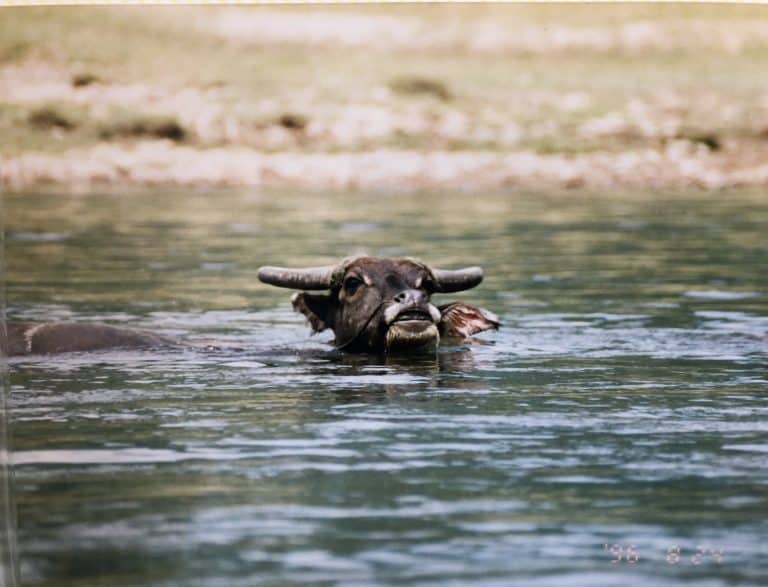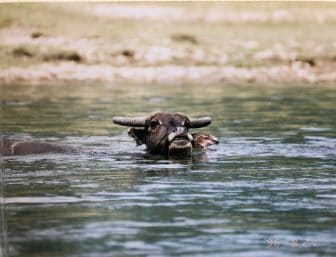 We went down to a village called Xhingping.
The owner of the boat were a couple who seemed living in the boat.
All other boats were the same, they were both tourist boats and dwellings.
The journey took about 3 hours and the view of the first 2 hours was nothing special, though there were some water buffaloes and people working on the river, which were worth taking pictures of.
In our boat, apart from us and Erik, couples from France, Germany and Hong Kong and a stylish woman wearing a silk blouse and a scarf around her neck, though it was really hot, who could be a French.
So it was really an international group.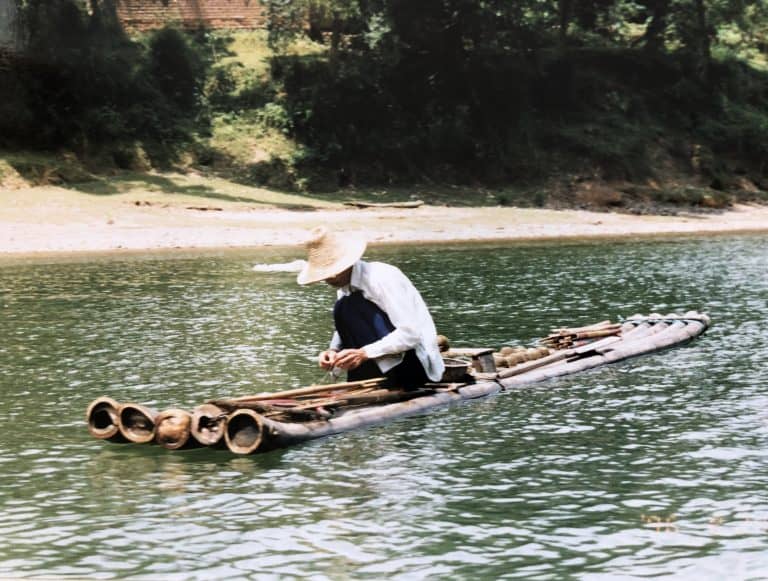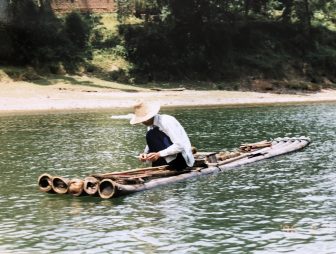 Maybe because it was a weekend, there were so many sightseeing boats like ours on the river and we passed them one after another.
Towards end of the journey, the scenery became fantastic with many jagged rocky mountains.
They were standing just before our eyes.
In the Xingping village where we finally arrived, I had an impression that people here were getting used to see foreign tourists, but that was nothing to do with their life and they kept their living pace.
They were working slowly in the dark earth floor rooms using old tools which probably were used 100 years ago in Japan.
Those rooms were not only working spaces, but seemed bedrooms, too, as I saw a couple of rooms with a proper beds.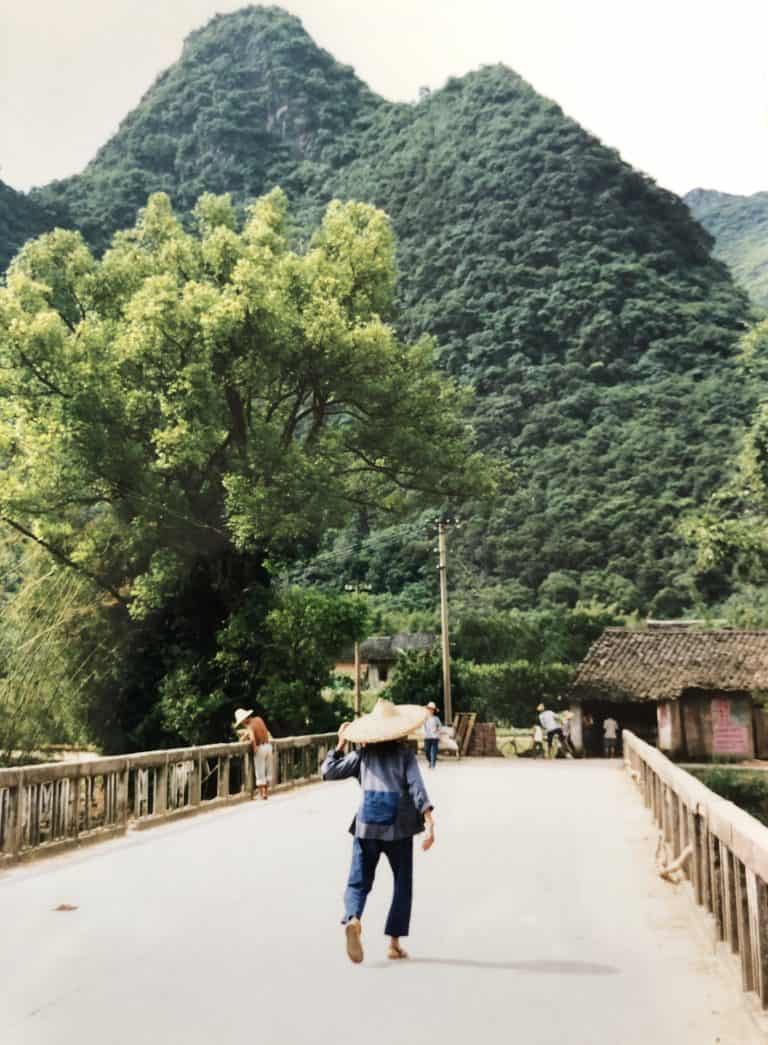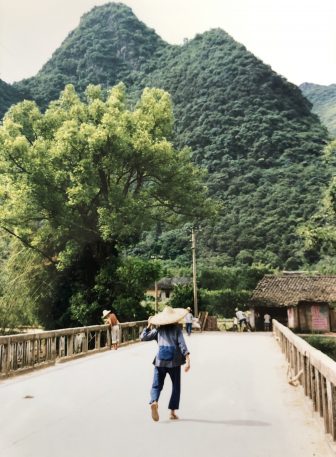 People did not care when we took some photographs of them.
We went into a simple restaurant and a middle aged man came up to us showing a card with the words,"I am an art teacher" in English, Japanese, Korean and others and tried to sell a T-shirt with the picture of a scenery of this area painted by himself.
He was very persistent.
His first price for the T-shirt was 30 yuan ($1=8.28 yuan in those days), which I thought was cheap enough, but haggling was the custom in this situation, so in the end I bought one for 23 yuan.
He was a pleasant man and I felt a bit sorry, thinking "A teacher has to do this…".
The only waitress who could speak English in this restaurant tapped me on my shoulder saying "Chinese and Japanese were the same people 2000 years ago".
I wondered if they were teaching that in China.
After that, we went back to Yangshuo by bus (5 yuan).