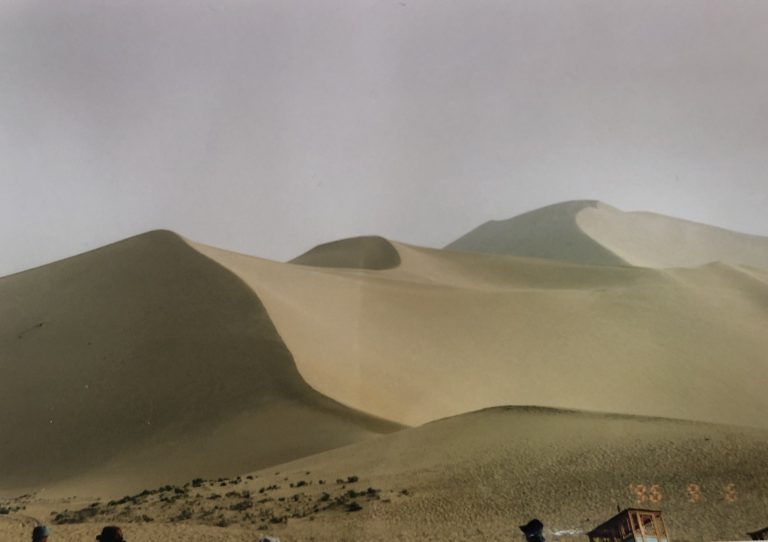 [ Sept.1996 ] From Liuyuan where we finally arrived at after a long train journey from Lanzhou in China, we took a minibus and after over two hours we settled in a hotel called Feitian Hotel in Dunhuang.
The room cost 180 yuan ($1=8.28 yuan in those days) and again the bathroom was not nice, the water from the toilet was leaking.
Dunhuang is a touristy town where many tourists come from all over the world, so there were some cafes for foreigners.
We had our breakfast at a cafe within the hotel premises called John's Cafe.
I had a real cup of coffee after a long time there, though their western foods were not exactly the thing whose name suggested.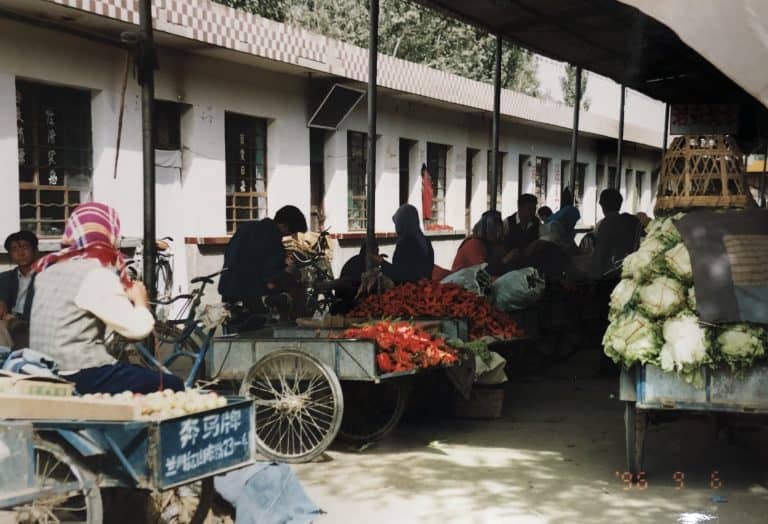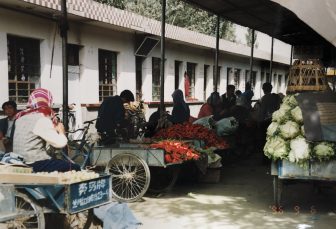 On the day we went to the office of China International Travel Service to arrange the journey ahead.
Apparently the fights from here were not frequent, so we decided to take a train again and tried to reserve the seats.
But they say that they would know if we were successful for booking on the next day so we had to come back here the day after.
After CITS, we walked around the market which was quite large as in Lanzhou.
The difference was that here many of the female vendors were wearing scarves.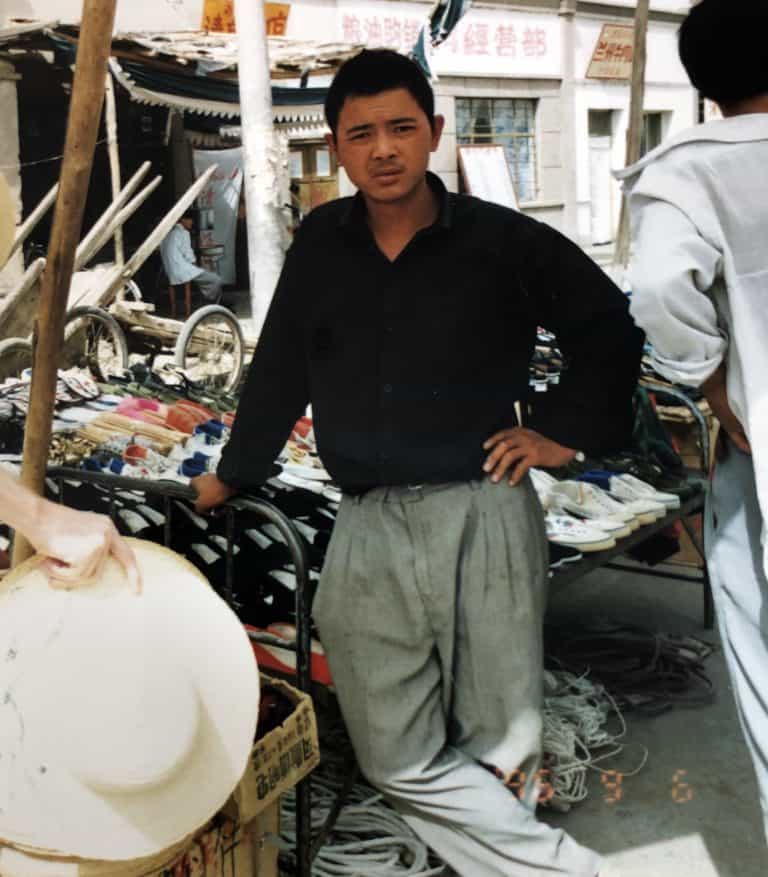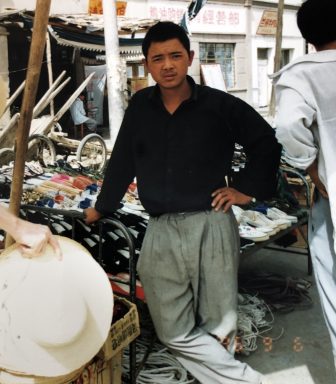 I bought a straw hat for 5 yuan and looked for a string to attach to it.
At a shoe repair booth, I bought a shoe string and then, the vendor made a proper hole on the hat and put the rivet on for me, which was a good neat job.
This reminded me of another shoe repair person who did a good job and the big question was that why those skillful people do the sloppy work whey they made the hotel rooms and particularly the bathrooms.
One answer could be that because whey they demolish a building they do that by hands, so they build hotels in the way that they could break easily.
I saw many scenes that people were breaking houses by hands using hammers.
We found a minibus going to Ming Sha Shan, one of the main tourist attractions in Dunhuang in a street and got on it (10 yuan for return).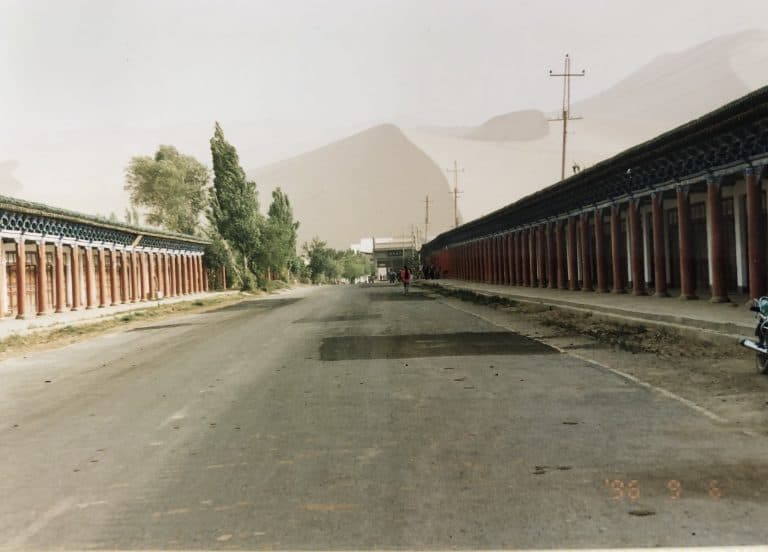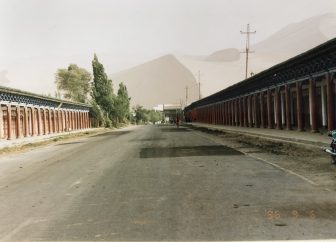 Ming Sha Shan was not far from the town and it took about 15 minutes.
A huge sand dune gradually appeared ahead of the street.
This was breathtaking.
This was the exact image of 'Lawrence of Arabia'.
There were many camels waiting for customers cleverly.
The route to go over the sand dunes and get to the Crescent Lake and back cost 70 yuan.
I thought it was quite expensive, but I would probably not come back here again, so decided to have a ride.
It was not comfortable to ride a camel, though.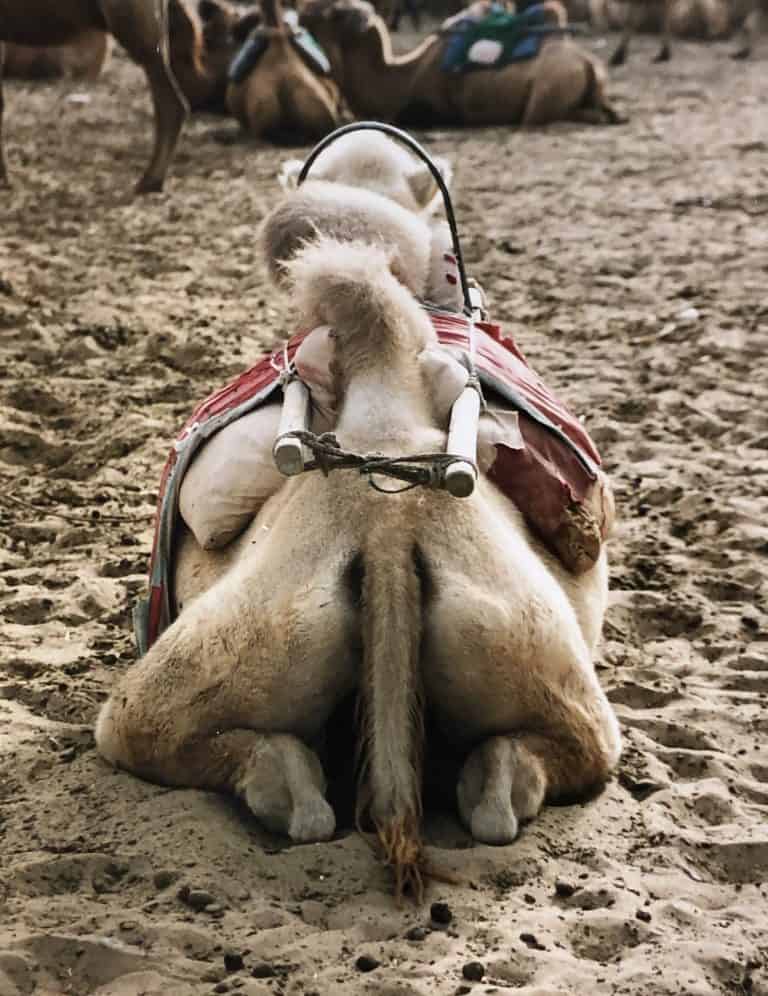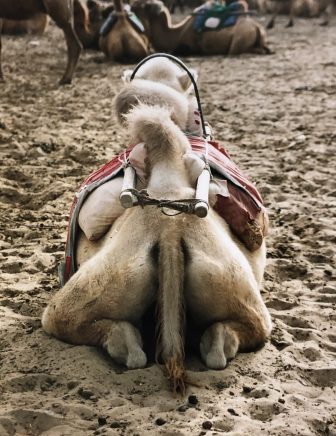 It was nice to see the view from the higher position, but it was so bumpy that my bottom and legs hurt as well as my arms as I was holding a sort of reins so tightly.
A man wearing very dusty suit pulled my camel and we went up and down the sand dunes.
The beauty of the view from the top of the dune was beyond words.
Really, the Chinese landscapes were amazing.
The Crescent Lake was not so spectacular, though, which was much smaller than I expected.
We started this camel ride at around 5:30 pm and after that the number of the tourists increased.
I saw a few Japanese elderly groups.
Japanese people are generally smaller than Chinese and seeing them in this environment, they looked rather fragile and awkward.
Our minibus came back to pick us up at 8:30 pm and we went back to the town smoothly.