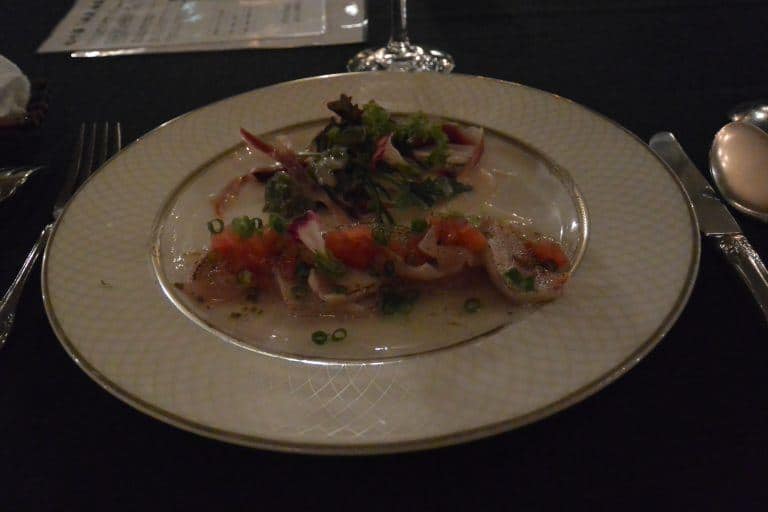 [ Sept.2018 ] After visiting Sankyo Soko, we headed for the old house of the Honma family in Sakata in the Yamagata prefecture in Japan.
The Honma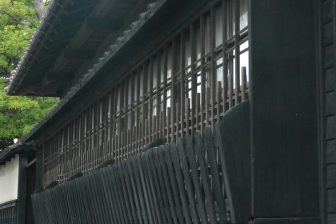 family was the richest in this area, so much so that people used to say "I know we cannot become as rich as Honma, but at least I would like to become a feudal lord", apparently.
Unfortunately, when we arrived there it was already closed so we could not see anything.
In fact, most of the sightseeing spots here close early at 4:30 pm.
So we went to a department store whose glass lift is supposed to be one of the best places to see the view, but what impressed me was not the view, but the quietness of the shop.
We thought that because a huge typhoon was approaching and we could hear the warning when we were walking in the streets, people were not out.
But when our friend went in to a pickles shop to buy something, the shop assistant said "It is always like this. We do not have many people around here".
Thanks to our friend's curiosity, we also went in to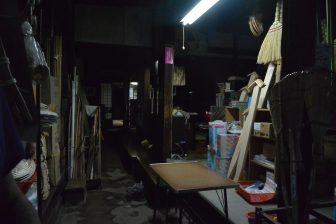 a very old shop selling brooms, snowshoes and so on.
A very elegant old man came out and explained various things, for example: the shape of the brooms here is different  from the ones around Tokyo; the straw sandals are still used by people who do fishing in the rocky places because wearing them prevents slipping; because the snow around here has humidity, the shape of the snow shoes are different from the ones in Hokkaido, whose snow is dry.
It's a shame that I did not look at the name of the shop, but it was really old fashioned and the building itself was like a museum.
After this, we went back to the hotel and by then, the typhoon was already arriving and the wind was so strong.
In this situation, we went to a French restaurant called Le Pot-au-feu.
When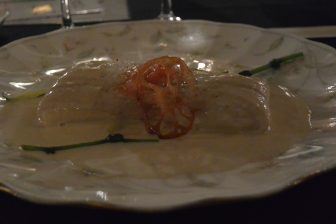 we had prepared for visiting Sakata, we had found that there are some good French restaurants serving French cuisine, which goes with Japanese sake, so we booked one.
Luckily, this one happened to be in our hotel, which we did not know until we got here.
Otherwise it would have been impossible to go out again in this storm.
We all had a full course meal which included Carpaccio of rockfish, clams and saffron soup, a creamy seafood dish of scallops wrapped in sole and for the meat, we had a little each of local chicken, beef and pork.
The pork was from local pigs called 'Kome no Ko Buta (rice girl pig)', which are reared on local rice.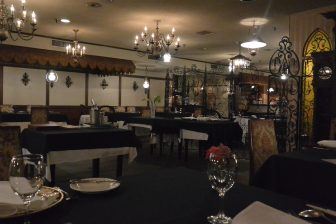 The dessert was Cream Brulee.
Everything was very good!
Even the still water was special.
Apparently, it was the water used to make sake at the foot of Chokai Mountain near here and it takes 15 years between the rainwater soaking into the soil and being drawn up.
The freshly baked baguette was very nice, too.
We drank Bordeaux with the meat, but before that, we had the special sake with seafood.
This particular Daiginjo, top quality sake, was from a brewery called Hatsumago and you can drink it only in this restaurant and one other in the town.
Apparently,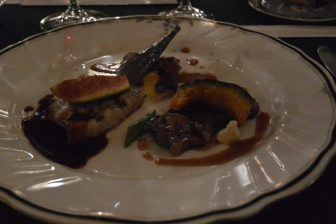 this sake was developed to go with Western foods.
We learned that this restaurant was opened by the first son of the owner of the Hatsumago brewery, called Kyuichi Sato.
There is even a book about him whose title is "Why was the man who built the world's top  cinema and opened the best French restaurant in Japan forgotten?".
It was intriguing.
Apparently, he was a great film fan and, to do some work related to films, he went to Tokyo but he was sent to the canteen section of the film company and that led him to open the French restaurant in his home town.
We heard all this information from our experienced waiter and he could do that because there were no other customers.
All the bookings were cancelled because of the typhoon.
So it was quite a surreal situation that only we were eating great foods in the very nice spacious restaurant, hearing the angry winds outside.