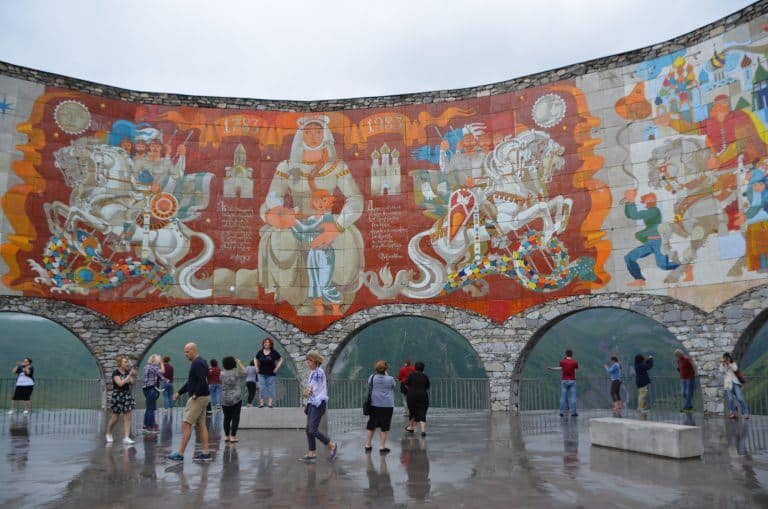 [ July, 2018 ] We went north on the Military Highway in Georgia towards Kazbegi, whose current official name is Stepantsminda.
On the way, we stopped at a supermarket in Gudauri, a ski resort, for a light lunch.
We were already deep in the mountains and the temperature was getting cooler.
Unfortunately, the weather was bad and it rained on and off.
In the supermarket, we saw a group of Japanese tourists, which was for the first and the last time during this holiday.
After lunch, we went higher and higher and passed the highest point of Military Highway, Juvari Pass (2,379m).
Around this point, our guide, Ana, realised that she had left her handbag in the supermarket and decided to go back there.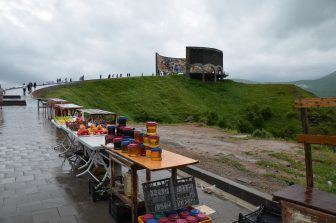 We got out of the car at the Russo-Georgian Friendship Monument, which was located between Gudauri's supermarket and Juvari Pass, as the rain had stopped and the driver and Ana went all the way back to the supermarket.
When we got out of the car, we realised that it was very cold.
We had come directly from Tbilisi, where the temperature was nearly 40 degrees centigrade and we were wearing summer clothes, so we were freezing.
However, the view from this monument was wonderful, so we released the shutters many times.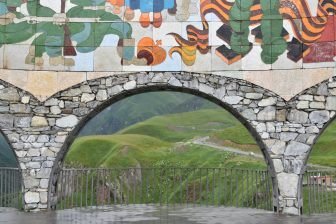 This monument was built in 1983, commemorating the 200th anniversary of the first treaty between Georgia and Russia, which was concluded in 1783.
This 1783 treaty is called Georgievsk and they decided that the eastern part of Georgia became the protectorate of Russia, because in those days Georgia was having trouble being attacked by both Persia and Turkey.
We had seen the grave of the king who made this treaty at the Svetitskhoveli Cathedral in Mtskheta.
During the reign of the son of this king, in 1801, Russia annexed Georgia without permission.
At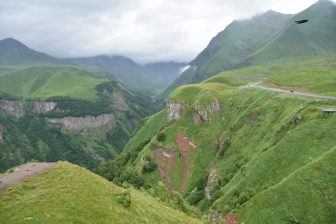 that point, the kingdom of Georgia, which had lasted since the 4th century BC in spite of various invasions by many countries, ceased.
Ana complained later in the car,  "I do not know why they had to commemorate the 200th anniversary and build this monument".
Even after Georgia became an independent country because of the collapse of the Soviet Union, the relationship between Georgia and Russia has not been particularly good.
Russo-Georgian War broke out in 1993 and in 2008, regarding the independence of Abkhazia and South Ossetia.
According to Ana, Russian people can come to Georgia without a visa, but Georgians need a visa to go to Russia.
She has a cousin who lives in Moscow, so it is possible for Georgians to go and live in Russia as long as they complete the formal procedures.
In fact, there were many Russian tourists in Georgia.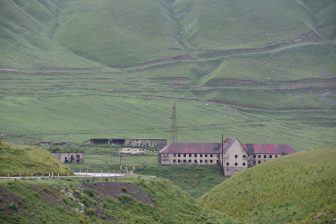 Ana said "I do not like Russia as a state, but I do not dislike Russian people".
We had already learned that the most important trading countries for Georgia are Azerbaijan and Turkey next door, but I wondered about Armenia, another neighbouring country, so I asked Ana.
She told me "Basically we still have a friendly relationship, but because Armenia stood with Russia during the war in 2008, it is not as good as before".
By the way, we know that Azerbaijan and Armenia have been fighting over Nagorno-Karabakh.
When I told Ana that I have an Azerbaijani friend whose husband is Armenian, she was very surprised.
"We do not hate Russians, but Azerbaijani and Armenian people seem to hate each other, in my experience" she said.
Caucasian countries are so complicated, aren't they?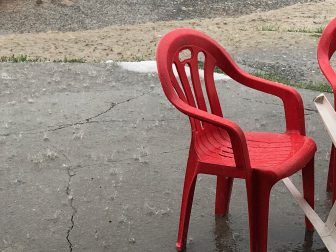 While we were at the Russo-Georgian Friendship Monument, the rain started again.
We rushed to only one hut there, which was a small diner.
The people eating there seemed to be Arabian.
The interesting thing was that some of them went out to get wet.
I am not 100% sure because I did not understand what they were saying, but it seemed like people who came from countries with no rain were enjoying the rain.