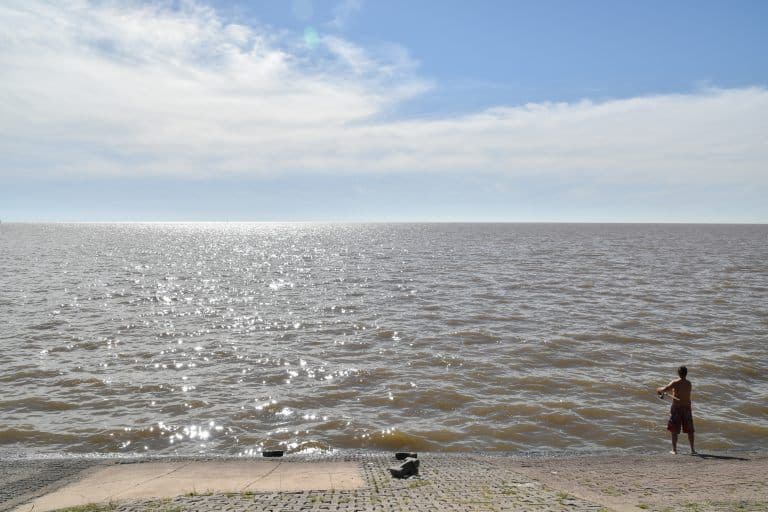 [ Mar.2018 ] On the second day of our holiday in Buenos Aires in Argentina, we had a tour of the suburbs.
We had booked three tours before we left home and this was one of them.
When we were looking for some local tours, we came across a website called Tours By Locals and we used it.
Their tours are all private tours, so they are not cheap, but in the end we found it very good and reliable.
Our guide was Elisabet who used to be an English teacher.
She turned up at 9:28 am on the first day, though our appointment was 9:30.
That sounds normal in Japan, but in other countries, it is an epoch-making event if any workers arrive before the arranged time, especially in South America.
I remember when we were in Colombia last time, the first thing our agent told us was "You are now in South America. Be relaxed and try to get used to our sense of timing".
Elisabet welcomed us with a bottle of wine, which was nice and again it is a bit Japanese.
I think we can say that Argentina is made up with the immigrants from Europe and I thought most of them are from Italy and Spain, but her ancestors were Hungarians.
People in Argentina have various roots, don't they.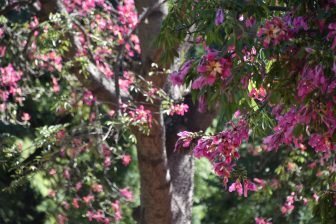 The tour on the day was to visit the delta of Parana River merging with La Plata River and to have a boat trip there.
But before that, we went to San Isidro which is north of main part of Buenos Aires and it is the up market residential area.
On the way we saw many trees with pink blossoms and apparently they are called Palo Borracho which means 'Drunken Trunk'.
These trees keep water in their trunks and some of the trunks look like a fat jar.
The blossoms are not only pale pink, but also dark pink and white, too.
I looked up on the internet and in English it is called Silk Floss Tree.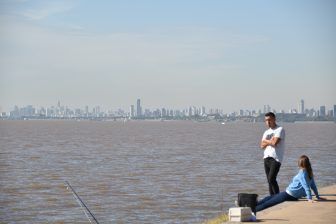 We stopped at the spot where we could see the city of Buenos Aires far away across the river.
The milk coffee coloured water in front of us was La Plata River which is the widest in the world.
The mouth of it is said as big as 220 km or some says even 275 km and for human eyes it looks nothing but the brown sea.
This colour does not mean that the water is dirty, but because of the soil on the riverbed, it is brown.
That reminded me of the Neva River in Saint Petersburg in Russia whose colour was black.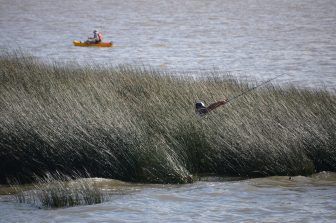 Anyway, swimming was banned at this part of the river.
There are apparently some fish, though, as there were some fishers, though we never had a chance to eat any fish from La Plata.
In the town of San Isidro, there are many magnificent houses of rich people.
We noticed many grey boxes which looked like telephone boxes and apparently they are the places where the private guards stand by.
They are employed by the residents around here.
We stopped again and looked at a house of Luis Vernet who was the first governor of the Malvinas Islands (Falkland Islands) from outside.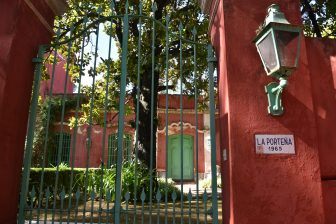 According to Elisabet, this house is unoccupied at the moment and falling into ruin.
It was such a nice looking house and we talked about how they should make a museum here.
By the way, regarding the Falkland Conflict which Argentina and the UK fought over the issue of territorial rights, Elisabet told us that one opinion is that the Argentinian military government at the time started the conflict to turn public eyes away from their internal problems.
And interesting thing is that Chile, the next door country of Argentina supported the UK.
I did not know but Argentina and Chile are on very bad terms.
One time they nearly had a war over the national boundary and at that time, the Pope, John Paul the second came and worked as a go-between, so they avoided the war.
Now I understand, that is why the former UK prime minister, Margaret Thatcher was so friendly with the Chilean dictator, August Pinochet.