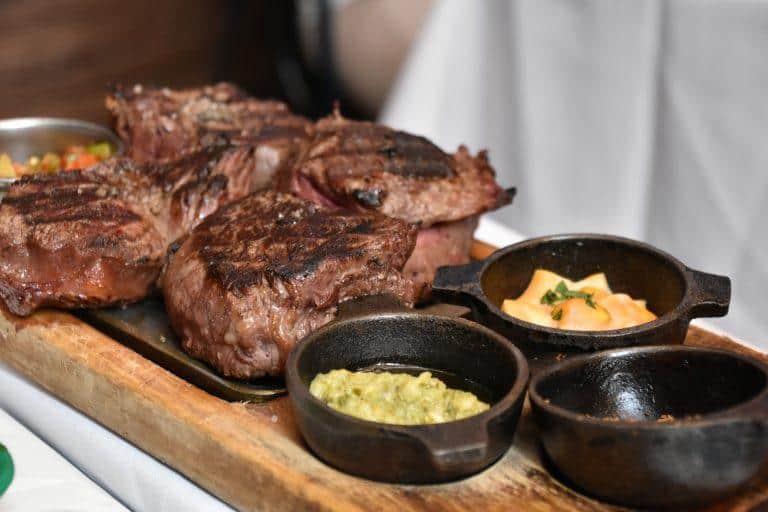 [ Mar.2018 ] Argentina is famous for its good meat.
During our stay in Buenos Aires, we ate meat almost everyday.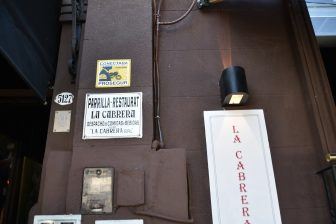 On the first day, we chose the restaurant called La Cabrera which was top of the restaurant list the hotel gave us.
In Argentina, they call steak houses Parrillas.
La Cabrera is one of them.
The receptionist tried to book a table for us, but apparently they do not accept any bookings for lunch.
It was located only about 10 minutes walk from our hotel, so we decided to go there anyway.
I had had a feeling, but when we got there, we found that it was the restaurant at which our tour leader tried hard to get us a table but could not the last time we visited this city.
It is certainly a popular restaurant and when we arrived, already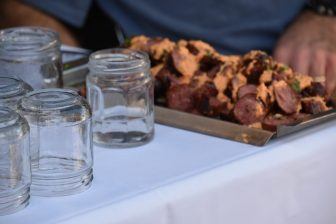 about 12-13 people were waiting in front.
They do the same as in Japan where they write down a name and the number for each group and call out every time there was an available table.
I thought they had a great deal of consideration for they served not only bottles of mineral water but also a bottle of sparkling wine (which was not open, and my husband had them open it) for the people waiting for their turn.
And when we were drinking it, they served chopped Chorizo sausages, saying "this is our home made special" and that tasted really good.
Even some passersby were shrewd enough to pick some.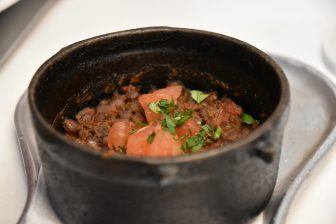 After waiting for 30 – 40 minutes, at last we were called in and found that it was a very big restaurant.
I was impressed by the fact that they can fill this space all the time.
The other branch of this restaurant on the same road was closed at that moment, though.
For the starter to share, we ordered two Provoletas (Provolone, an Italian cheese grilled and melted and put into a round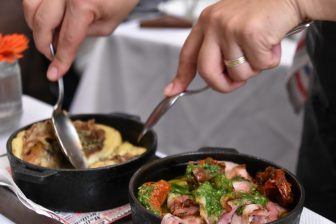 container), one was a simple one and the other with Pancetta.
But before these were served, they served many dishes of appetizers including a bean dish and a sweet one which looked like a cream caramel and so on.
And we were surprised to see the size of Provoletas.
The diameter was as big as about 10 cm and the depth was about 4 cm.
We were expecting our usual Provoletas we eat in Argentinian restaurants in London whose diameter is about 5 cm with 2 cm depth.
The waitress served half and half to us, but they were too much.
We should have shared just one for two.
On top of that, the size of the main meat shocked us.
I am sure that we ordered the one for two to share, but it looked for four people.
We ordered the part of beef called lomo, which is the tenderloin.
They had a clever system that when we ordered meat, they showed us a board with the pictures of 6 different ways of cooking, from rare to well-done.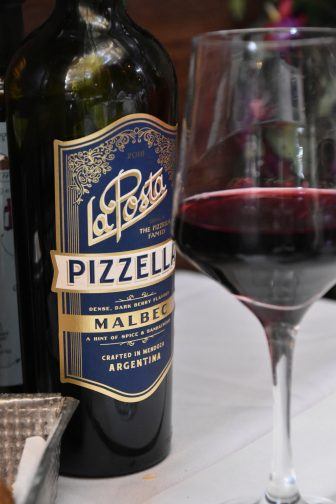 So we could have our meat cooked just right for us.
Although we say 'medium' or 'medium-rare' by words, in South America they tend to grill too much, not like in European continent.
It was one of the best meats I've ever eaten, but I had already eaten a lot of Provoleta and appetizers, so it was impossible to eat it all.
We left one slice without touching it, which is so unusual for us and I felt very sorry because it was so good.
With the meat, they served four kinds of sauce, an elaborate salt, egg, Chimichurri and one more and we enjoyed every taste.
Including the Malbec wine which went very well with the juicy meat, the bill was 2209 pesos (£77, €88, $110).
I was expecting a high rate of the service charge because they served many appetizers, but there was none.
Only thing was that the waitress told us that if we wanted to give some tip, we have to pay by cash.
And at that moment we did not have any pesos, yet, so my husband gave her a £5 note, and she was looking at it closely, saying "OK…".