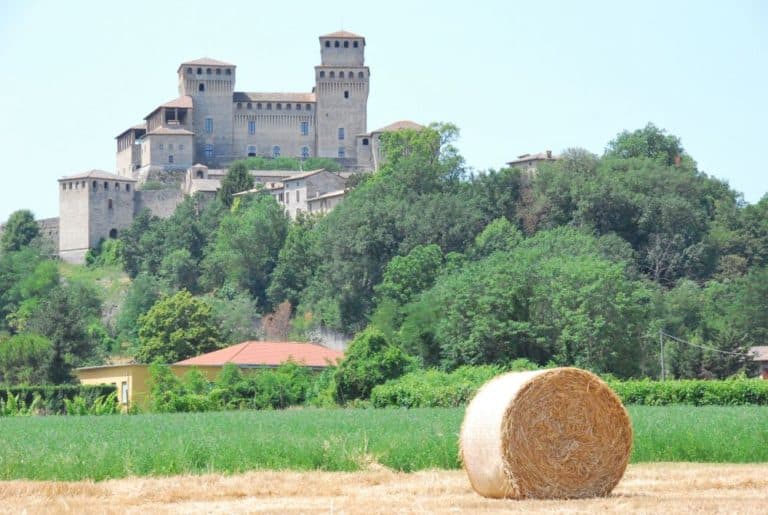 The castle of Torrechiara in Emilia Romagna, Italy has the magnificent exterior.
When I was watching a music programme on TV, a video of a band was used this castle as a location, and it looked so nice that I searched and found this one.
I cannot remember the name of the band, though.
What I was surprised was its interior.
Nearly every room has got the wonderful fresco.
It is a shame that no photography was allowed.
In fact, as a rule, you cannot take any photos within the site, but the manager there was flexible, saying ' it is natural for tourists to want to take photos and taking photo does not demolish the castle.
I hope the rule will change'.
The castle of Torrechiara was built in the middle of 15th century, apparently.
Torrechiara Castle is a magnificent medieval fortress located in the province of Parma, in the Emilia-Romagna region of Italy. Built in the 15th century by Pier Maria Rossi, a powerful nobleman and military commander, the castle is considered one of the finest examples of Italian Renaissance architecture and a true gem of the region.
The castle is situated on a hilltop overlooking the surrounding countryside, with stunning views of the Apennine Mountains in the distance. Its imposing walls and towers, constructed from local sandstone, rise up from the rocky outcrop and are adorned with beautiful frescoes and decorative motifs.
The castle's interior is equally impressive, featuring a series of sumptuously decorated rooms that showcase the Renaissance art and architecture. The highlight of the castle is undoubtedly the Sala delle Dame, or Hall of the Ladies, a vast and opulent chamber adorned with frescoes depicting the courtly love and chivalry of the era.
The castle's gardens are also a highlight, featuring beautiful terraces, fountains, and flowerbeds that provide a peaceful retreat from the hustle and bustle of modern life. The castle is open to visitors year-round and hosts a range of cultural events and exhibitions throughout the year, making it a popular destination for tourists and locals alike.
In summary, Torrechiara Castle is a magnificent example of Italian Renaissance architecture and a true treasure of the Emilia-Romagna region. Its imposing walls, stunning frescoes, and beautiful gardens make it a must-see destination for anyone interested in history, art, and architecture.
[June, 2012]