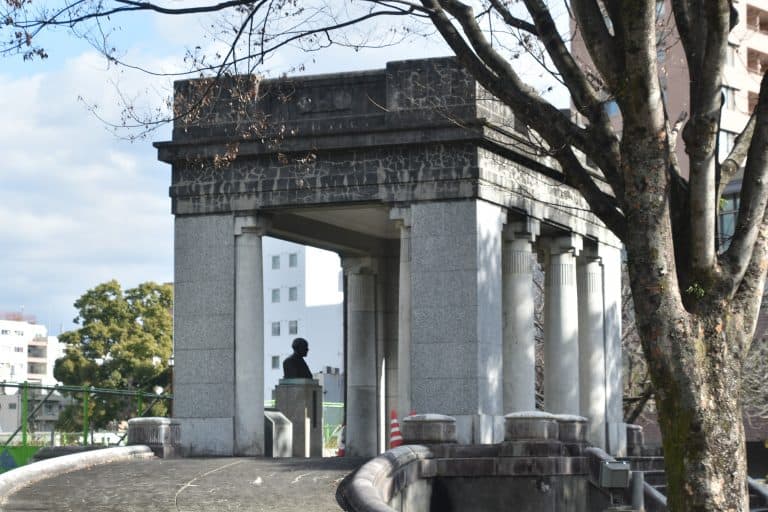 [ Dec.2019 ] After coming down from the 14th floor of the City Hall in Kumamoto City in Kyushu in Japan, we walked along the Kumamoto Castle site and headed for Kumamoto Prefectural Traditional Crafts Center.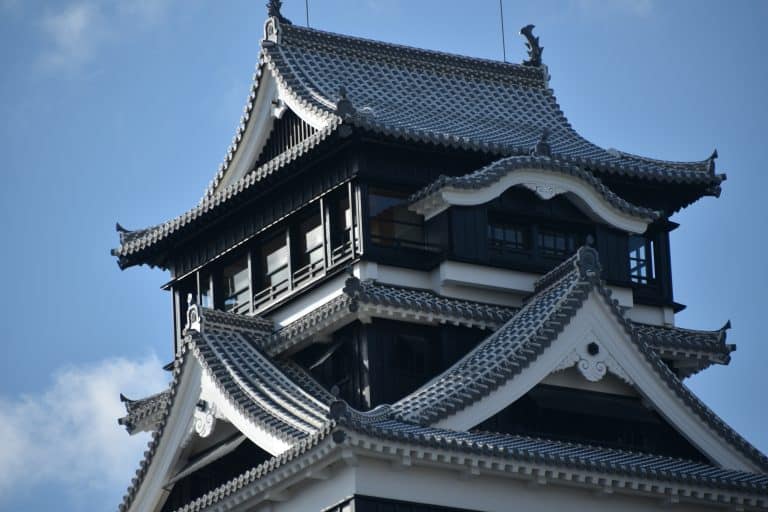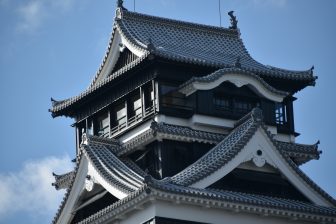 While walking we could see the main tower of the castle closely, which was under restoration work as well as the building which could be Uto Yagura which has escaped with minor damage by the earthquake.
The Craft Center is the space for the craftsmen in Kumamoto prefecture to exhibit their works, but our interest was the craft shop called Takumi.
You can see all the crafts from Kumamoto prefecture here.
The most gorgeous stuff was Higo inlay metalwork which has the history since the early 17th century, and they were very expensive.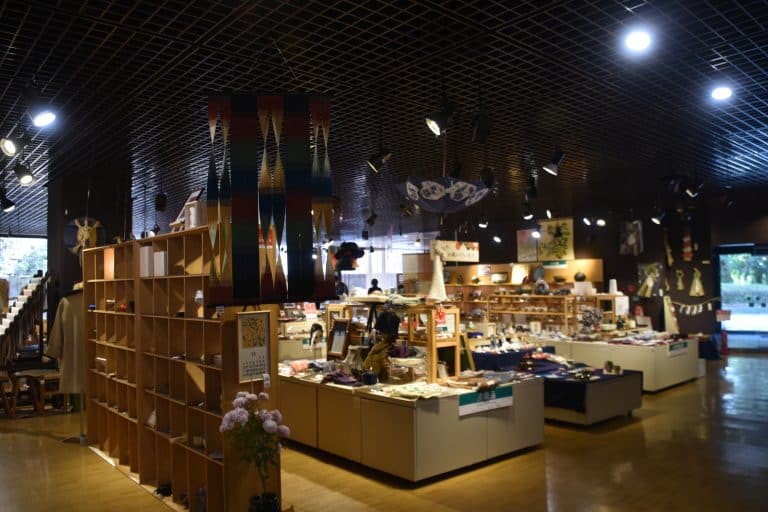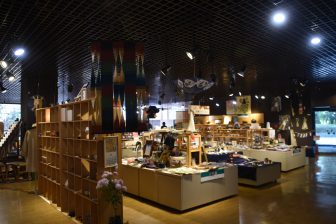 The gold and silver are used to inlay intricate designs onto a black iron base, which reminded me of the similar craft seen in Spain.
I was attracted to lovely Higotemari, too, which is an ornamental ball.
They started making these balls in the 17th century.
What we bought were table mats woven with rush.
Apparently Yachiyo region in Kumamoto is the largest producer of rushes which are used to make Tatami mat and it has the history since Meiji era (1868 – 1912).
Our friend bought a Japanese candle which is said to last longer than the ordinary ones.
The candle making is another traditional craft in Kumamoto since middle of the 18th century.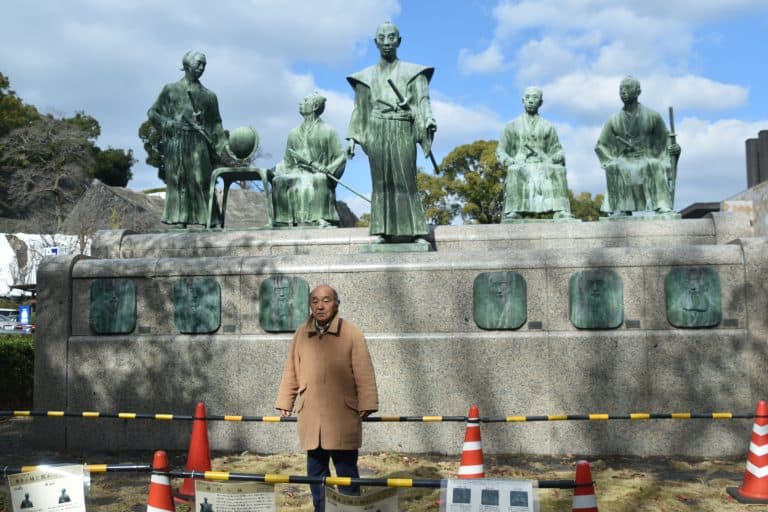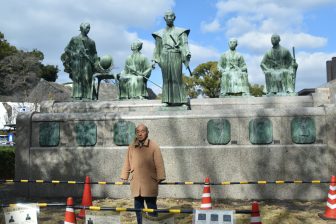 The Craft Center offers free tea, so we had a rest there and then headed for the House of Koizumi Yakumo.
On the way, we came across a park with a lot of statues, so we popped in there.
Here a middle aged man who was selling post cards came up to us to give us a bit of history lesson.
To be honest, I have not been good at Japanese history since I was a student, so I could not follow much of what he told us, but one thing I leaned here was that the ancestors of Saigo Takamori, one of the most influential Samurai in Kagoshima (south of Kumamoto) in the 19th century were from Kumamoto prefecture.
Also, at Satsuma Rebellion in 1877, which was a revolt of disaffected Samurai against the new imperial government led by Saigo, the people sent from Tokyo fought against Saigo's army in Kumamoto, but in fact, the local Kumamoto citizens supported Saigo side.
To thank him, we bought a postcard from him (200 yen).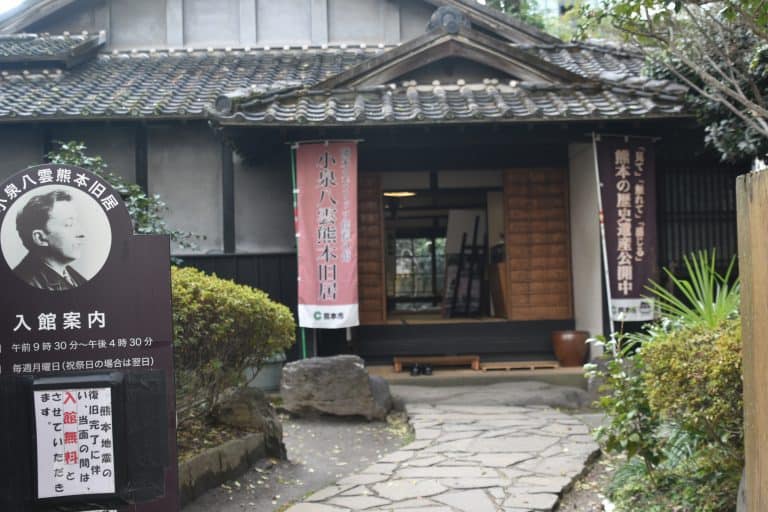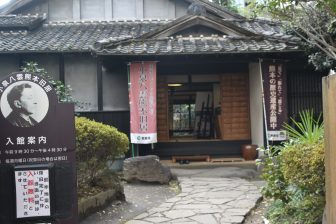 And then we went to the House of Koizumi Yakumo.
It was free to enter.
Here the curator came out and gave us some explanations about the place.
We found that middle aged men in Kumamoto are kind and chatty, another example was the man at Misumi West Port the day before.
Koizumi Yakumo whose real name is Lafcadio Hearn was a writer born in Greece in 1850 and brought up in Ireland.
When he was 4, his mother went back to Greece after becoming mentally ill by finding out that her husband had been having an affair.
And since then he was brought up by an aunt.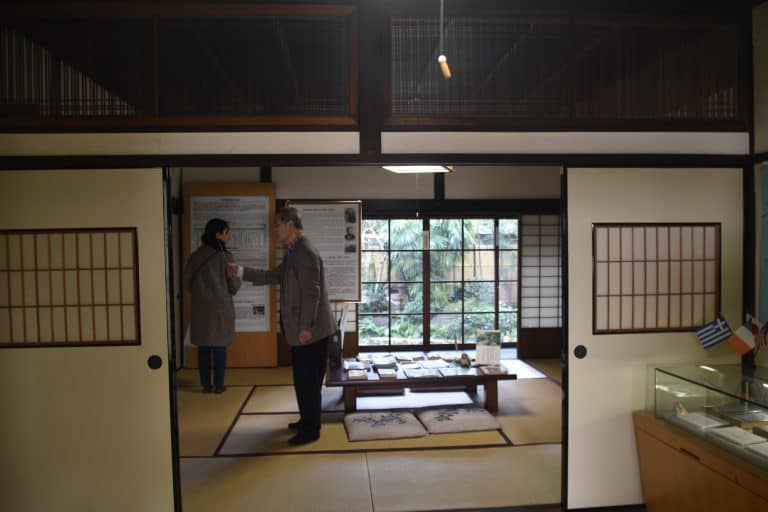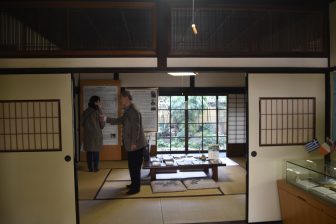 He was a small man with the height of 157 cm and because he had lost his sight on his left eye, the photographs of him are all showing his right side profile.
According to the curator, he was a journalist and came to Japan in order to write a book.
He came to Kumamoto in 1891 as an English teacher for a high school and lived here for about three years.
At that time, his monthly salary was 200 yen, which is worth nearly 2 million yen in current money.
The Dutch engineer, Mr. Mulder at Misumi West Port had the extraordinarily high salary, too, which shows the attitude of the Meiji Government in those days towards the western talented people.
By the way, the successor of Koizumi Yakumo at the high school was Natsume Soseki, the famous Japanese novelist.
Another interesting thing that the curator told us was that until the end of Meiji era, the political centre of Kyushu was Kumamoto.
It moved to Fukuoka in Taisho era which started in 1912.