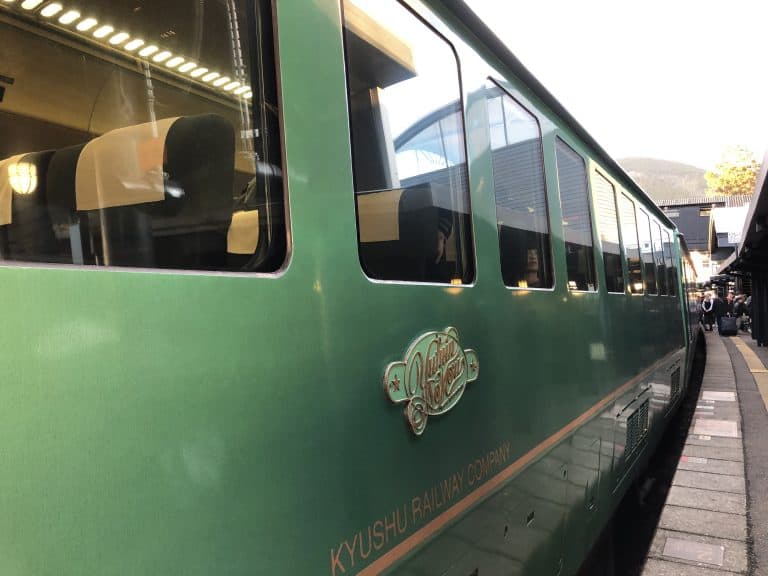 [ Dec.2019 ] During our short holiday in Kyushu in Japan, after enjoying Kumamoto, we parted from our friend who was going back to Fukuoka, we headed for Yufuin, the hot spring resort in Oita prefecture.
First, we took a Shinkansen train at Kumamoto station to Kurume, which took only 20 minutes.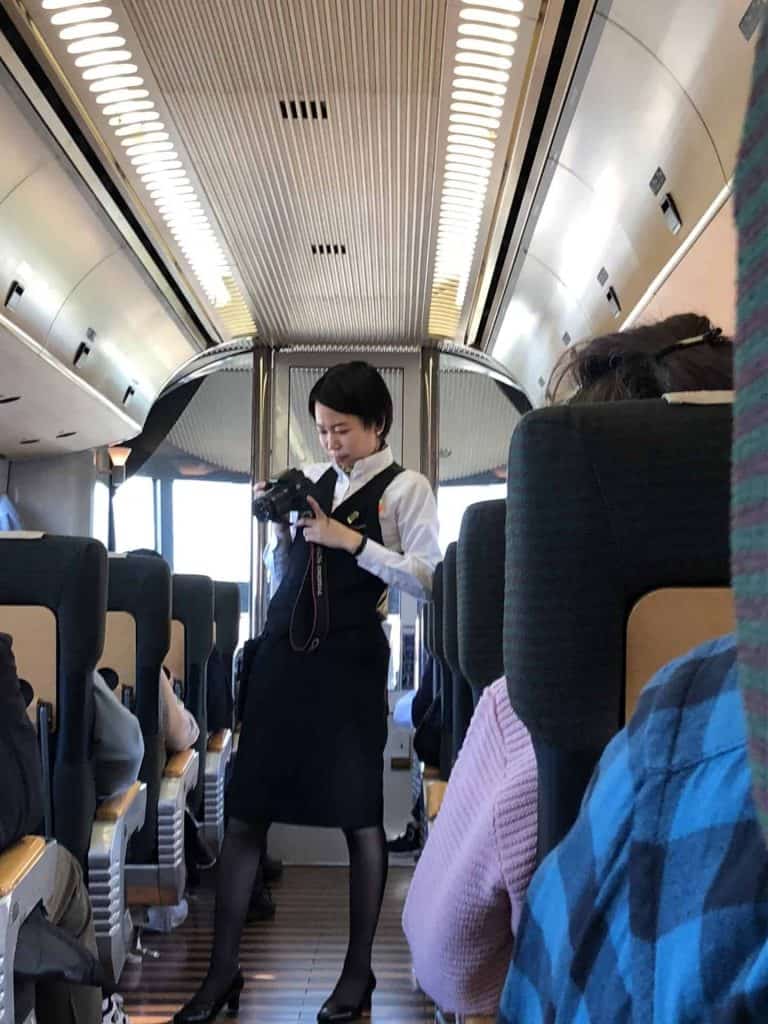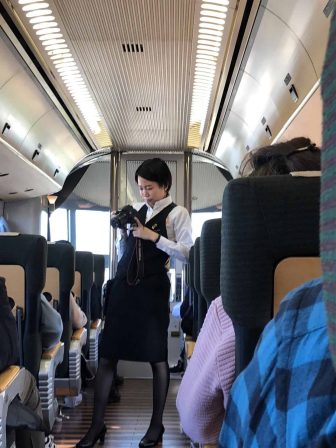 Then we got on the limited express train called "Yufuin no Mori No.5".
This limited express runs between Hakata station in Fukuoka and Yufuin (some goes up to Beppu) and it took about one and a half hours from Kurume to Yufuin.
The green colour of the train reminded me of Stalin's special train we saw in Gori in Georgia, but this train was very different from that, which was a tourist train.
To get on the train, you have to go up a few steps because the seats are up there so that the passengers can see the view better.
And there were many announcements during the journey, explaining what to see out of the windows, such as waterfalls, monuments and so on, including some legends as if we were on a sightseeing bus.
On top of that, a female worker came up to each seat and took some photos of passengers with the panel of a photo of this train.
Of course you did not have to have your photos taken, but we did.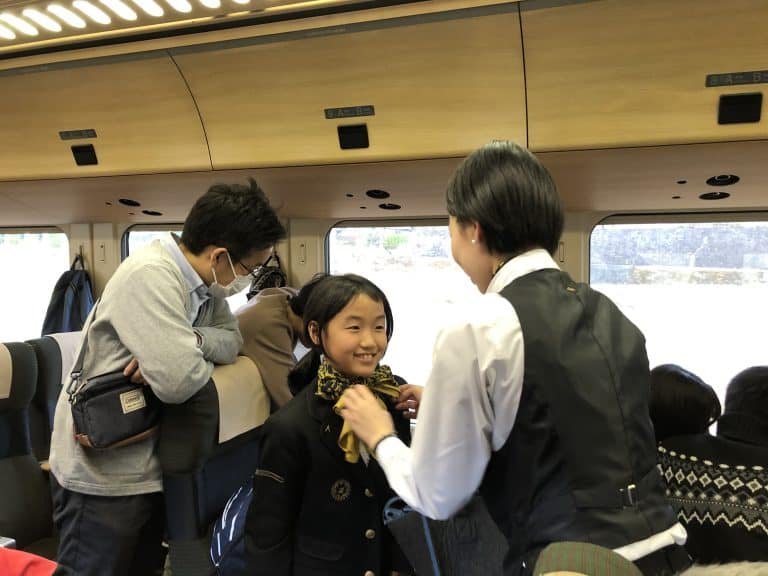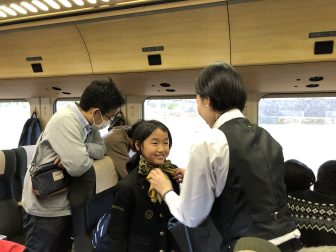 For children, she let them wear the uniform of the conductor, too.
These services are all free of charge.
The most surprising thing for me was the announcement, "Look out of the windows. The local people are waving their hands. Please do the same to them".
There were many foreign tourists on the train, mostly Chinese or Korean.
There seemed a lot of choices for boxed lunch and memorial goods, though we did not buy any.
It happened that our seats were in the first car, so through the front glass, we could see the front view and many passengers came there to take some photos one after another.
Apparently, this "Yufuin no Mori" limited express train started running in 1989.
In Kyushu, they have some sightseeing trains like this, which are categorised as "Design and Story Trains" and this "Yufuin no Mori' was the first one of this category to have been launched.
These trains boost the passengers' holiday mood and I think it is a good idea.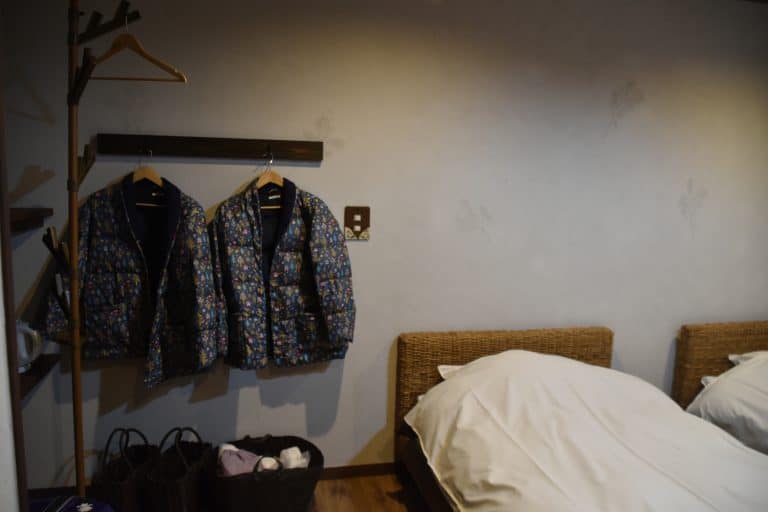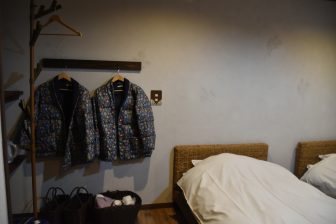 Now we arrived at Yufuin station.
We had booked a room in the accommodation called "Kotori".
I had leaned that to have the shuttle service, we had to book in advance, so we tried to do that but failed.
Their telephone number was a rare one which did not accept the calls from mobile phones, so we looked hard for a public telephone the day before, but in the end, my call did not go through.
However, we found the person from the accommodation at the station, so I explained that we had tried to book and he accepted and took us in his car.
Good that he took us because it was quite a long way.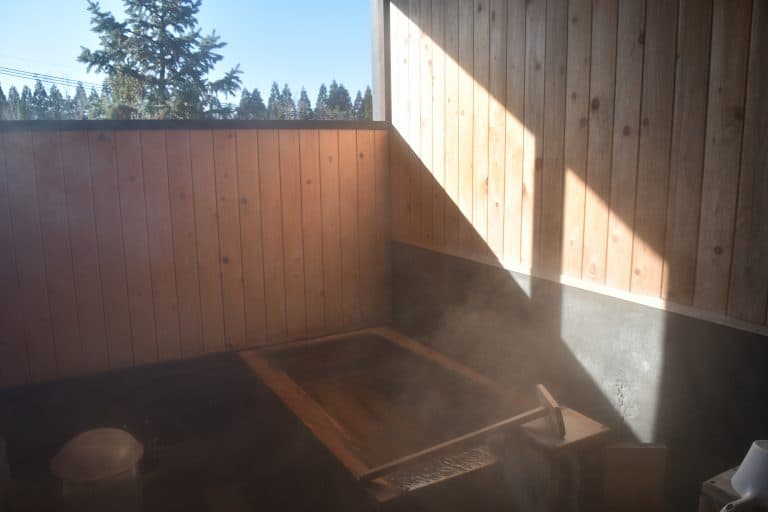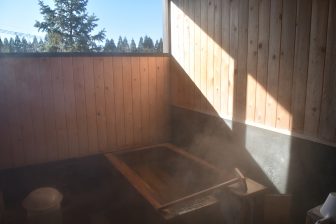 This accommodation had an atmosphere of mountain huts.
The reason why we chose this was because each room had a hot spring bath in the open air, but in fact, it was difficult to adjust the temperature of the hot water and the bath tub was small, so we were not exactly satisfied.
We wore the provided down jacket on top of Yukata to go to the restaurant.
The foods were nice enough but not as gorgeous as the Japanese Ryokan usually serve.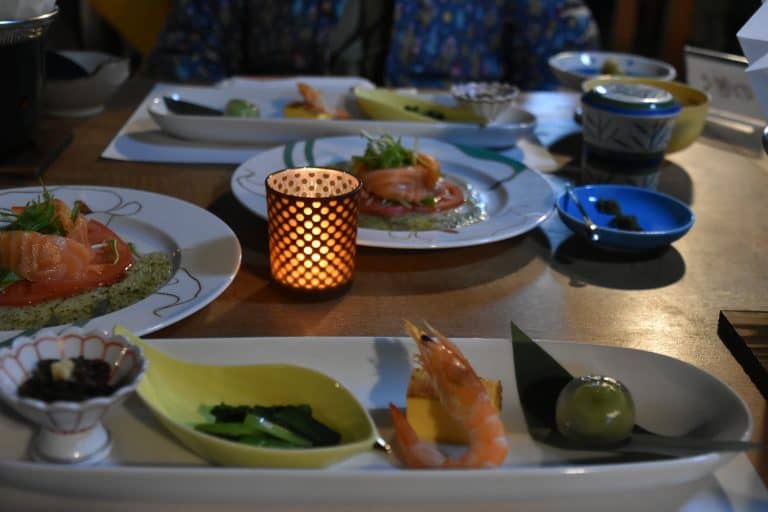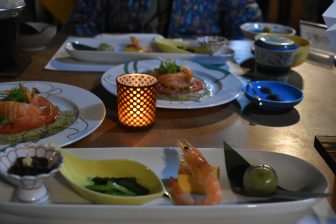 The best was the seasoned rice with vegetables and my husband had the second helping.
Many of the guests were foreigners and some of their staff were Koreans, so it could be that this accommodation was mainly for foreign tourists.