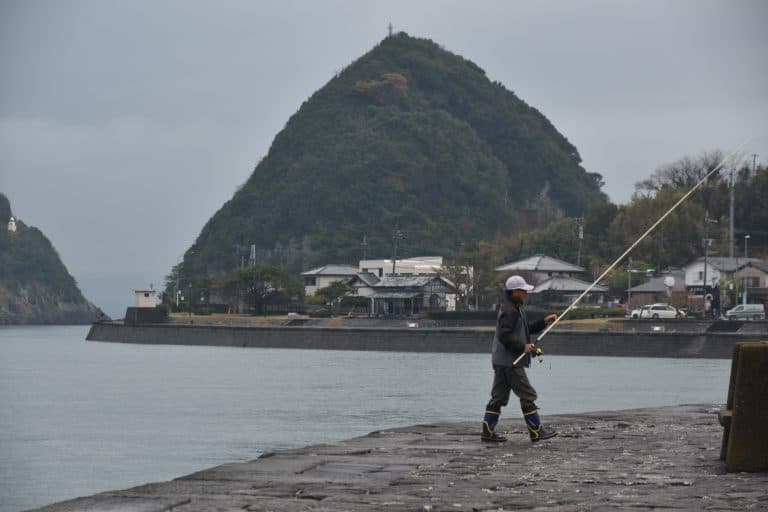 [ Dec.2019 ] We were heading for Amakusa in Kumamoto prefecture in Japan, but looking at the map, we found that there is a Unesco's World Heritage site just before entering Amakusa.
We thought we should not miss this.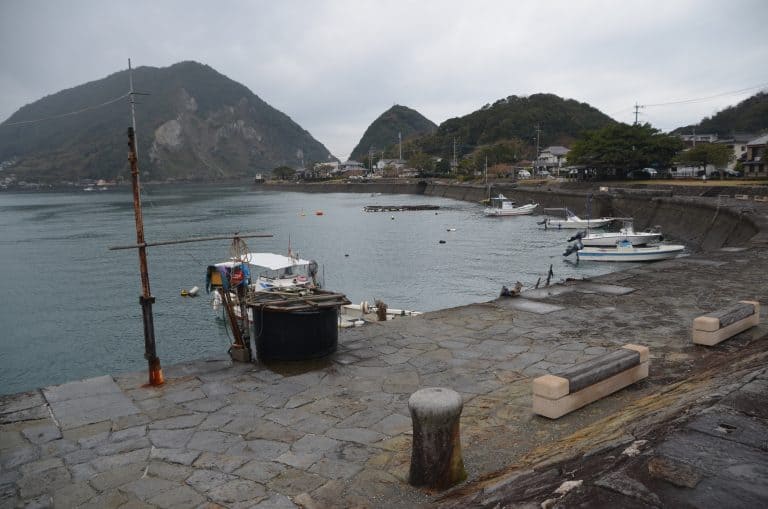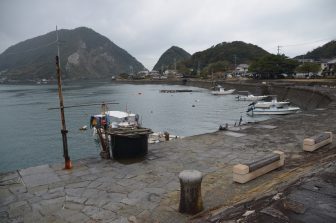 It is a seaside place called Misumi West Port and they recognised it as the World Heritage in 2015 because it is one of the sites of Japan's Meiji  Industrial Revolution (the Maiji era is from 1868 – 1912).
It is an artificial port and town which was built to transport coal from the famous mine called Miike Coal Mine to everywhere in Japan as well as to Shanghai.
Then Ministry of Interior sent a Dutch engineer called Rouwenhorst Mulder to plan the port and the site supervisor was  Hiide Koyama.
This Mr.Koyama had done other works such as Oura Cathedral and Glover House both of which are in Nagasaki.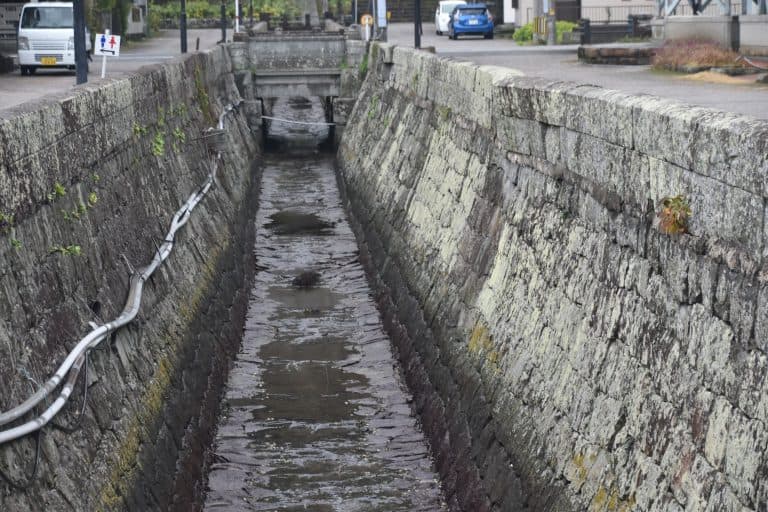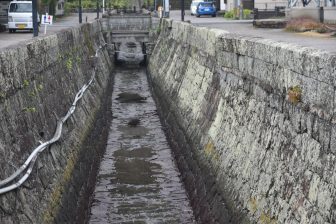 And he is an ancestor of Kundo Koyama, a broadcast writer and the creator of Kumamon, the popular local mascot of Kumamoto prefecture.
To build this port, apparently as many as 130000 people were mobilised and many of them were stonemasons.
They built not only the port but the roads and the waterways to create a town.
The wharf and the waterway we saw were made very sturdily and they looked like the stone walls of castles.
This Dutch engineer, Mr.Mulder had the monthly salary of 500 yen and that is equivalent to 5 million yen (£34500, €41500, $44500) in current value.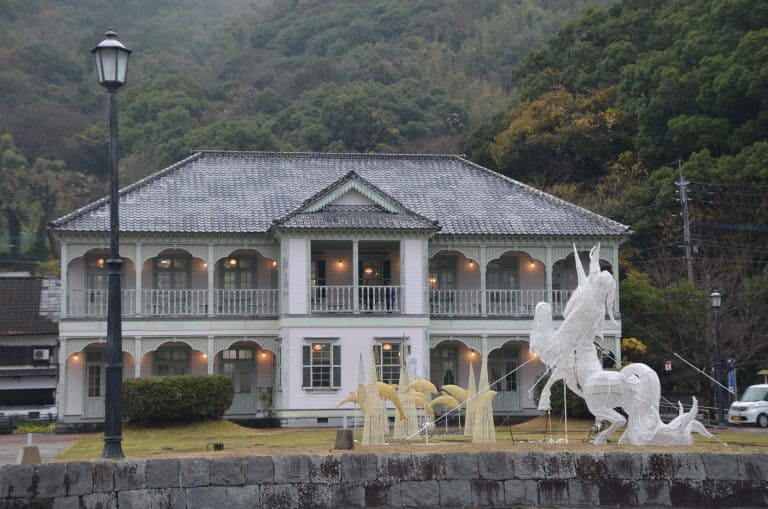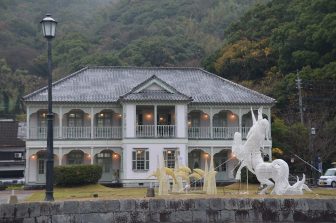 This shows how keen the Meiji government was to introduce the Western technology in those days.
By the way, Mr. Mulder was given the status of a baron, but he was not satisfied with it, so went back home to the Netherlands.
This port was completed after the huge efforts and money in 1887, but it was used as the main port for the coal transport only for 11 years.
That is because it was far from the Miike mine (44 km) and they built another port later at Miike itself by digging the seabed to make it deep enough for the large ships, so they started using this newer port mainly.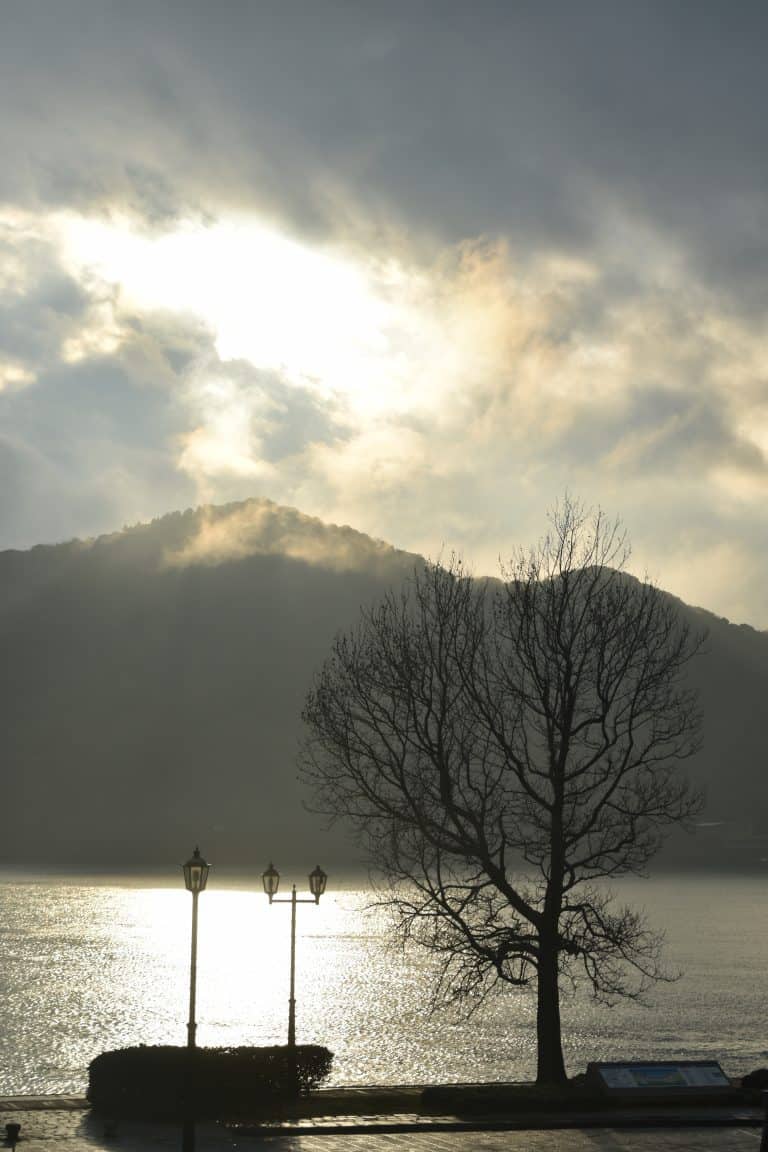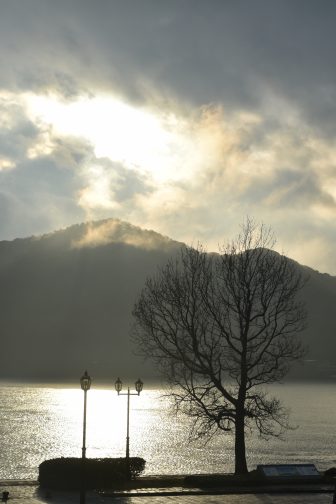 After that, this Misumi WestPort was abandoned and that is why the old buildings were left as they were.
Now the white wall warehouse is used as a restaurant and the old western style building called Mulder House is a souvenir shop.
And the Urashima-ya hotel was restored and became an event hall.
The famous Greek born author, Lafcadio Hearn stayed in this hotel once apparently.
I found one very attractive bag at the Mulder House, which were made at the site, but it was too expensive for impulse buying.
It was a sad rainy day, but when we went out to the balcony of Urashima-ya, finally the sun shone a little bit and we could see the beautiful view.
So this town now is a tourist destination, but it seemed that some seemed to be engaged in fishing and we saw a shop with fish preserve.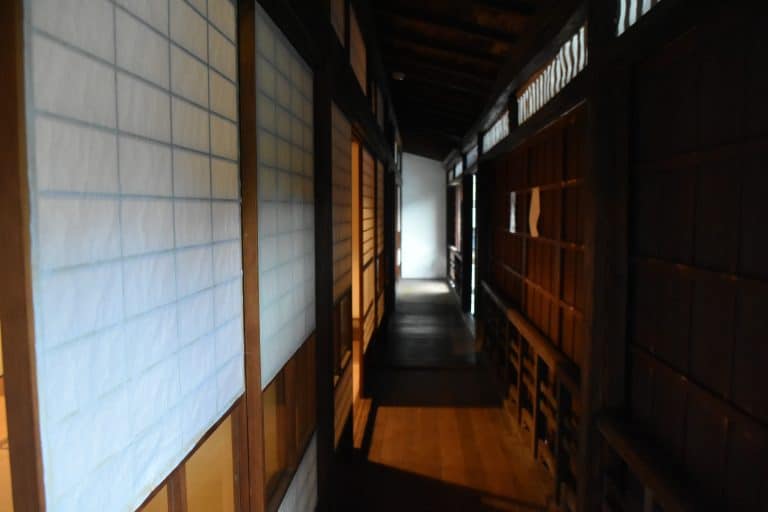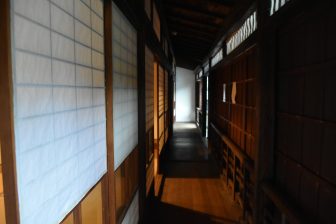 Around here, a middle aged man started talking to us and gave us the information I have written above, and he kindly opened the closed house which used to be a shop of marine transportation business run by Takada family.
I do not what he does for living, but he said that he worked as a guide, too and when the TV drama Saka no Ue no Kumo (the Clouds over the Hill) was filmed here, he appeared in it.
On the first floor of this Takada house, it was used as the hotel for sailors.
So, we spent quite a long time here in Misumi West Port and enjoyed learning a lot of things and when we noticed, it was already evening.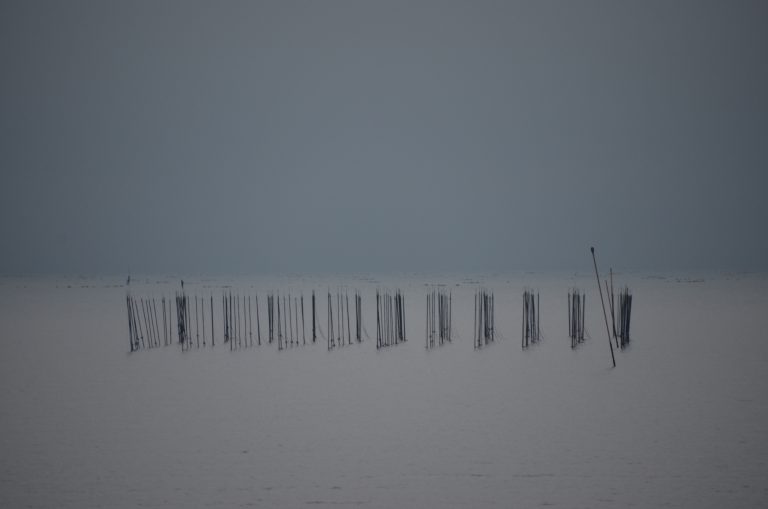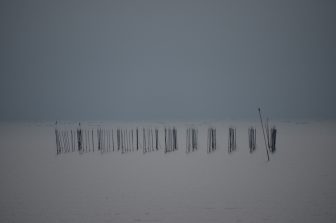 In the end, we could not go to Amakusa and came back to Kumamoto City.
On the way back, we went out to see the sea, which was grey all over and beautiful in its own way.
Around here, there were many seaweed farms and we saw a big building of a company specialised in seaweed.
By the way, they were just having the photo competition whose target locations included Misumi West Port, so we entered it.
The top prize is the accommodation voucher for a couple.
I wish we could win, and if that happens, we will travel to Amakusa for sure.