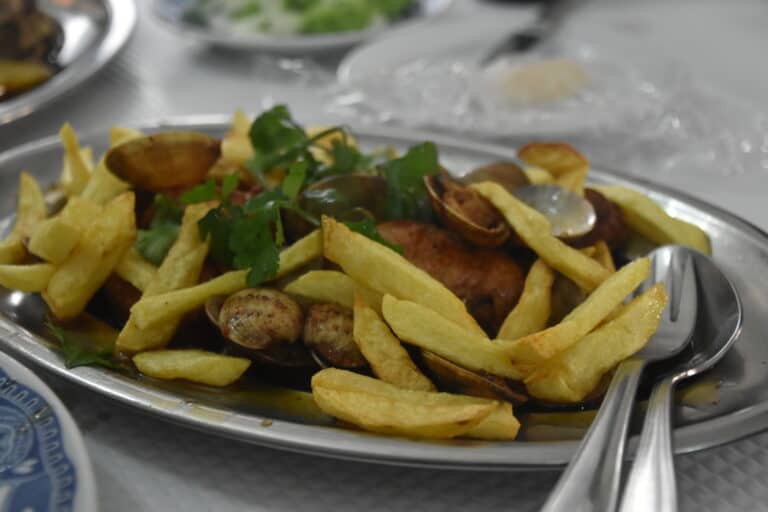 [Dec. 2021] After visiting the beautiful bone chapel in Evora, Portugal, it's lunch time.
We walked in the rain, aiming for the restaurant that my husband had found online.
This was our first visit to Evora in 10 years.
The cityscape was quite picturesque with many houses with white walls and yellow borders.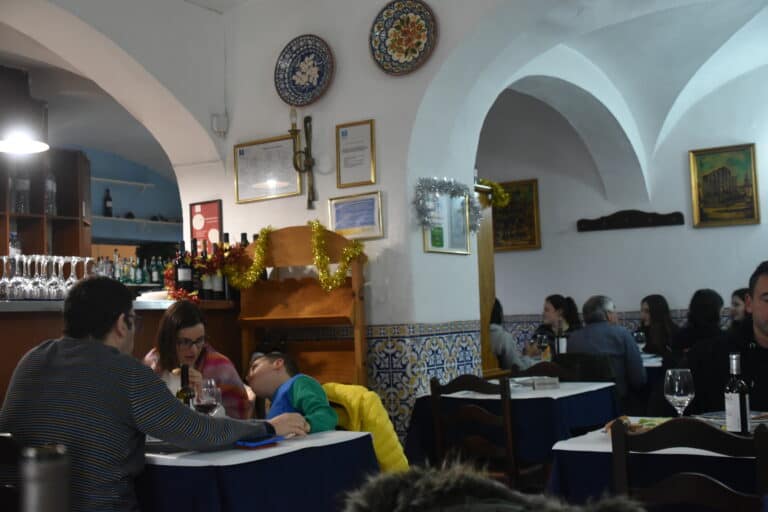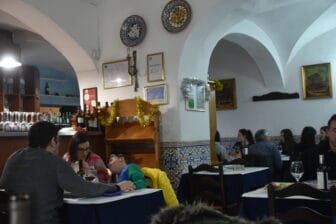 While I felt nostalgic, the rain made the whole thing dull, and the umbrella made it difficult to take pictures, which made me frustrated.
We finally arrived in front of the restaurant  we were aiming for, but it was closed.
Because it was raining, it was difficult to settle at one place and search some restaurants again.
So we started walking again and I happened to see a restaurant sign on the side road.
The name was San Domingos.
When we went up there, it looked a nice restaurant.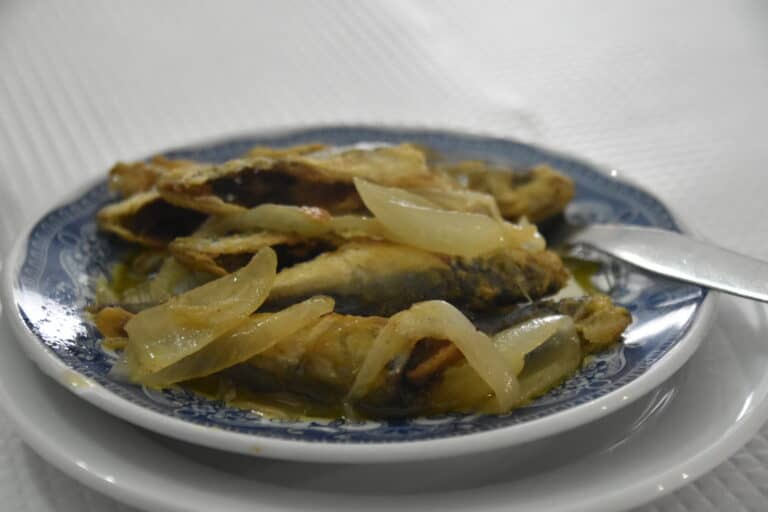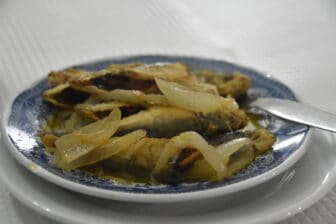 Apparently it was a popular place and it was crowded, but the waiter let us sit at the table that was reserved.
Lucky!
The people who came after us were turned down.
We ordered the stewed beef that this pleasant middle aged waiter confidently recommended, and the stewed pork and clams, which is a specialty of this region, and shared.
Starters were cheese and small fish pickled in oil that came without our ordering.
At Portuguese restaurants, the starters of the day are often brought on the table without saying anything.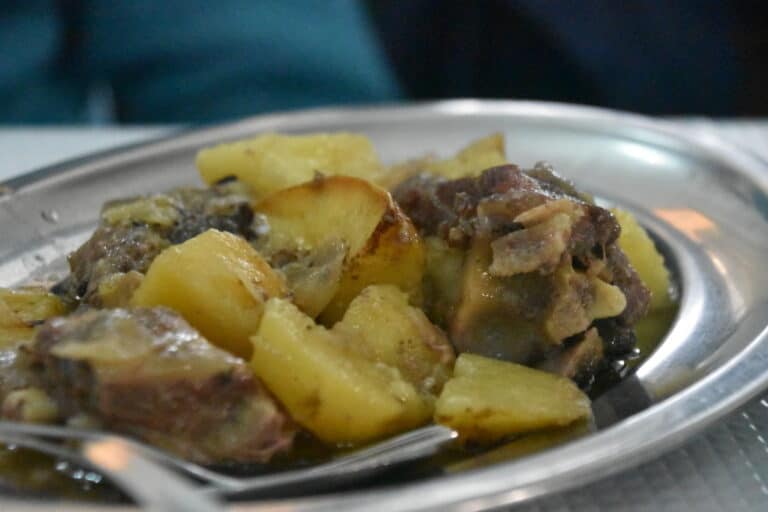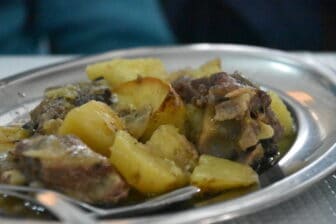 It seems that the intention is "please eat if you like", but if they are put it in front of you, you will eat them, won't you.
The small fish dish was like a Japanese food that could be included in osechi dishes (Japanese New Year dishes), and it was delicious.
The two dishes we ordered for the main dish were both hearty.
Beef tasted very good as it was recommended, but as for the pork and clams, I could not tell the necessity of this combination.
And that reminded me of the same feeling I felt when we travelled to this region 10 years ago.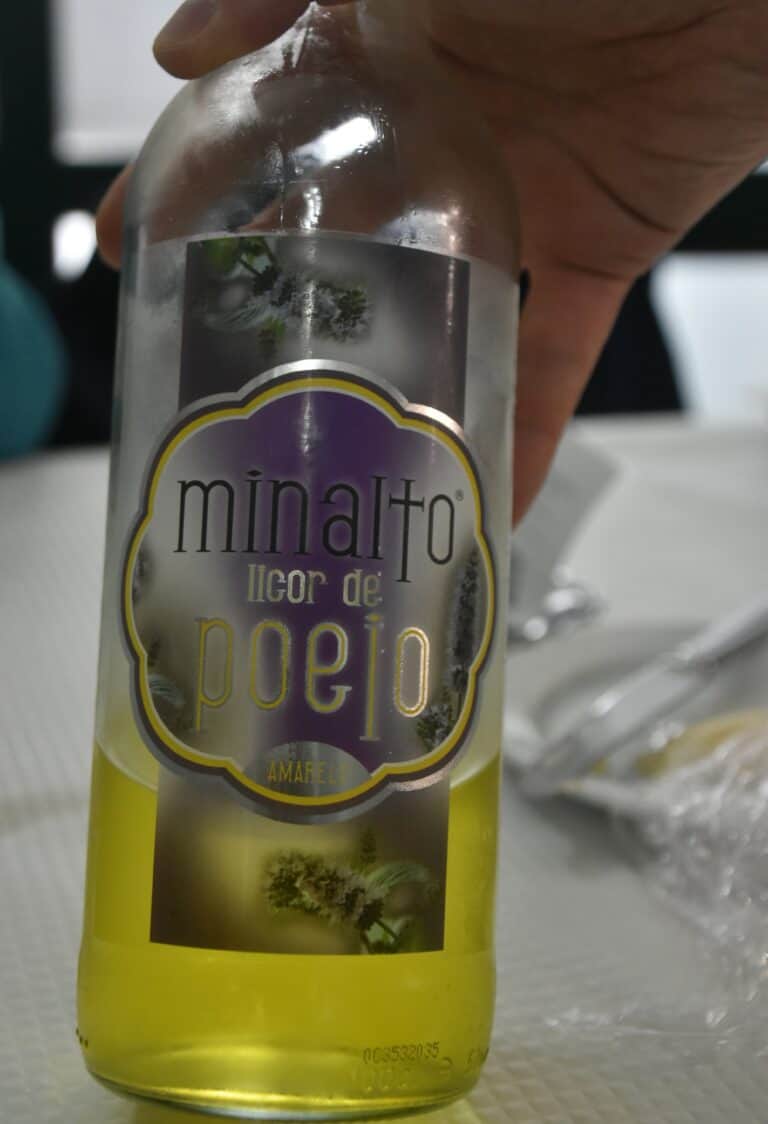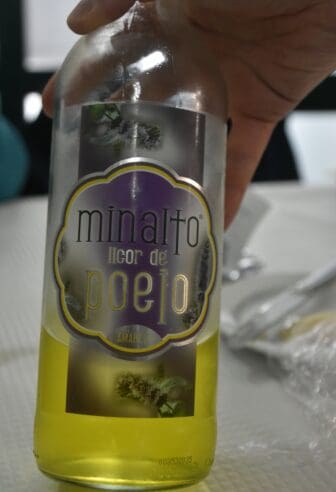 The quality of the pork was very good  and delicious, though.
The dessert was rich and sweet, which was a mixture of eggs, milk and etc.
The local red wine with 14.5% alcohol was perfect for our taste.
We both were very satisfied with this lunch, and the bill was very reasonable at € 60.10.
After making the payment, my husband remembered that he had read about local liqueur, and when he asked the waiter about it, he brought it to us for a drink.
Maybe it has a mint in it and it was refreshing, and it's really Digestif that helps digestion.
The alcohol was 18%, which was not high.
He said that this was on the house, so we left some coins as a tip and came out.
It was a good experience to shine in our memory in the dark rainy Evora.