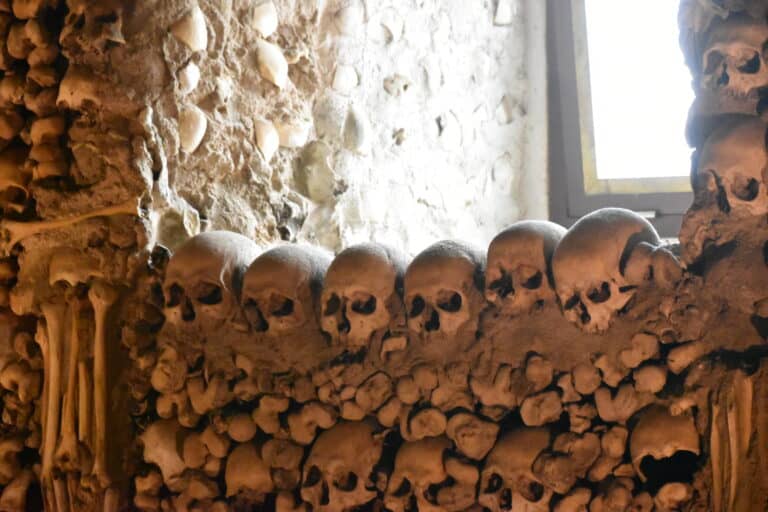 [Dec. 2021] The weather of the day we went to Evora, a town in the Alentejo region of Portugal, was the worst during our holiday.
We arrived at Evora station and were thinking of taking a taxi, but there was none there.
So we decided to walk by relying on the map on my mobile phone.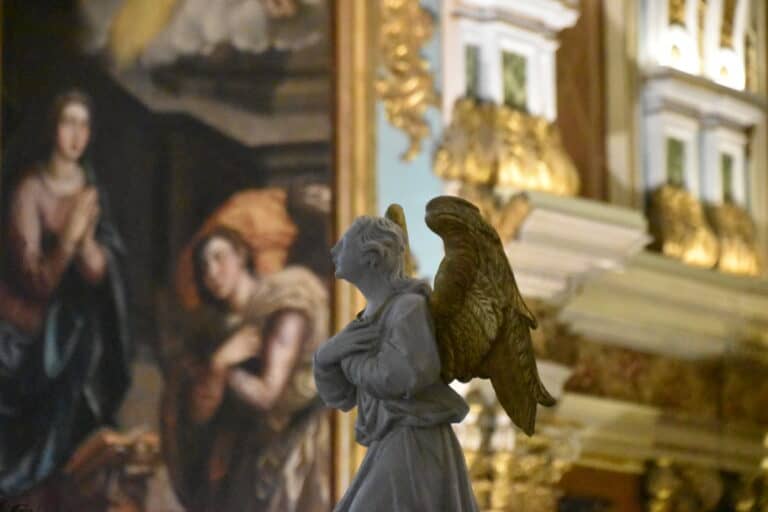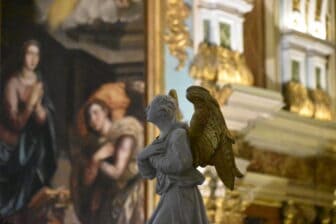 According to the information on my mobile phone, it was 17 minutes walk away.
We walked silently in a heavy downpour.
Our destination was the bone chapel.
The Bone Chapel in Evora is attached to the Church of St. Francisco (Igreja De Sao Francisco).
The church itself was built around 1510, but the bone chapel is said to be from the first half of the 17th century and is the oldest in Portugal.
All tourists are looking for this bone chapel, rather than the church itself, and they have a separate entrance.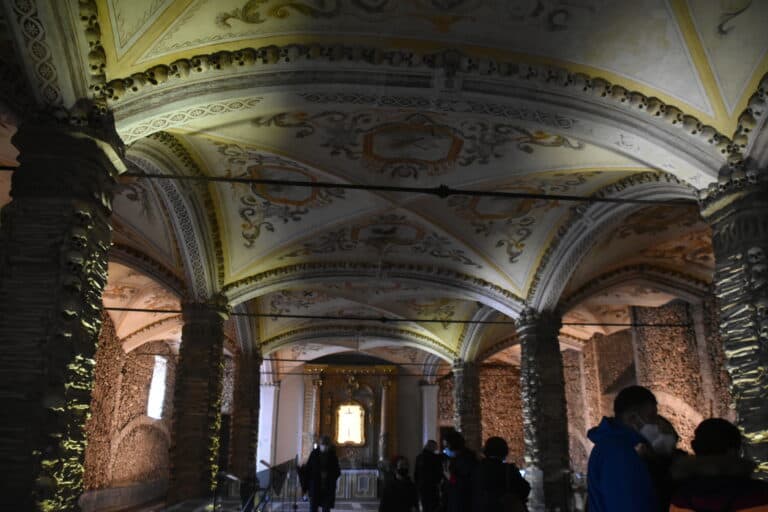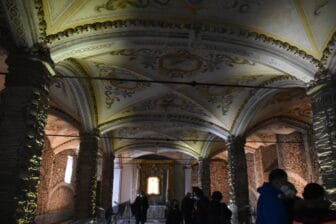 It was such a rainy day, but there were quite a few tourists.
Admission was € 5 per person.
When we entered the chapel, I found that it was a much brighter and more orderly than I expected.
Perhaps because of the beautiful patterned ceiling, it was not frightening at all.
It was made so that visitors were not able to get close to the bones themselves.
However, at the entrance, there is a sentence that means something like "We bones are waiting for your bones," which was a bit threatening.
According to the information board inside the chapel, it was made for the soul in purgatory.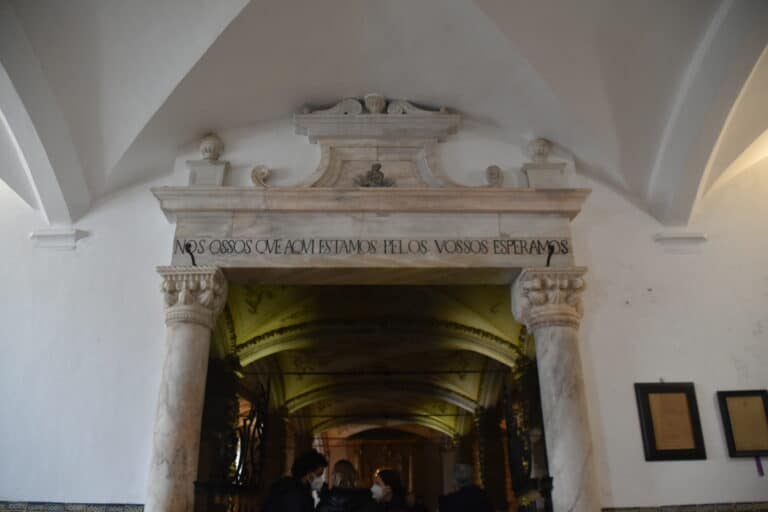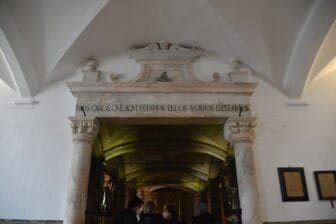 Purgatory is an intermediate point from the death of a person to heaven, and it is thought that many people who did not fall into hell but cannot go to heaven are there.
Another signboard contains the words left by a 19th-century abbot, Antonio Ascensao Teles.
To summarise: "Travellers, where are you going so hurriedly? Think about many people who had passed this world and think about the fact that you will have a similar end. If you come here, stop. The more you stop and think, the better you will be. "
Certainly, it makes me think a little.
According to the guidebook, the bones here belong to about 5,000 ordinary people and have been neatly arranged by Franciscan monks.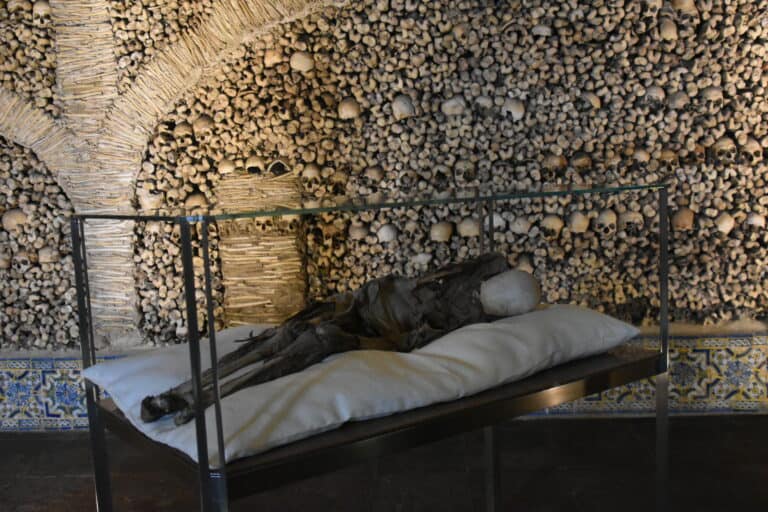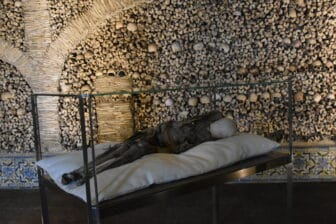 There is a mummy in the glass case at the back, and there seem to be various theories about this.
Apparently it was originally hanging on the wall.
The upper floor of this chapel was a museum, and icons and other items were exhibited.
In the main part of St. Francisco's Church, it was just in the middle of a mass, so we couldn't get inside, but just peeked through the side door.
Looking back on achieving this goal, it seems that the most scary bone chapel I've ever seen was in Faro, southern Portugal, I think.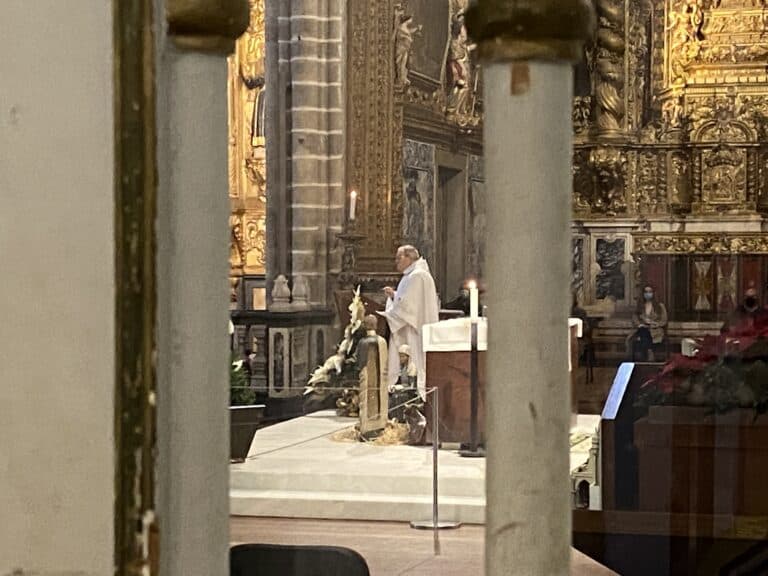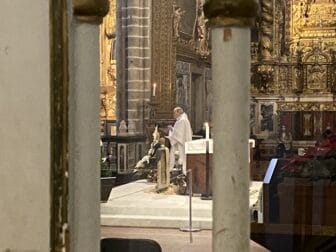 It could be that it was the first time for me, but it was located in a place like the garden of a church, and somehow it had an atmosphere that it was abandoned.
It was also surreal that there was a kindergarten right next door.
Compared to that, Evora's seems to be well maintained and managed, leaving the impression of a neat art space.