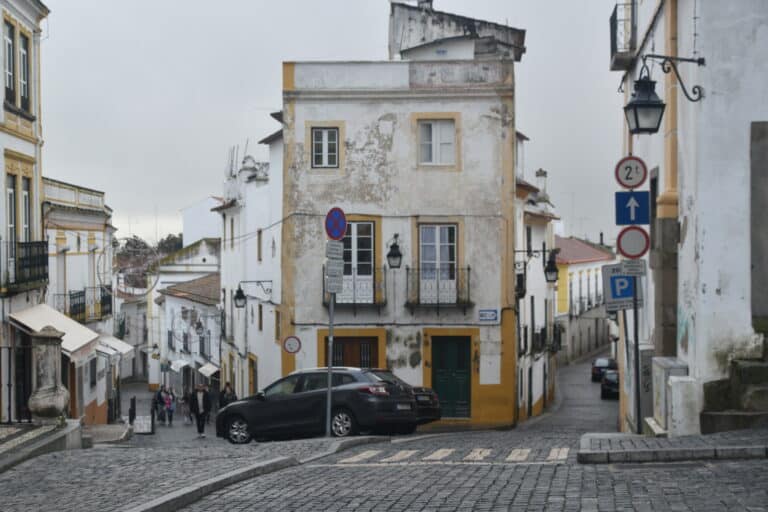 [Dec. 2021] After having a satisfying lunch in Evora, a town in the Alentejo region of Portugal, we walked around the town.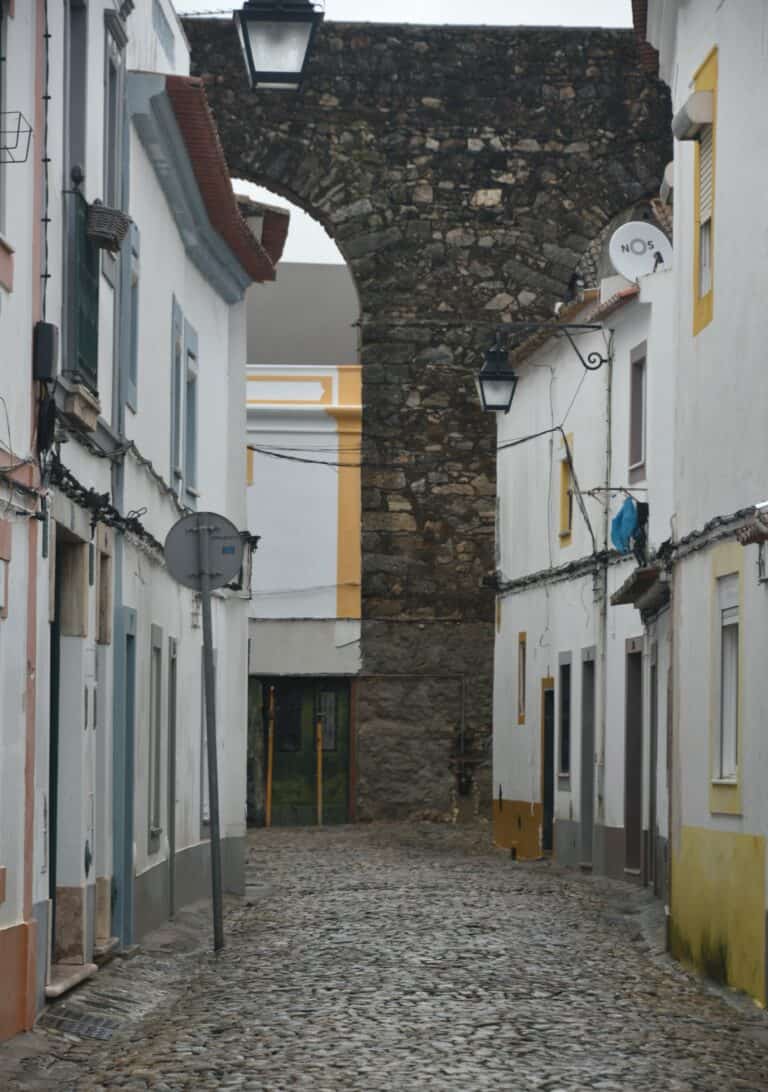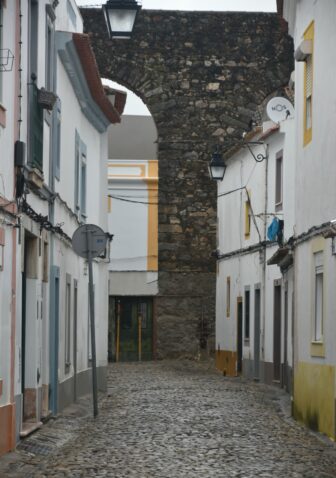 Due to the bad weather, to be honest, I wanted to go back, but we could not.
That was because the trains were not frequent, and we had bought a ticket departing at 4:57 pm on the way back.
For the time being, we went to see the Agua de Prata Aqueduct, which was close to the restaurant.
According to the guidebook, this aqueduct was built by the same architect, Francisco de Arruda, who built the Belem Tower in Lisbon, and was completed around 1530.
What is interesting here is that the houses were built in the arch of the aqueduct, and the bridge and the house are integrated.
Thanks to that, it creates a unique landscape and it is worth taking a picture.
However, as I said many times, it was raining, so I couldn't take a spectacular picture.
This water supply is said to extend more than 8 kilometres northwest beyond the city walls.
From there, we walked towards the square called Largo do Conde de Vila Flor, where the Pousada we stayed at when we came 10 years ago is facing.
I remember this Pousada was very nice, which was converted the monastery called Convento dos Loios into a hotel.
In front of this hotel is the ruin of a Roman temple, which is one of the highlights of Evora tourism.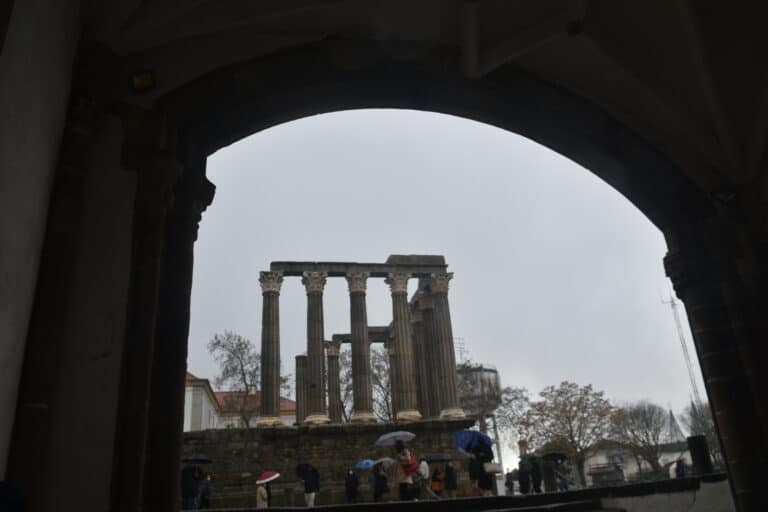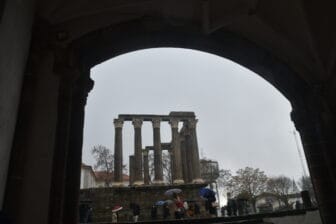 This time too, tourists with umbrellas were hanging out.
This is a temple in the 2nd and early 3rd centuries, and the 14 pillars remain beautifully because it was protected surrounded by walls and used as part of a fortress in the Middle Ages, according to our guidebook.
After the fortress, it was used as a slaughterhouse, but in the 19th century, they found out that it is a Roman ruin.
We visited the cathedral after a while sheltering from the rain under the eaves of the Igreja de Sao Joao church facing the Largo do Conde de Vila Flor square.
This was also our second time to visit the cathedral.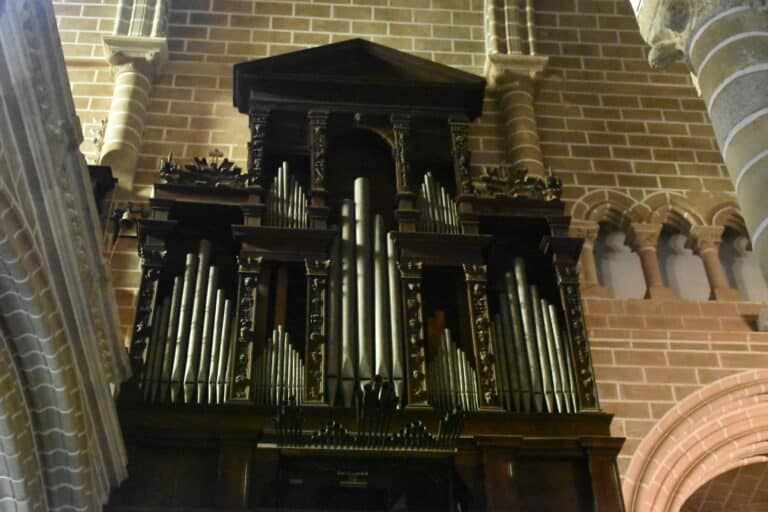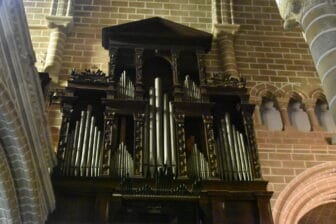 It is said that they started building it in 1186 and took about 60 years to complete, and it is dignified.
It was the organ that I wanted to see again here.
When we came 10 years ago, I remember being surprised because there was a Japanese information board, saying something like "On September 8, 1584, four first Japanese envoys, including Ito Sukematsu, arrived at Evora, where they heard a pipe organ performance that was rare in Europe at that time."
This time, I could not see the information board, but it turned out that it was changed to a touch screen information.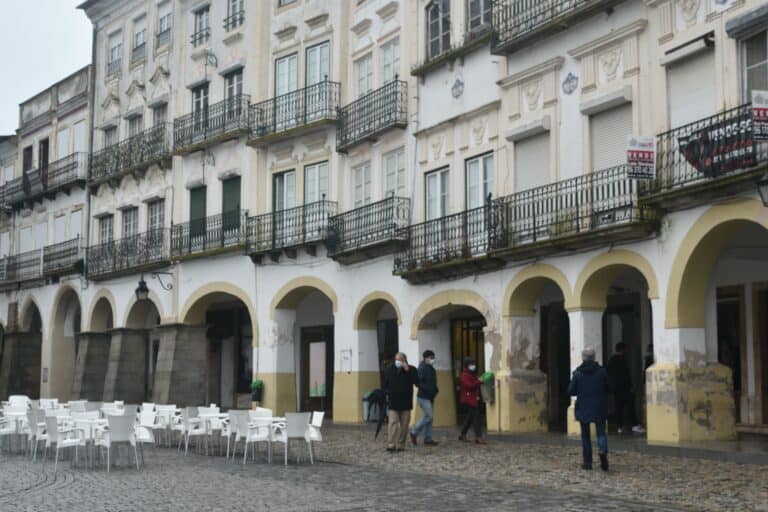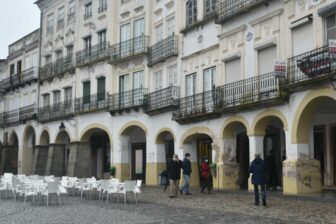 After seeing this, we left the cathedral and headed to the town centre square, Praca do Giraldo.
We took some photos here and then it was about the time to go.
We went to the station by taxi.
I think it is unusual for Evora to have such bad weather.
I remember hearing from my last trip that the Alentejo region, where Evora is located, is sunny for 10 months of the year.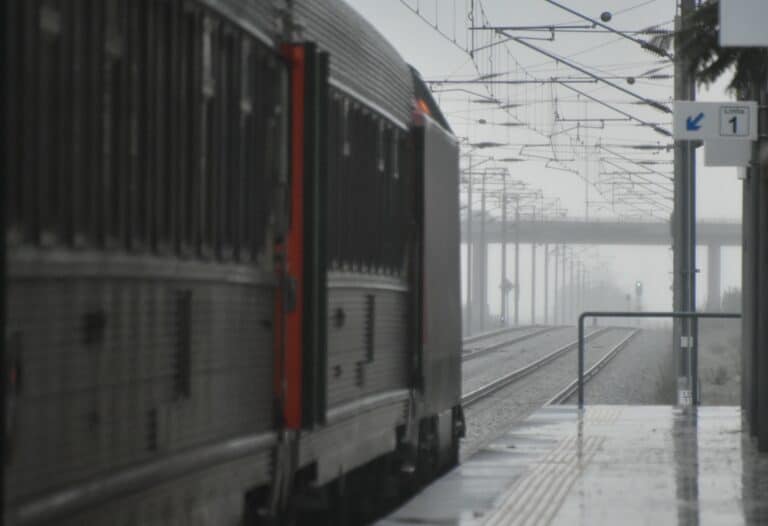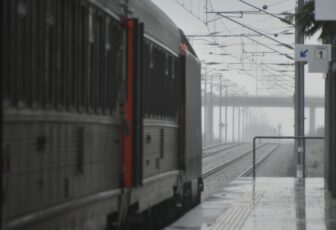 Evora is a really beautiful place when it's sunny.
We returned safely to Lisbon by train, hoping that we could return and spend more time in Evora someday.