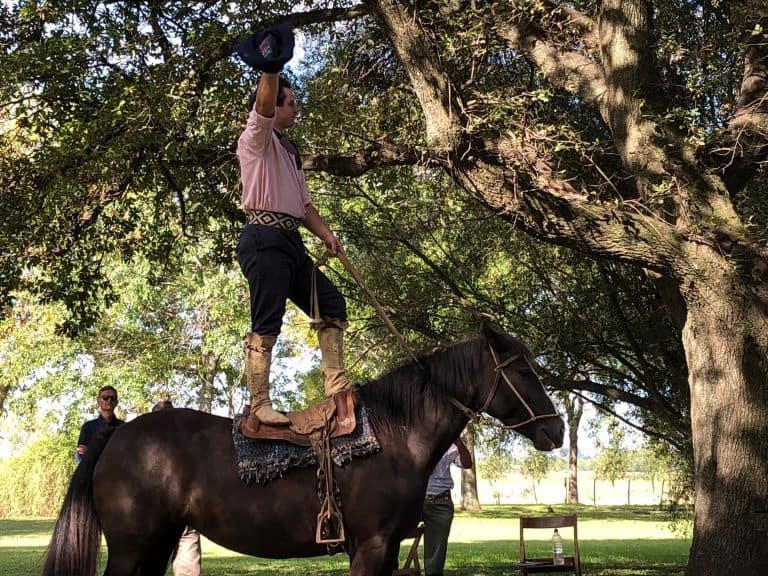 [ Mar.2018 ] After horse riding, we were hungry enough to have lunch in the ranch in the pampas in Argentina.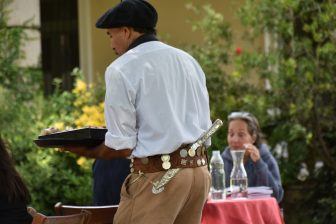 They prepared the tables outside in the lovely large garden and the Gauchos served us.
First, they served two kinds of salad and potatoes and then sausages.
After that, grilled chicken, Lomo (beef tenderloin) and Vacio (flank) were served.
I usually like Lomo, but here they cooked it for too long, so the meat was brown throughout and not rare enough for me.
It was disappointing for us and I thought it was a shame, because the quality of the meat was good.
The last meat they served was one on the bone and that was good, fatty and the tastiest.
The dessert was bread pudding with Dulce de Leche.
Dulce de Leche is another Argentinian food the local people cannot live without, along with Mate tea and Empanadas.
In Japan, they call it 'caramel jam' and that is what it tasted like.
It is a sort of soft creamy caramel and is very sweet.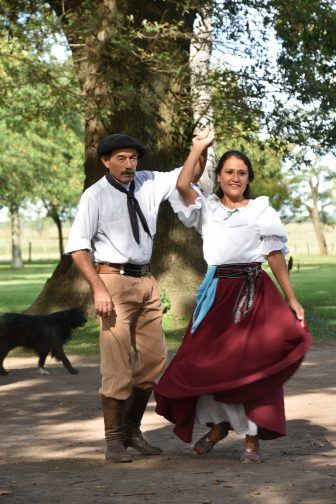 Our guide, Elisabet, told us that in Argentina, people love very sweet things.
After lunch, the show started.
A wife of a Gaucho, called China (pronounced cheena), came out wearing a long circular skirt and danced with the Gaucho.
The music was played by a guitarist and he sang as well.
The typical dance of Argentina is Tango, but this one was completely different.
It was a much slower folk dance and the music was rustic.
Elisabet said that she cannot dance the Tango, but she learned this particular style of dance at school.
And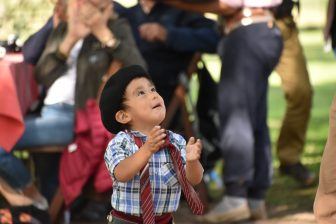 then, out came a little cute Gaucho.
He was probably the China's son and seemed used to the tourists and danced innocently with the adults.
The dance itself was not so difficult and the dancers invited members of the audience to join them.
My husband at first shrank away from the thought of dancing, but got invited by the China and in the end danced happily with her.
By the way, I always thought that Gauchos wore a hat with a broad brim, but here in Argentina, they were wearing pretty berets.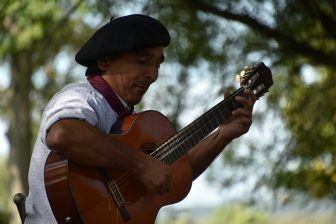 And their trousers were not the wide shorter ones which we call "Gaucho pants".
The width of their trousers was normal and they tucked the end of them into their boots.
They were wearing a wide belt and the silver knife was inserted there.
I thought they were quite stylish.
A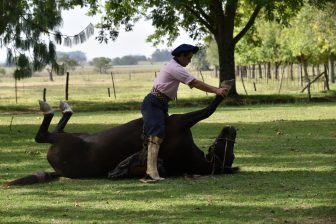 fter dancing, they showed us how they tame a horse.
I had thought they would show a sort of acrobatic horse riding, but in fact it was totally different.
One Gaucho appeared with a horse very quietly and he started stroking the horse very gently and whistled softly, then he made the horse lie down and face up and then he lay on top of it.
I have never seen anything like this.
Apparently this horse was 4 year old female and they had been training her for about 8 months.
Seeing this performance, I felt the intimacy between the Gaucho and the horse and I even felt that I saw something that I should not have seen.
This show was the last of our visit to this ranch and we went back to Buenos Aires.