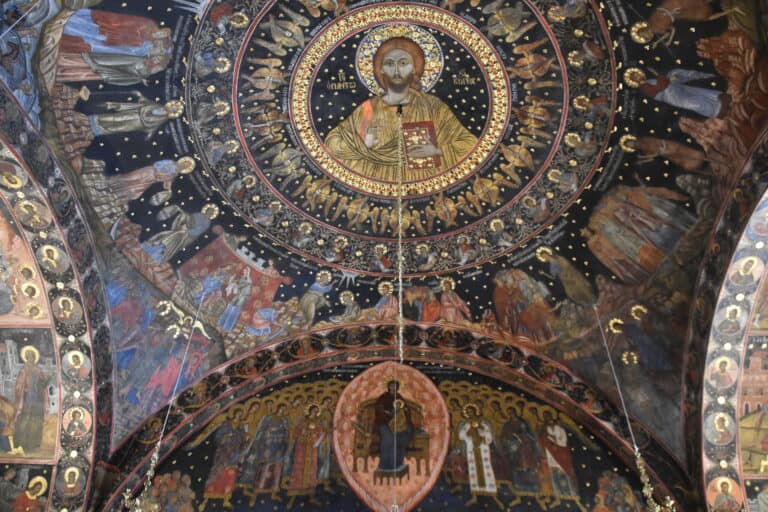 [Apr. 2022] We went to Bachkovo Monastery by minibus from Plovdiv, Bulgaria.
The guidebook said it would take 40 minutes, but it didn't take that long.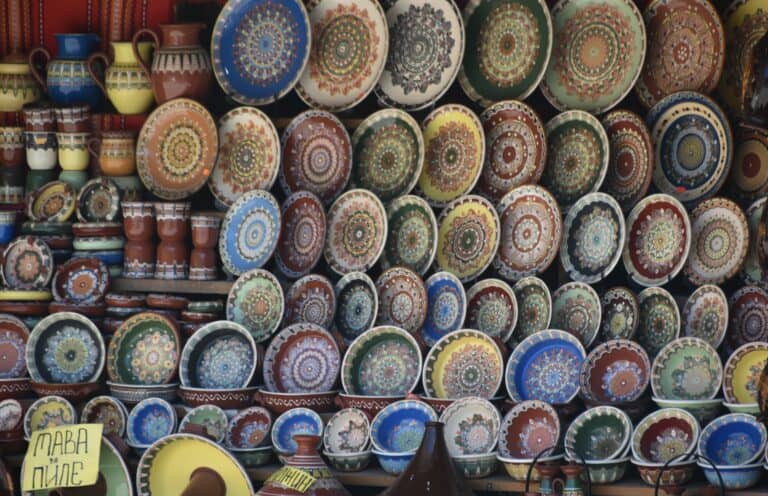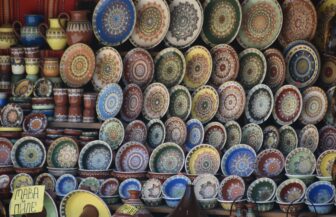 It was a roadside bus stop where we were dropped off, and there wasn't even a timetable.
We were very concerned about the return bus, but there seemed to be no information.
For the time being, we walked to the monastery.
There were many souvenir shops along the approach to the monastery.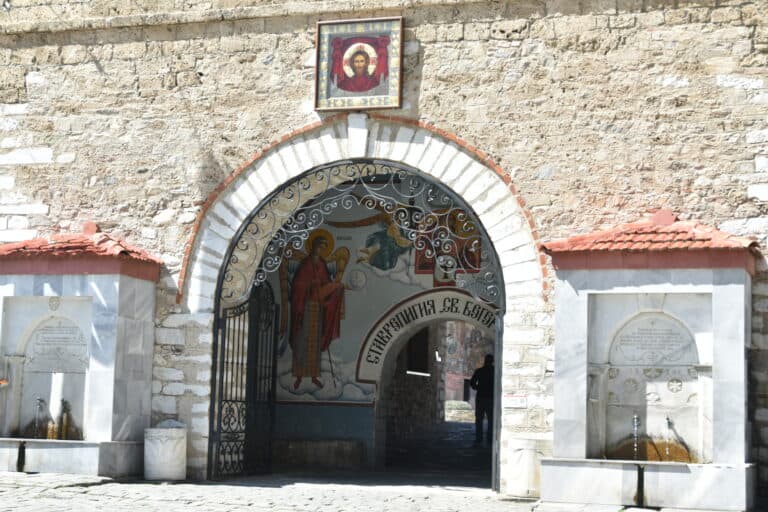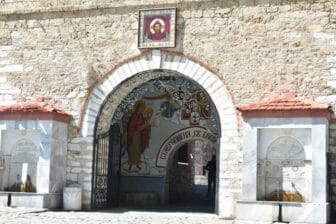 There were only a limited number of items on sale, though, including honey and pickles, cutting boards made of unique wood, and ceramics with a pattern similar to the one we had bought on our last trip to Bulgaria.
Since it was in the morning on weekdays, there were many shops that were not open yet.
Now, let's enter the Bachkovo Monastery.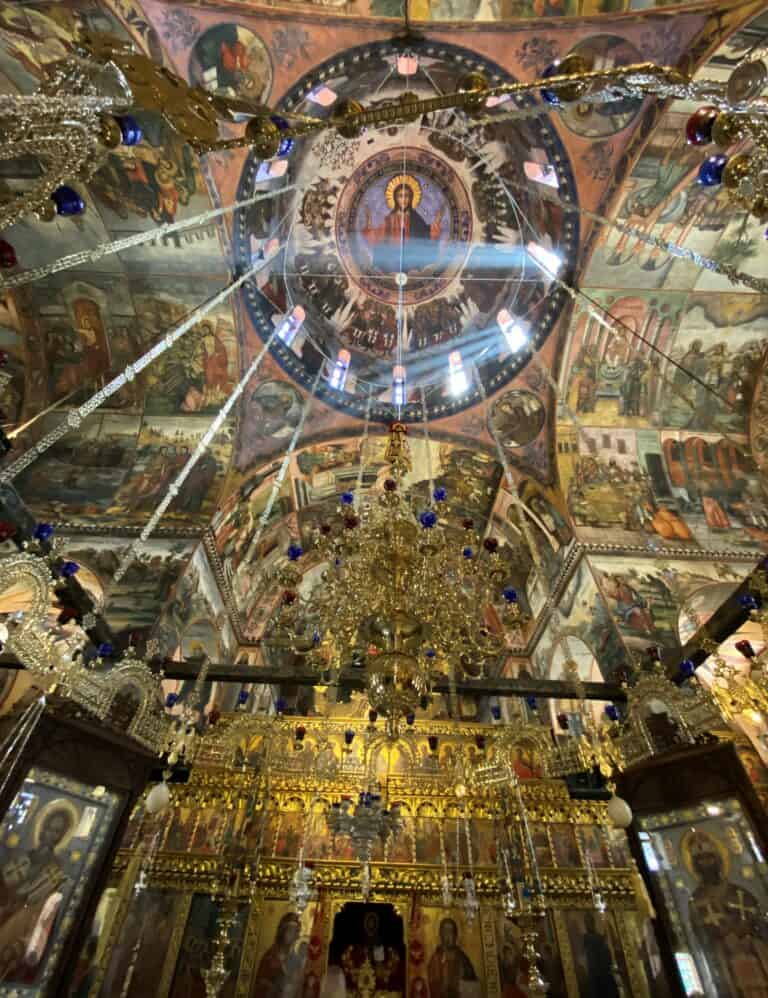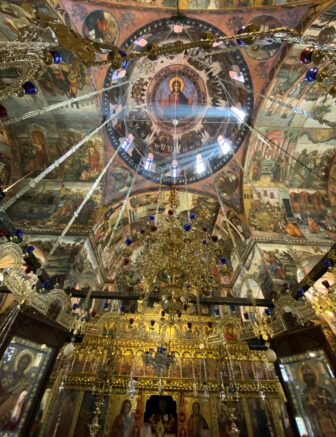 According to the guidebook, it is a monastery founded in 1083 by Georgian aristocratic brothers who served the Byzantine Empire.
After prospering during the Second Bulgarian Empire from the end of the 12th to the end of 14th centuries, it was plundered by the Ottoman Empire in the 15th and 16th centuries, but after extensive restoration work in the mid-17th century, it is now the second largest monastery in Bulgaria.
There is a church in each of the two courtyards, surrounded by a building where monks live.
We weren't too surprised at the appearance as we had seen the country's largest Rila Monastery last time, but it's been a while since we saw the Orthodox church covered with frescoes, so I was amazed at the gorgeous interior.
This church we could get inside is the Church of Sveta Bogoroditsa, built in 1604, and the frescoes inside are from the 19th century.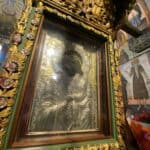 The silver-wrapped icon of Our Lady of the 14th century is the centrepiece here, and is said to have been brought from Georgia.
They say that it has performed miracles, and people were praying in front of it.
I could not find out if it was okay to take pictures inside, so I secretly took a few pictures with my mobile phone.
Outside the church, there were rows of candle-lit stands, and there was a person cleaning the burning debris of candles.
It looked like a well-maintained monastery.
The Church of Sveti Nikolai in the other courtyard is said to have a mural of "The Last Judgment", but it was closed.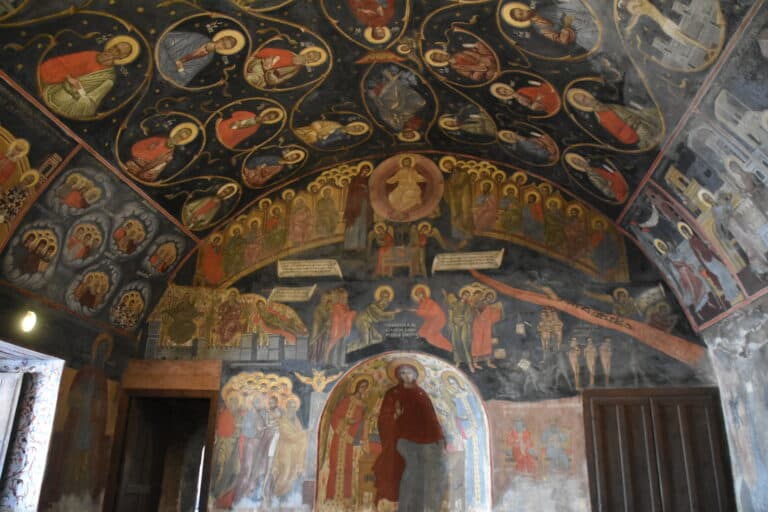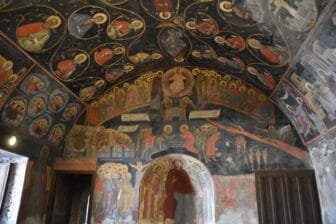 Another thing to see is the refectory.
The person in charge of the museum on the premises opened it for us.
You can enter the monastery for free, but you have to pay 8 Lev (about 4 euros) per person to enter this refectory, and 25 Lev to take a picture.
The unique frescoes were great here as well, but I thought 25 Lev was a little too expensive.
The entrance fee for the museum was 2 Lev.