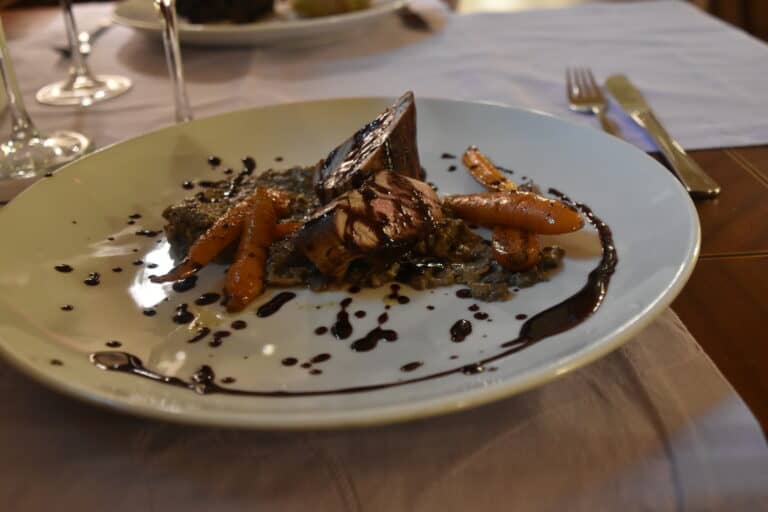 [Apr. 2022] In Plovdiv, Bulgaria, after putting our luggage in the hotel, we went out to the town in search of a restaurant.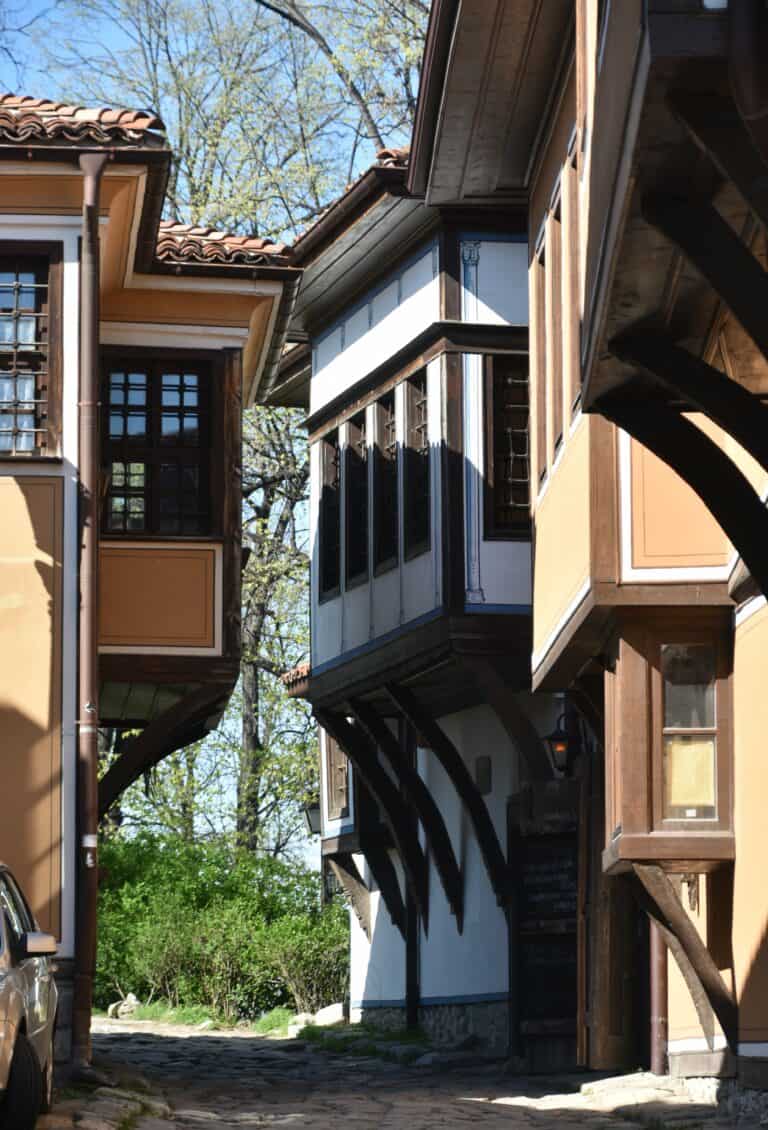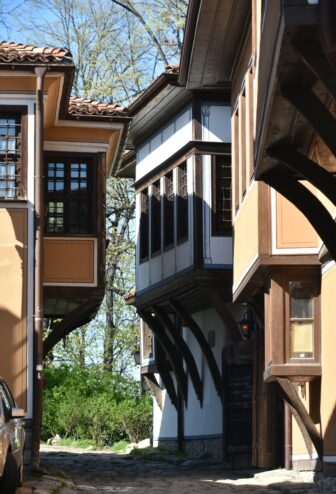 The last food we ate was the croissant at the airport early in the morning, so we were hungry.
As usual, we looked for a restaurant that my husband found on the internet.
When we went up the gentle slope while looking at the colourful traditional houses whose first floor sticks out in the old town of Plovdiv, there was a tourist information centre, so we went in and got a map and a list of highlights.
At first, the person in charge seemed to be reluctant, but gradually her attitude became normal and kind.
That is typical in Eastern Europe.
Here, we found that we were walking in the opposite direction, so we went back down the slope and got to our destination, the restaurant "Philippopolis".
I didn't expect it, but the interior was quite posh, and the waiters who responded were very polite.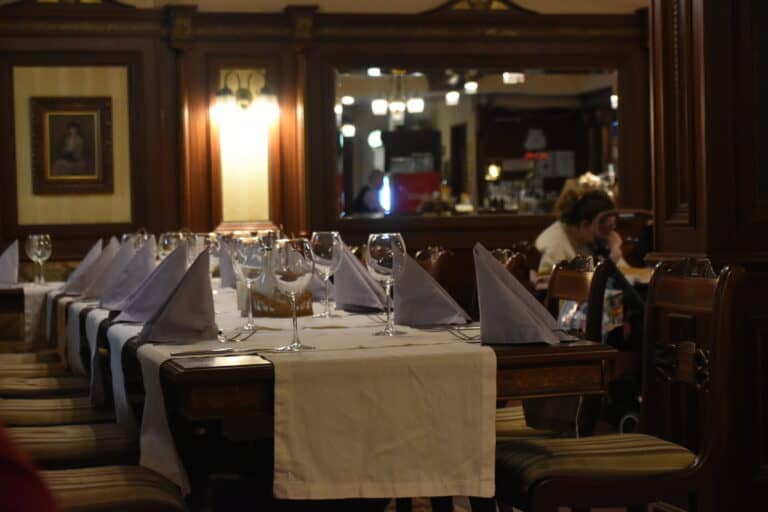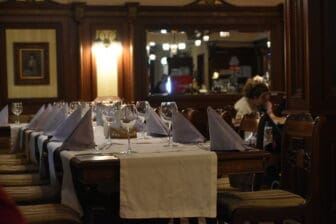 Perhaps because it was a strange time after 4 pm, the customers were only us and another group of foreigners.
However, I could see that there were tables outdoors, so other customers might have been there.
Unlike Western, mostly Latin gourmet countries, restaurants are open all day in Eastern Europe, which is helpful.
We have a Shopska salad as the starter here.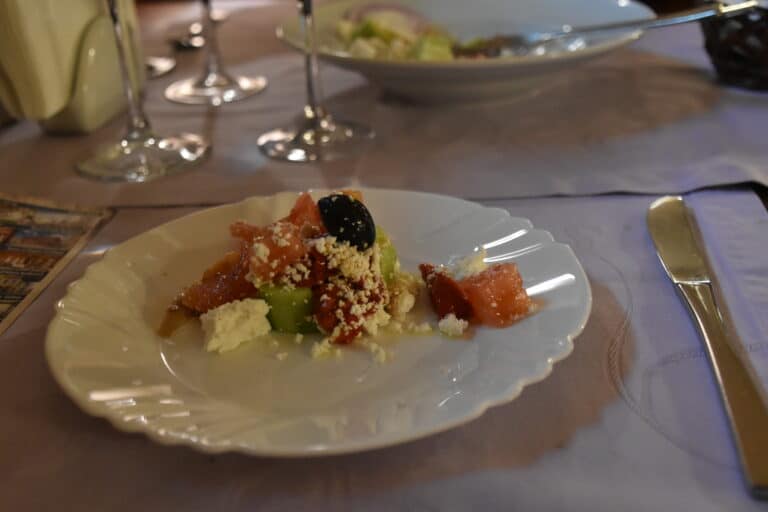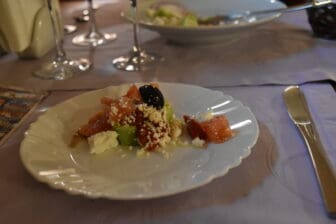 It's been a while since I had it, so enjoyed it, but when I thought about it, I thought it was very similar to a Greek salad.
I wonder if the point is that the cheese is shredded.
For the main dish, both of us chose pork.
My husband's one was called "Svinski Rebra / Ryato", and that was a rib stew + BBQ sauce + a big potato.
This was a gem.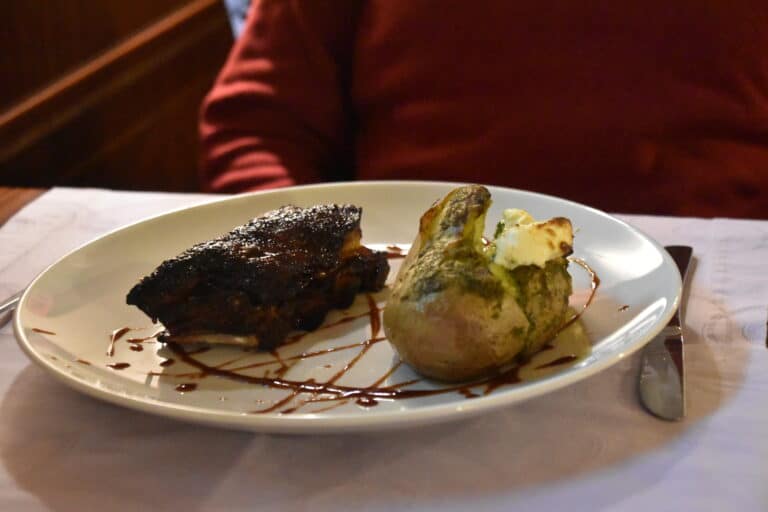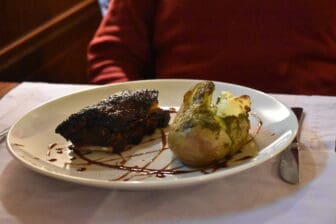 I got it a little from him and it tasted slightly sweet and very good.
Mine was something called "Svinsco Bon Fillet S Duk".
It was fillet + mushroom sauce.
The taste of mushrooms came out well and it was delicious.
I didn't expect much, but the Bulgarian foods were excellent.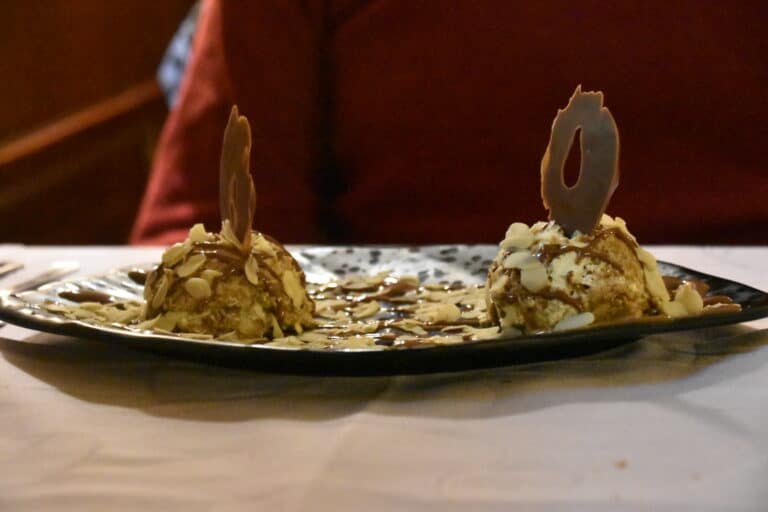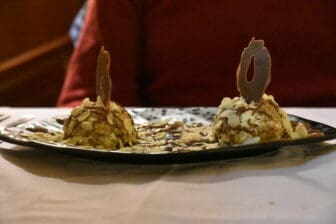 The wine we had was produced at a winery about 25 kilometres from here, and it wasn't that rich, but not bad.
For dessert, we shared coconut cheesecake and Torta Nutella.
Both tasted unfamiliar.
With the above, the bill is 122.80 Lev (about 63 euros), which is very reasonable.
However, Bulgarian prices are cheap and the meal at this time was the second most expensive on this trip.