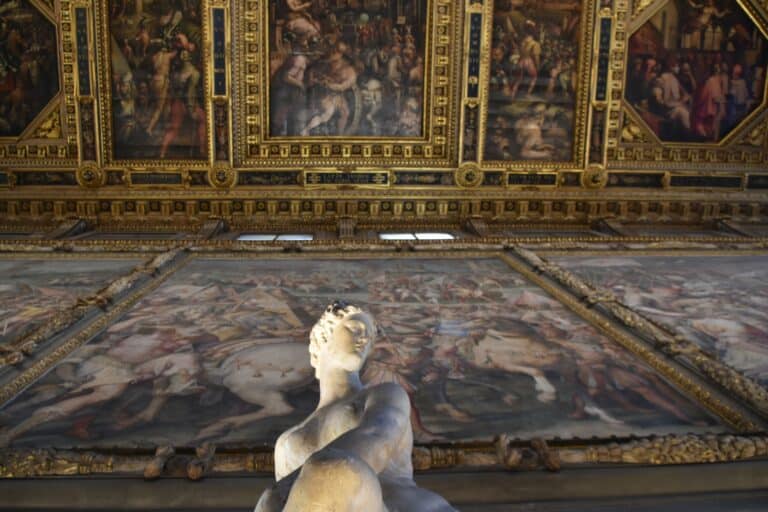 [Sept. 2021] One of the famous places in Florence, Italy, that we have never visited was Palazzo Vecchio.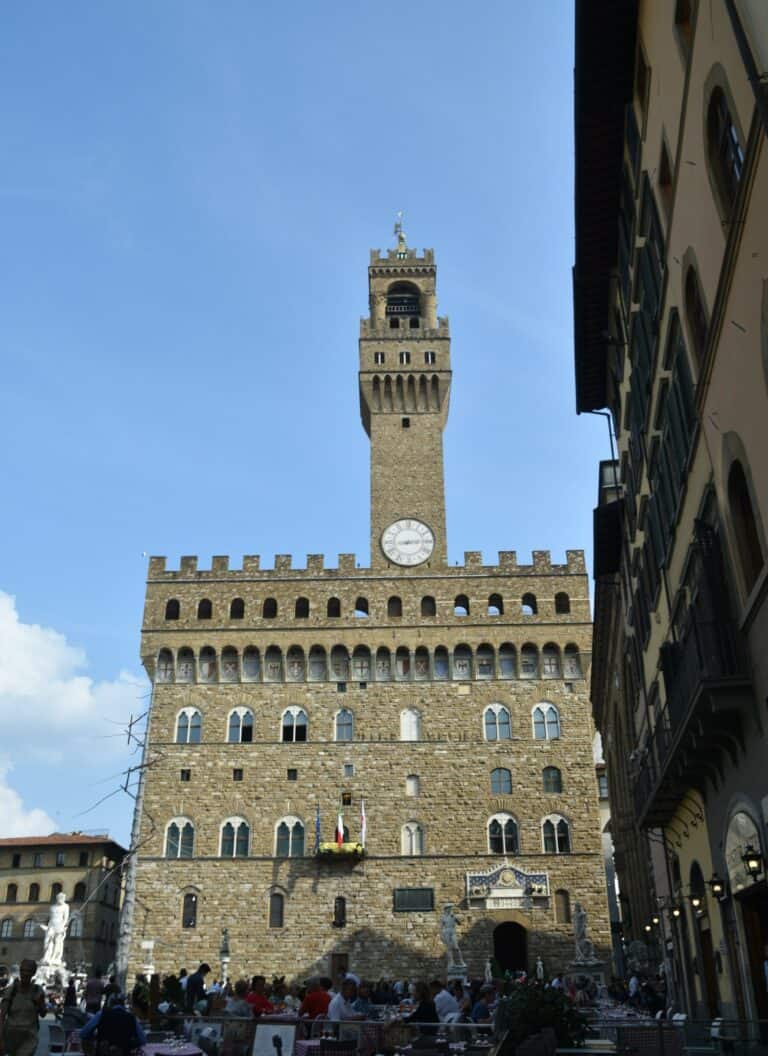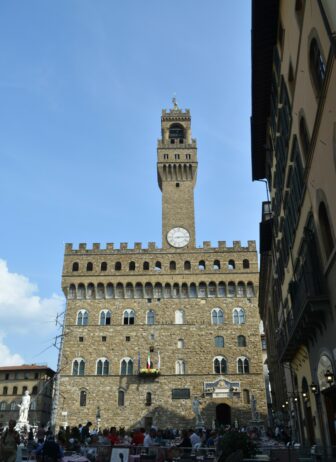 So this time, we decided to visit there and made a reservation in advance.
As part of the Covid-19 measures, a reservation and a green pass (vaccine certificate) are required to enter any of the the indoor attractions.
Palazzo Vecchio is located in Piazza della Signoria, home to many famous sculptures, including the Nettuno (Neptune) Fountain and a replica of the statue of David of Michelangelo.
The exterior looks like a rugged fort, with the outstanding Tower of Arnolfo, which is 95 meters high.
It seems that this tower can be climbed for an additional fee, but it will be closed on rainy or windy days.
According to our guidebook, Palazzo Vecchio was built as a city hall in the early 14th century and is still in use.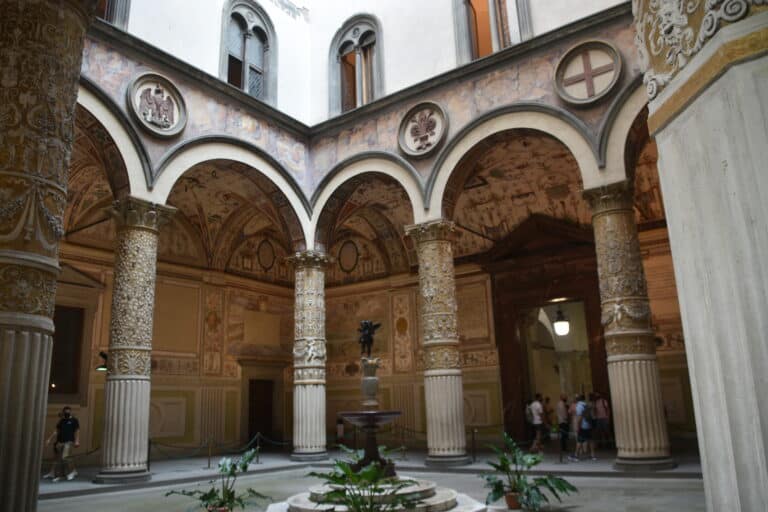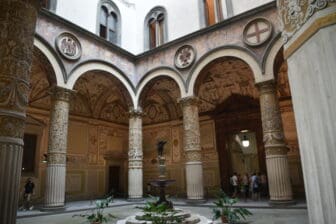 At one point, the Medici Grand Duchy of Tuscany, Cosimo I, lived there, and at that time, his favorite artist Giorgio Vasari refurbished the interior.
By the way, we went to Vasari's house in Arezzo a few years ago.
Vasari was a disciple of Michelangelo and was proud to produce his work one after another quickly, according to the guidebook.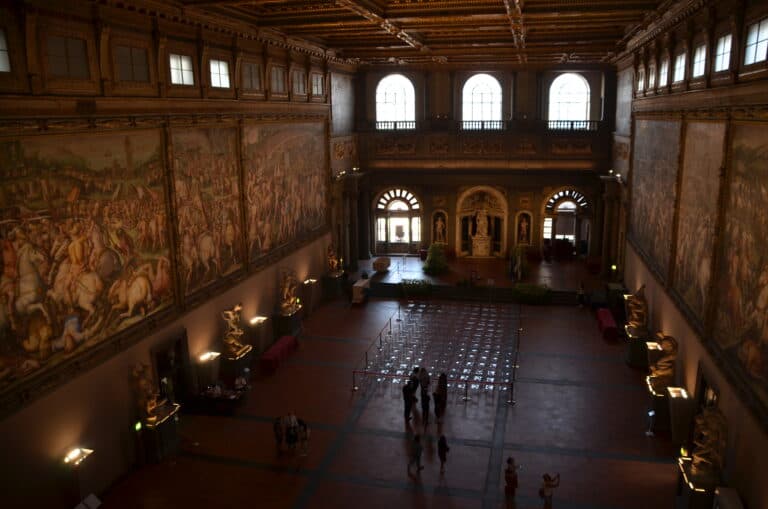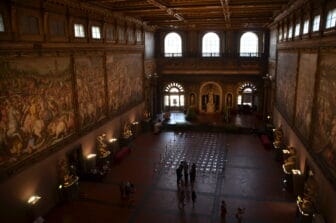 Michelangelo accused it of "quickness is reflected in his work."
Now, when we entered the palace, there was a beautiful patio first, and then the reservation and the green pass were checked in the dim place.
Once inside, the gorgeous "++ Rooms" that are hard to imagine from the bare exterior continue, but particularly the hall called Salone dei Cinquecento (Hall of Five Hundred) was overwhelming.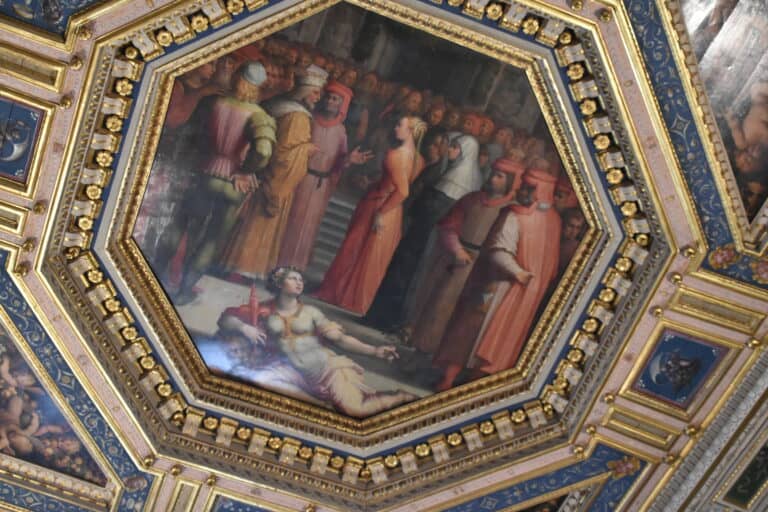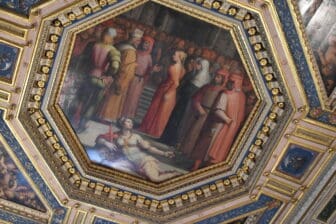 It is said to be expressing the power of the Medici family in the 1560s.
The plastic chairs were lined up, so this hall is still in use.
There were many rooms with luxurious ceiling paintings and wall paintings, and each with a description.
One of the most memorable pictures for me was a picture of a courageous girl who refused to kiss a great man.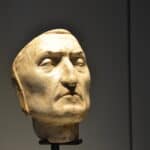 According to the description, it represents the independence of Florence.
Then there was a sculpture of face of Dante, who is by far the most famous person from Florence.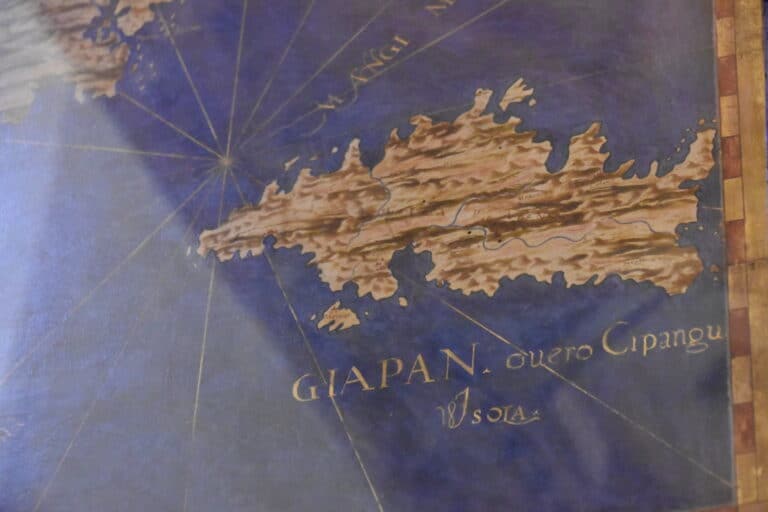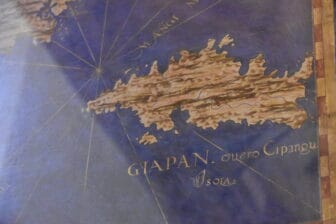 This was long thought to be Dante's death mask.
There was also a room of old maps, and I laughed at the fact that the Japanese map was depicted flat like Crete.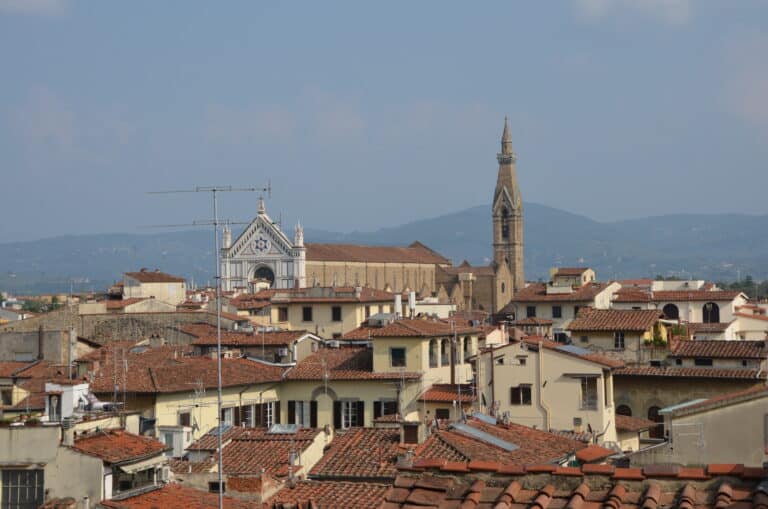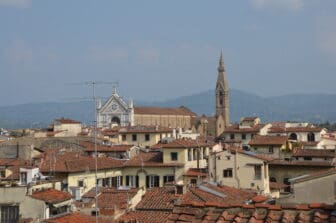 Along the way, we were able to get out to the balcony, from which we could see the landscape of Florence, including the Basilica di Santa Croce and the brick-coloured tiled roofs of the houses around it.
If you climb the tower of Arnolfo, which we didn't this time, the view would be even more amazing.
I heard that you have to climb 416 steps, though.