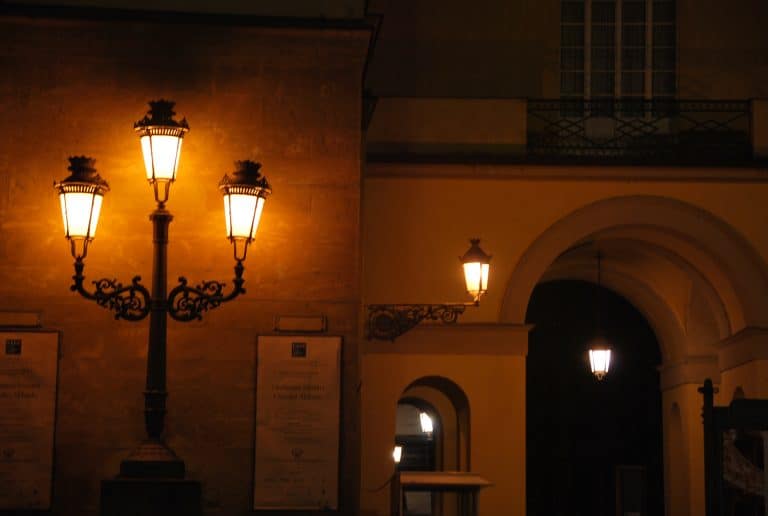 [Nov. 2009] After enjoying the fantastic scenery in San Marino, a small country in Italy, we decided to stay overnight in Parma on the way back to Milan.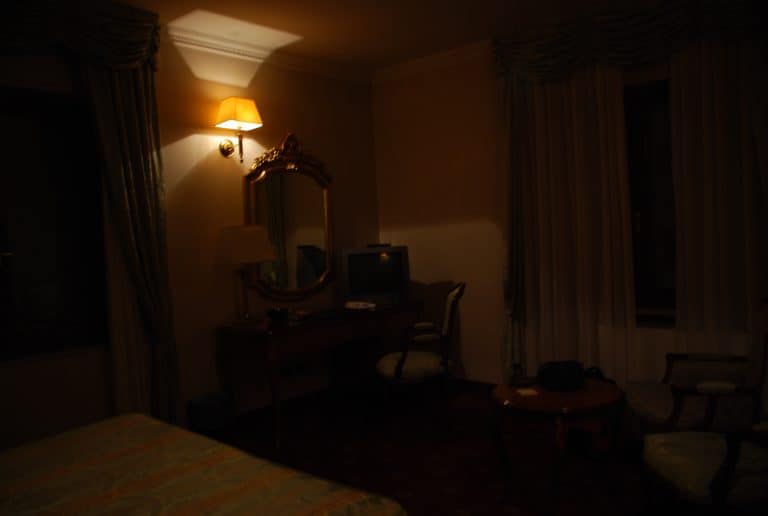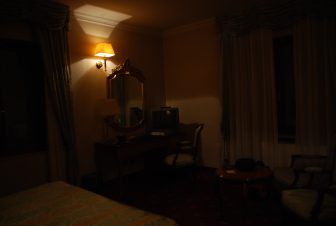 It takes about two and a half hours by car from San Marino to Parma.
We didn't plan to stay here for one night at all, so we had not made a hotel reservation, but we successfully settled down in a  hotel called Stendhal, which we randomly entered.
It was a comfortable 4-star hotel with an old-fashioned décor.
Immediately after arriving, we started looking for a restaurant for dinner.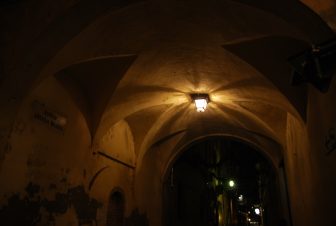 After wandering around for a while in search of the one listed in our book, we found that it was full and could not be entered.
We asked a passerby for a recommendation and went to another restaurant.
When we arrived, we found that it was a simple restaurant or a cafe, and we were quite apprehensive, but the food was very delicious.
Starters were Parma ham and parmesan cheese.
They are local, aren't they.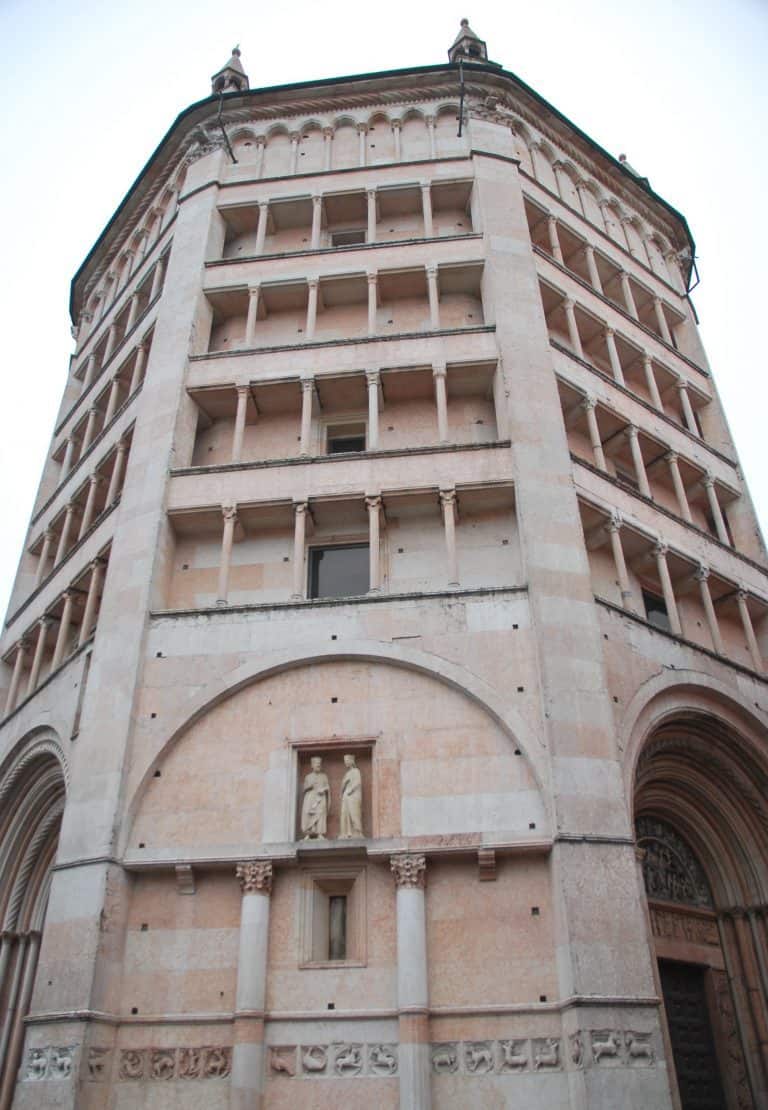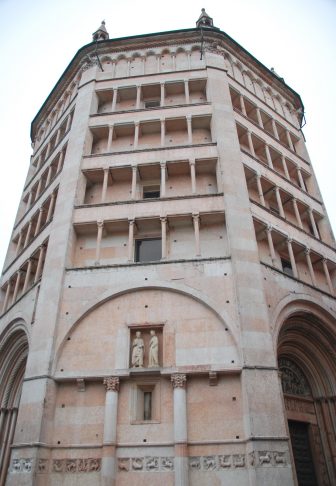 The main was a hamburger steak with a mixture of beef and horse meat.
There was ham underneath the hamburger, and the sauce was light and delicious.
After the meal, we had a short walk back to the hotel on the streets where the streetlights at night created a mysterious atmosphere.
Next morning, the weather was not good.
I was supposed to return from Milan to London at night, so we hurried to see Parma.
At Piazza del Duomo in the centre of town, we only entered the baptistery.
This baptistery was built from the end of the 12th century to the beginning of the 13th century and is octagonal.
It is made of light pink marble.
Once inside, I was fascinated by the frescoes on the ceiling.
It's a pity that I couldn't take a good picture because it was dim.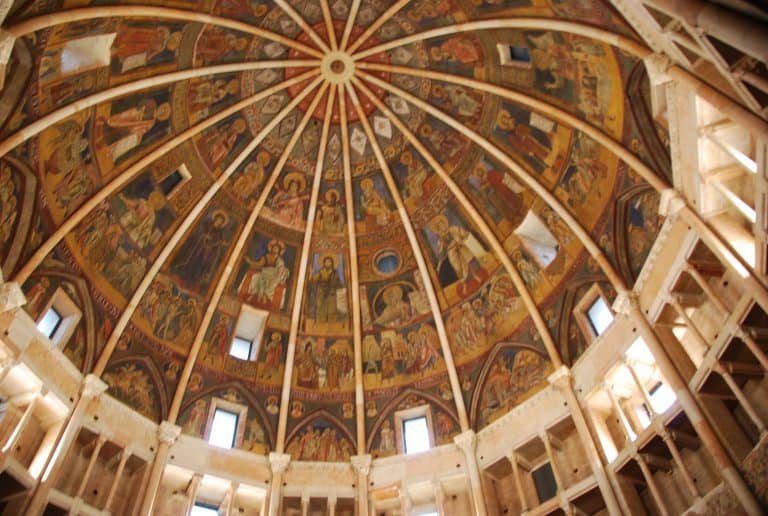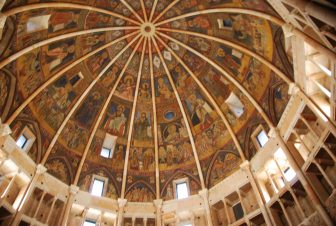 According to Wikipedia, this baptistery is a model for a hotel called Il Palazzo in Fukuoka in Japan.
Looking at the photo, the front is certainly like a baptistery.
However, the colours are red and green, which looks a bit Chinese.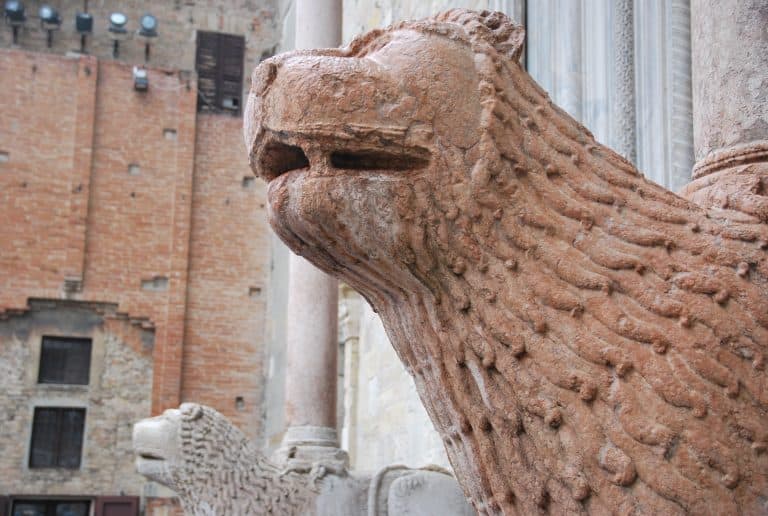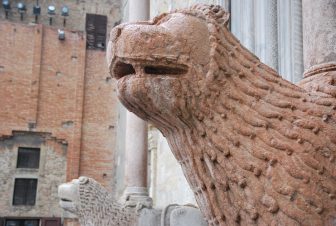 There is a cathedral next to the baptistery, but we couldn't enter it probably because it was Sunday (after that, we entered there in 2016).
The lion statues on the table were impressive.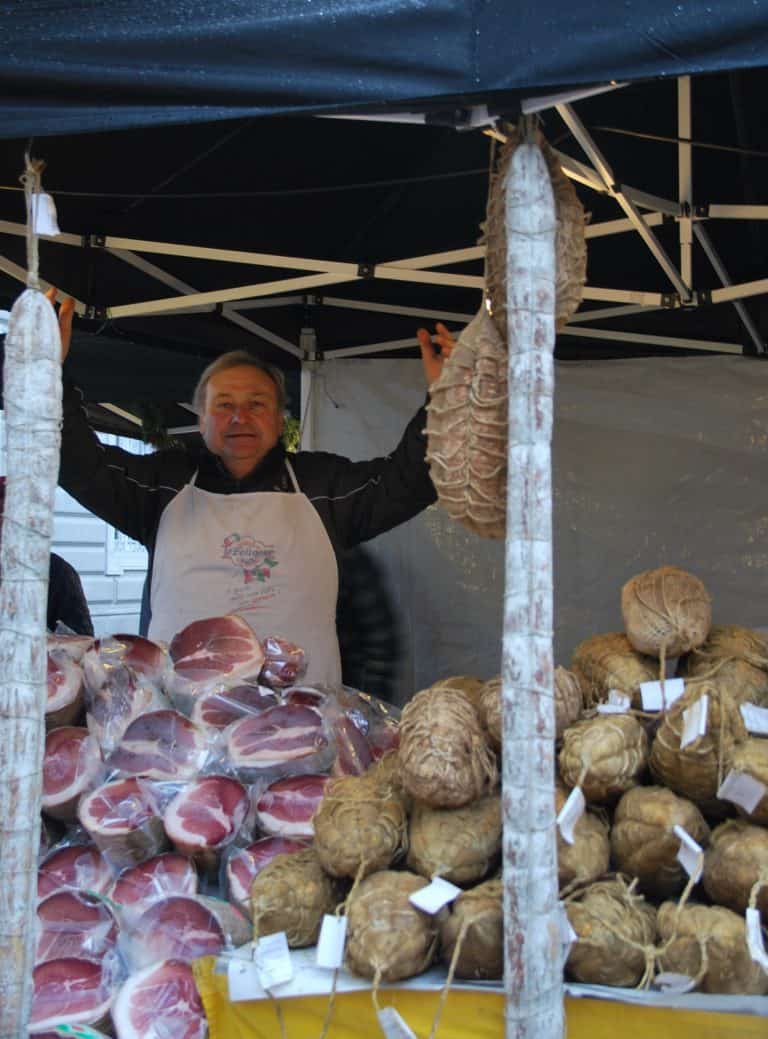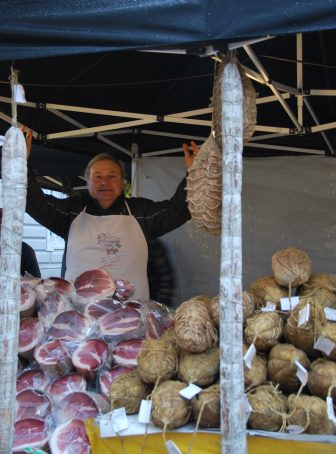 In Parma, a food market was open and a lot of people were shopping in the weather that looked as if to start raining any time.
It's unclear if this was a special day or if it's always have the market on weekends.
Parma is well known around the world for its food.
Cheese, ham, and other delicious foods were all over the place, and I felt excited.
For me, this was my first experience with Parma, but I have visited it many times since then.
Whenever we go to Parma, of course, food is the main purpose.