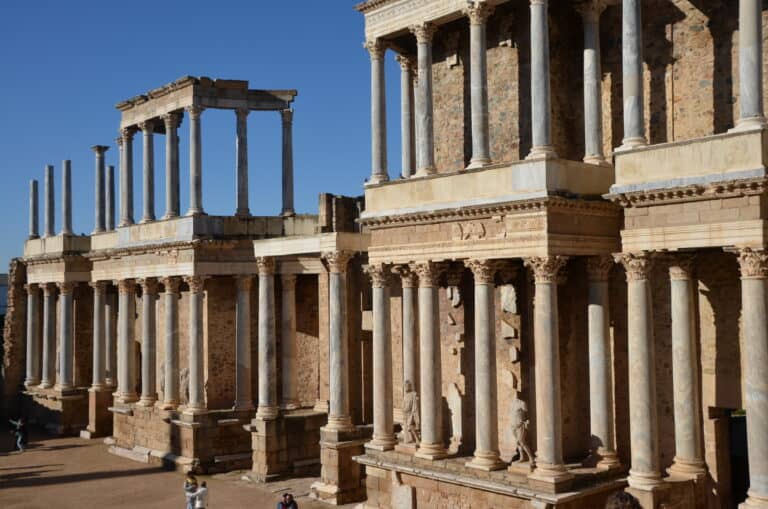 [Dec. 2022] There are many Roman ruins in Merida, a town in western Spain.
It is described in our guidebook as 'a must to see in Extremadura'.
Within the town, the highlight is the Roman Theatre (Teatro Romano).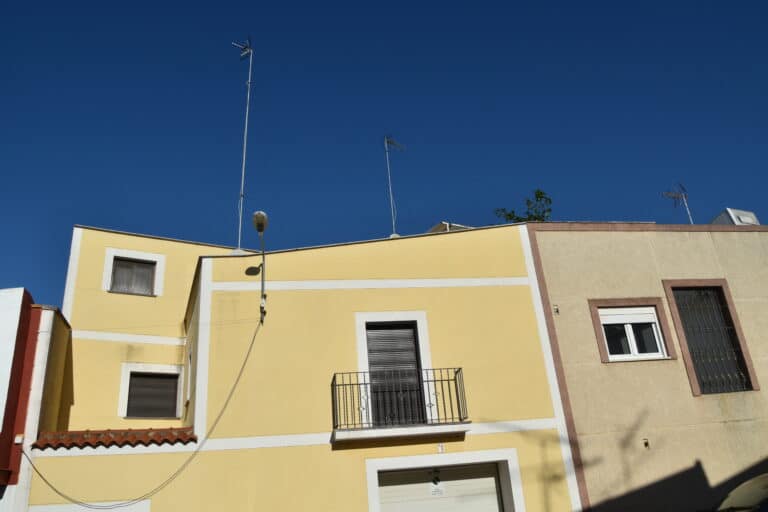 We followed Google Maps and walked from the Roman bridge to this Roman Theatre.
Maybe because I did not input "the entrance of the theatre", we ended up walking around the large site of the ruins.
I was pretty tired because I was carrying a rucksack, even though it was only a night's worth of luggage.
Besides, the town of Merida itself, which we passed through on the way, was not cute at all, and there were almost no subjects I wanted to photograph.
The blueness of the sky was outstanding, though.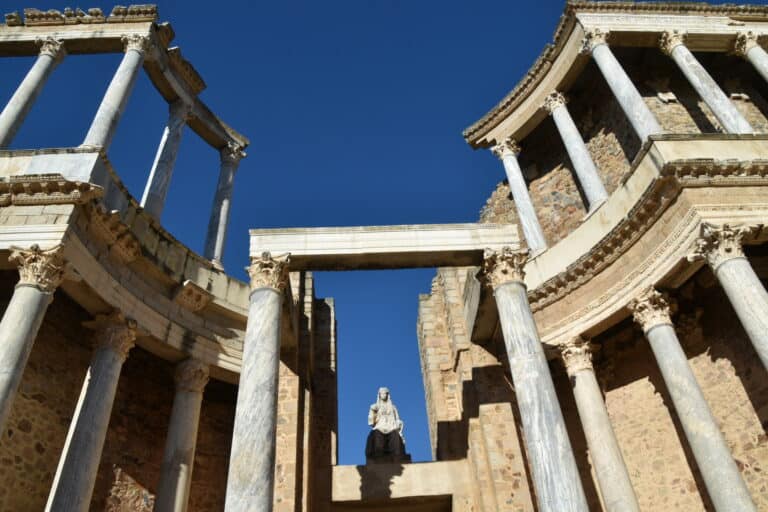 We finally arrived at the ticket office at the entrance and bought a ticket to see the Roman Theatre and the Amphitheatre Stadium (Anfiteatro) for €12 per person.
There was also a €16 ticket that covers most of the other ruins scattered around the town, which was by far the best deal, but we had decided to take the bus at 2:30, so we bought the ticket just for the theatre and the stadium.
The Roman Theatre was built around 15 BC and had a capacity of 6,000 people.
As it is designated as a World Heritage Site, it is in a very good state of preservation and is worth seeing.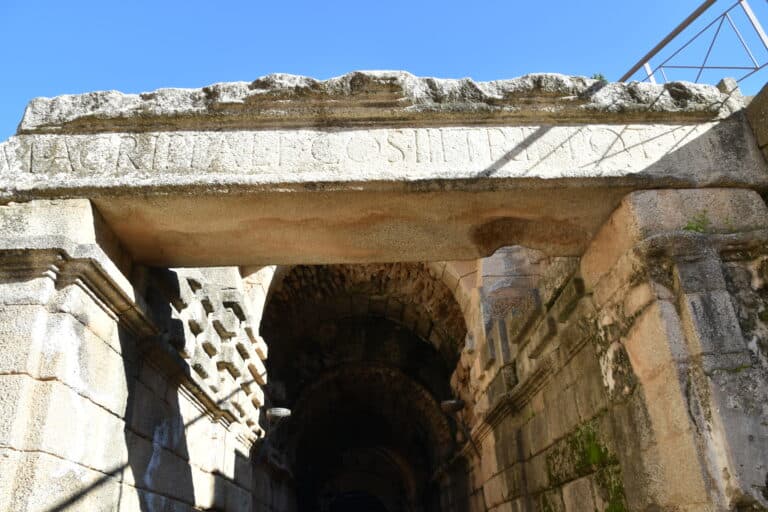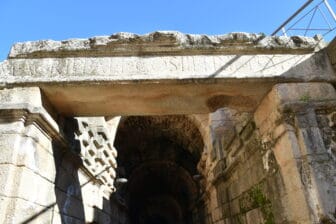 Recently, we saw a similar one in Plovdiv, Bulgaria in the spring, but Merida's stage structure is better preserved.
While having a rest sitting at the theatre seat, I called my family in Japan and show them the surroundings simultaneously.
My elderly mother saw it and said, "I wanted to go too. I was born 50 years too early."
It may be a matter of course for young people, but I am filled with gratitude that I was able to do this thanks to the efforts of the engineers.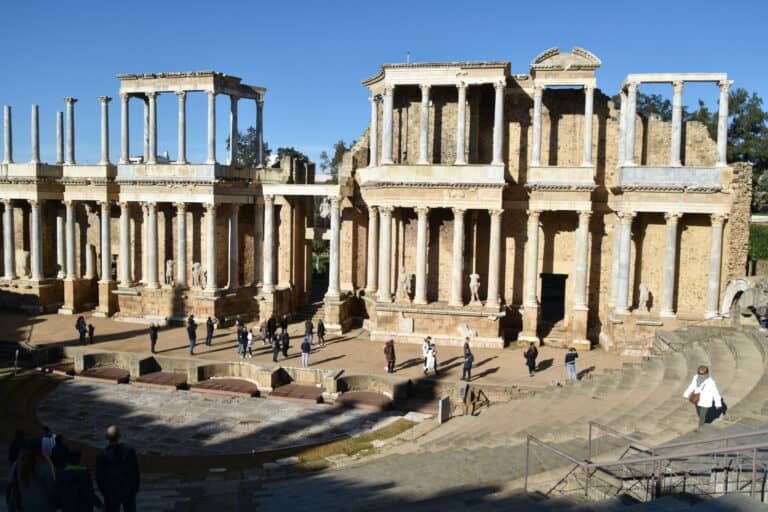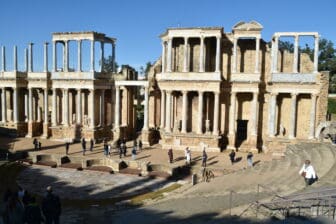 Merida is not so well known internationally, but it seems to be one of the leading tourist destinations for Spanish people, and there were many tourists there.
It was very difficult to take a picture without people in it.
After walking around for a while, we found a sign that said, "This is the seats for honored guests."
Even now, there are many theatres with VIP seats that are separated and situated at the front of the first floor, aren't they.
Things have not changed so much since 2000 years ago.
According to the guidebook, there is a summer festival where plays and other performances are held at this theatre.
Then to the stadium where ancient people watched gladiators.
This one is covered with grass and there was the feeling that it is left to nature.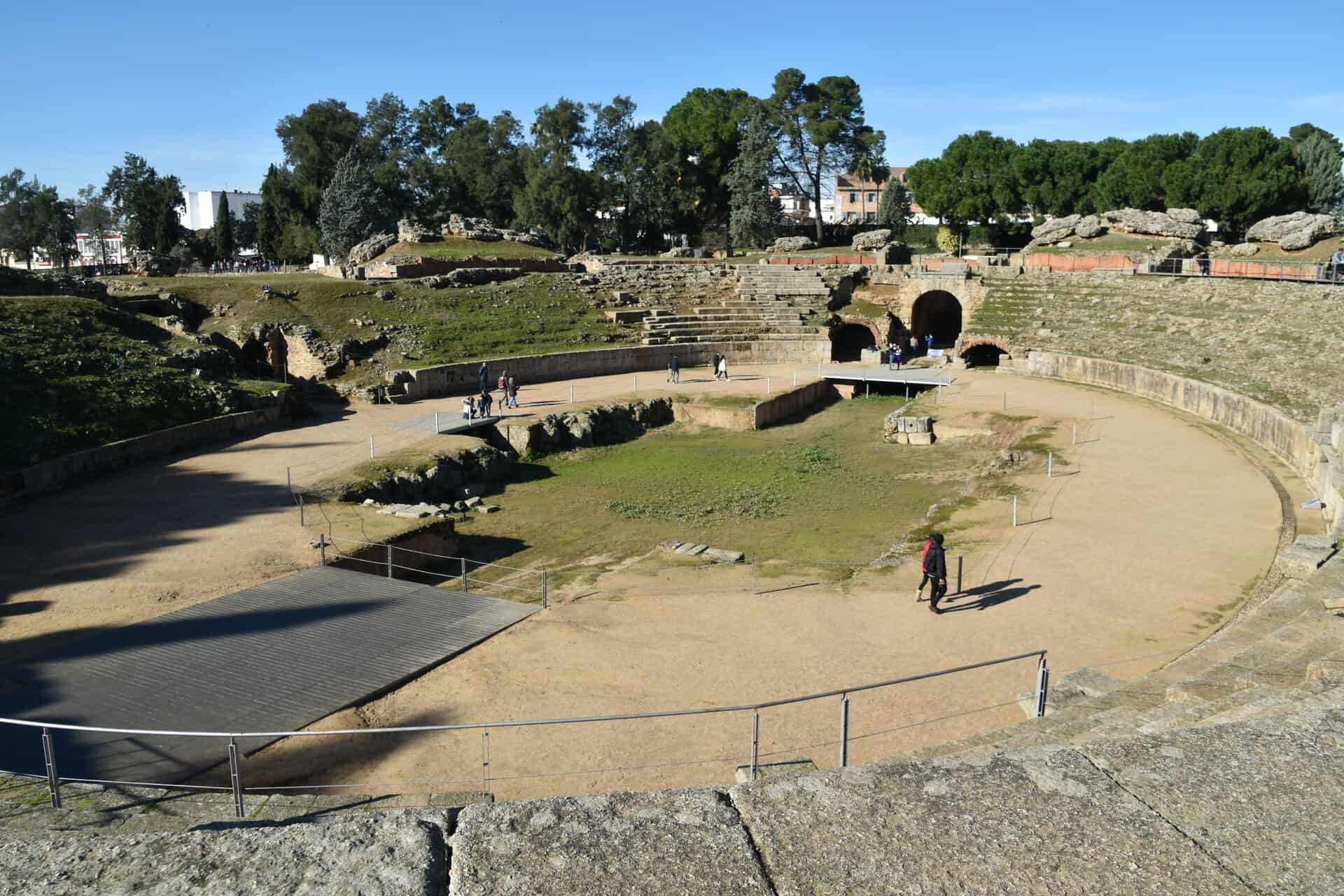 It was opened in 8 BC and has a capacity of 14,000 people.
It's not that big.
My husband and I both remember seeing the ruins of a much larger stadium with a capacity of 30,000 people somewhere in Greece, but I wonder where it was…
After writing the above sentence, I looked it up, and it turned out that it was Afrodisias in Turkey, not Greece!
So, the theatre and the stadium stand side by side, meaning that the Romans built a big entertainment complex here.
I'm sure there must have been a lot of stalls, too.
More than 2000 years have passed since then, but human thinking hasn't changed much.