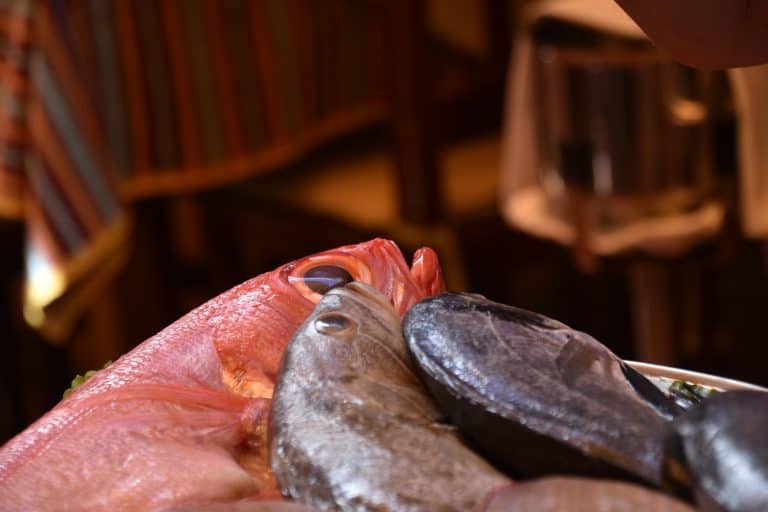 [ Dec.2018 ] One day, while we were walking in Puerto de la Cruz in the north of Tenerife in the Canary Islands, we looked for an archaeological museum recommended in our guidebook, which supposedly exhibited how the Guanche lived, the indigenous populace of the island.
In the end we found the museum, but it was closed for renovations.
Another small disappointment in Puerto de la Cruz.
There were so many restaurants in that area, so even so it was a little early, just past midday, we entered one that inspired us.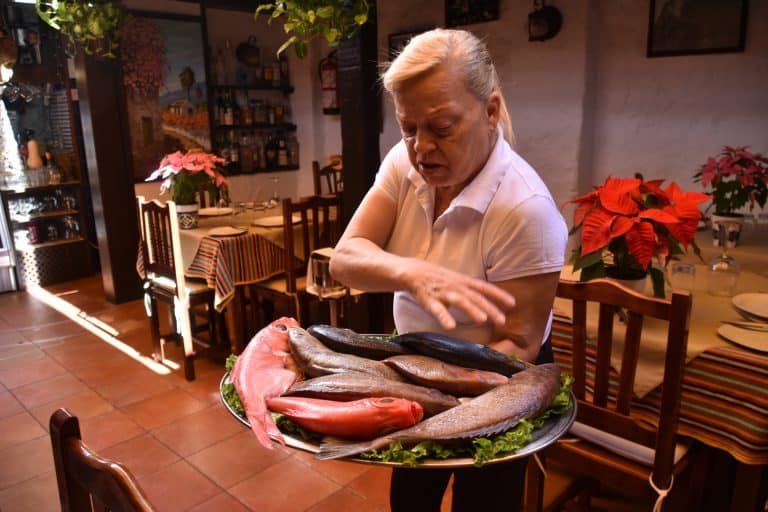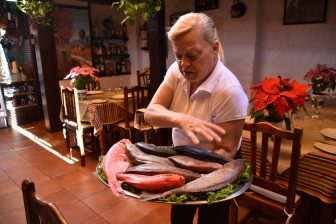 Restaurants in Spain are famous for opening late for lunch and dinner, but since this is a tourist city, they opened early.
The reason we chose this restaurant, called Tasquita de Berna, was because a middle-aged lady came out and invited us to come in.
There was no one in the restaurant yet and  the lady brought us a tray with four or five fresh fish.
She strongly recommended a fish called Chernia, so we chose that.
For my husband, it was a fish that he knew because when he was diving in the sea, he had seen a variety of fish.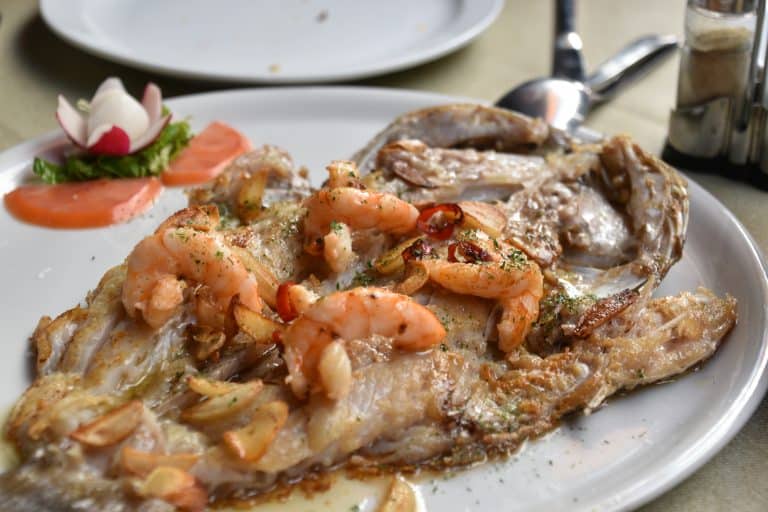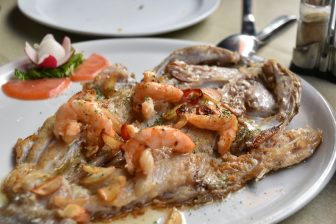 In the Mediterranean, it seems that the fish are very large, but this was the right size for two people.
We were also served the small potatoes that we had already eaten on the waterfront in the Natural Park of Anaga, as well as boiled vegetables.
Before this, as an appetizer, we chose a dish of goat cheese with a sauce made with honey and fried cuttlefish.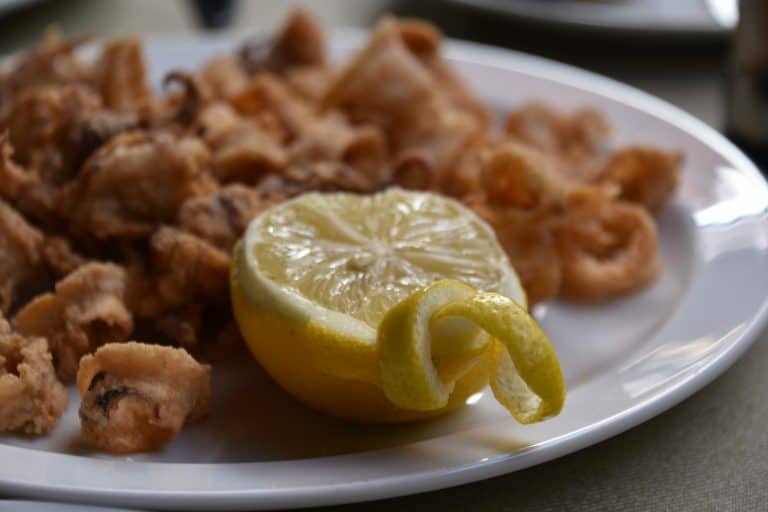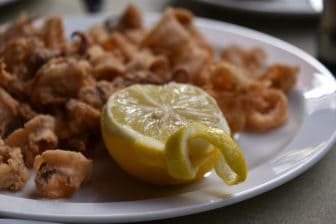 We chose a bottle of local white wine that she advised us to drink at room temperature.
Including the dessert, everything we ate and drank was very good, so I felt happy and I said "Puerto de la Cruz is not as bad as it seems".
Since we were very satisfied, we went back another time in the next few days to try a meat lunch.
The second time, the place was quite full and there were three other middle-aged ladies who served at the tables.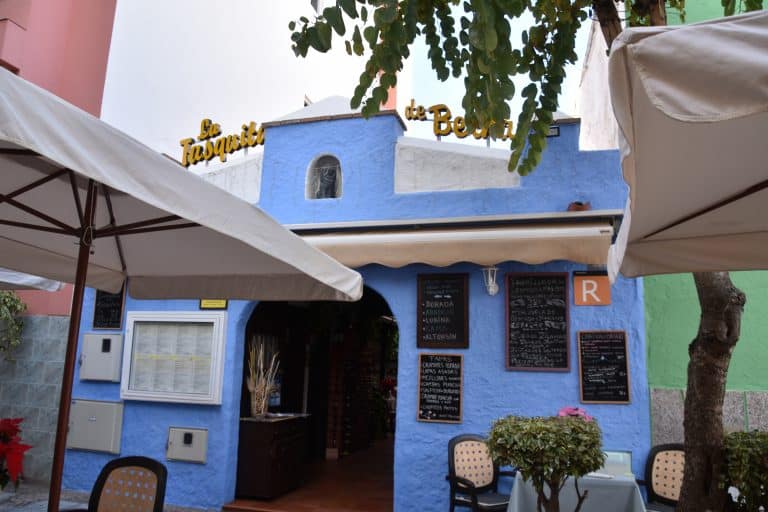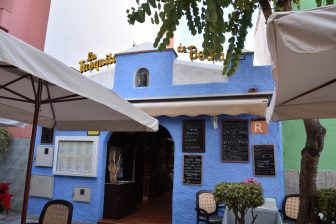 They all looked a little like each other.
They were not very efficient, but it was interesting to watch them work hard and put a lot of effort into it.
Then, after lunch, we visited the city, following the directions and the map supplied by the travel agency we had visited that morning.
The Iglesia de San Francisco is very interesting, a church that is also the oldest building in the city, built in 1599.
Another interesting church is Iglesia de Nuestra Señora de la Peña de France.
They were preparing for a Bach music concert and while we were there, the musicians were practicing.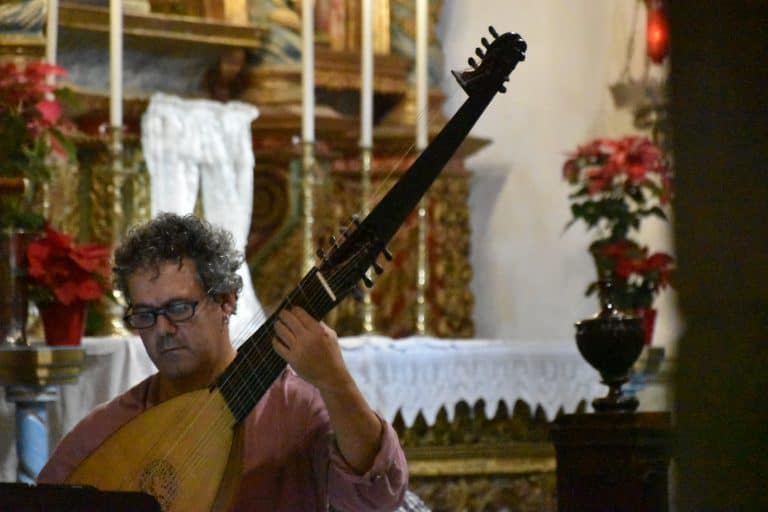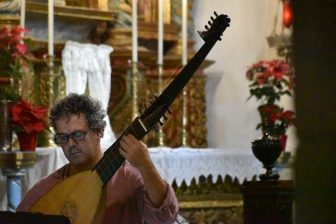 We stopped a little to listen, it was very pleasant.
Another recommended thing to visit on the map was Costa Martianez Complex, which is an entertainment facility that includes an artificial lake of 27,000 cubic meters of sea water and many pools.
It seems that this historic tourist attraction that had been conceived and built in 1957 was the pride of Puerto de la Cruz.
We did not enter because there was an entrance ticket to pay and it was too cold for us to go to the pool and take a bath.