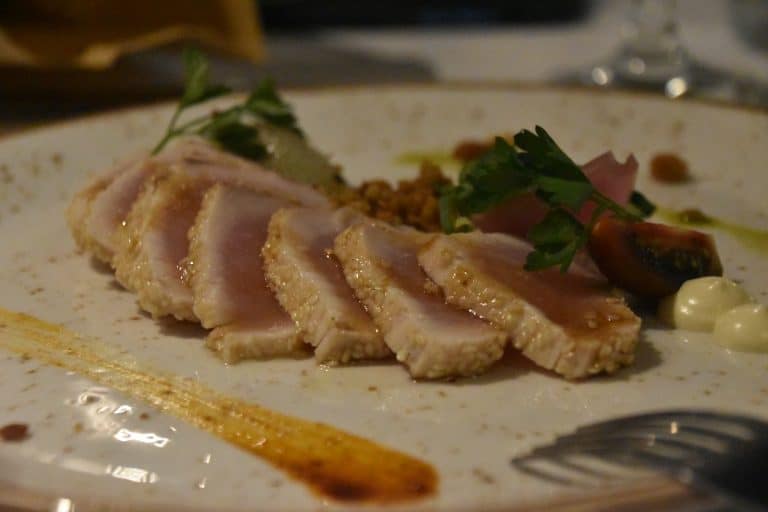 [ Sept. 2019 ] We came all the way to Rhodes in Greece, so we should bathe in the beautiful sea at least once.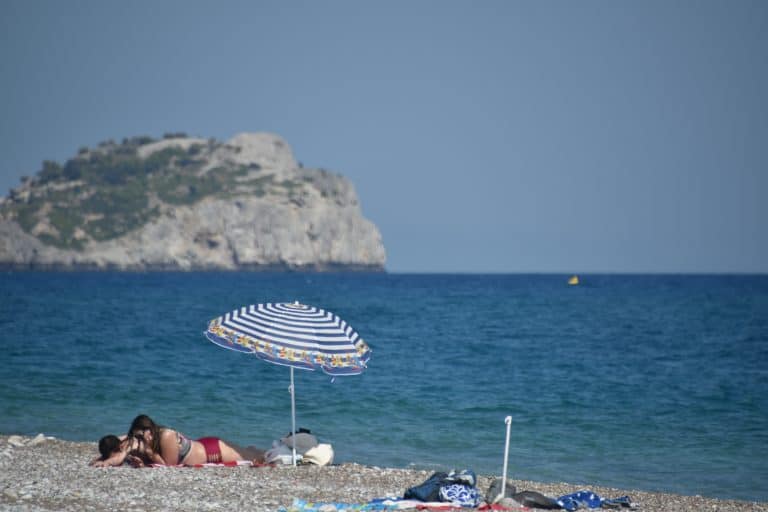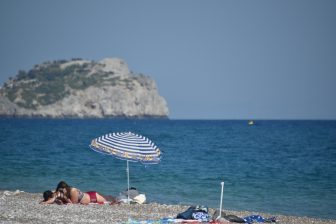 That was what we thought and decided to go to a beach called Afandou that afternoon.
There are many beaches on the island, but because we had limited time, we chose this one which was not so far from Rhodes Town.
You can go there by bus, but when we looked at the bus timetable, not many buses were running at the lunchtime, so we took a taxi.
The Afandou was a simple large beach and at the place where the taxi dropped us, there was only one very simple snack restaurant and about 20 parasols on the beach.
We expected a resort with much more facilities.
We did not have towels with us, because we were going to get them there.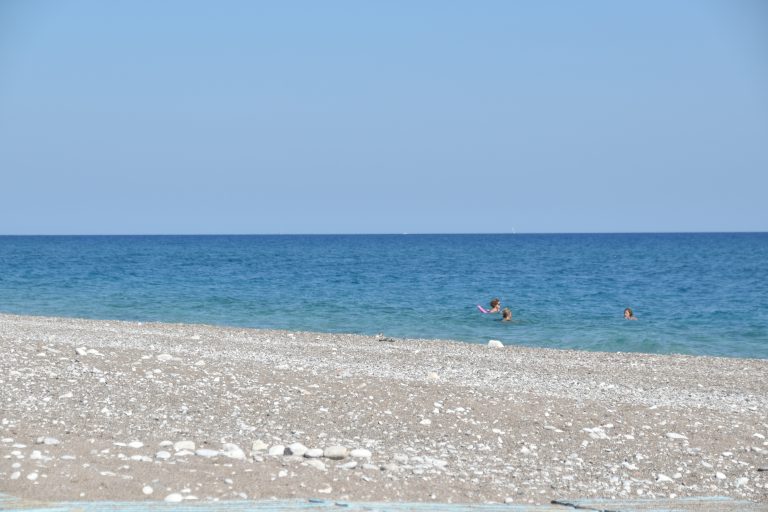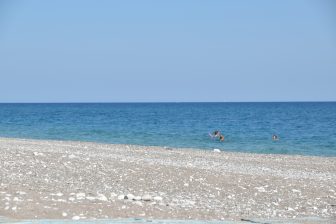 But they did not have any towels to rent or sell, so we could not bathe in the sea.
On top of that, when my husband put his feet in the water, apparently it was extremely cold anyway.
There were some people bathing in the sea, though.
We stayed on the deckchairs for a while as the weather was just right for sun bathing, but that was it.
Then we went up to the simple restaurant had light lunch, which was not special at all and the workers here were rather curt.
But after a while, they became friendly towards us and helped us by calling taxi on the way back and so on.
I guess that the recent tourists here on the island are not very well behaved, so their attitude towards tourists has become abrupt.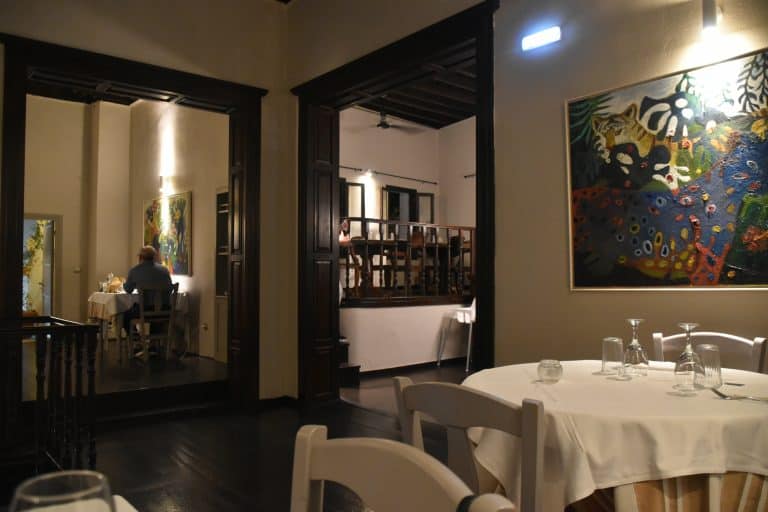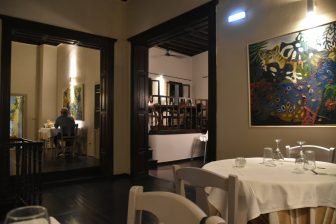 Anyway, our disappointment at the sea were compensated by the dinner we had that evening.
We booked a table in an Italian restaurant called Hosteria dei Cavarieri in the old town in Rhodes Town.
The room on the ground floor was small and cozy, but we were ushered upstairs and the room there was spacious so much so that I could imagine it used to be a grand house.
We had a glass of Prosecco as an aperitif and then had a Carpaccio of sward fish and a dish of octopus for the starter.
I loved this Carpaccio, it was so good.
Then, I had the grilled squid for the main.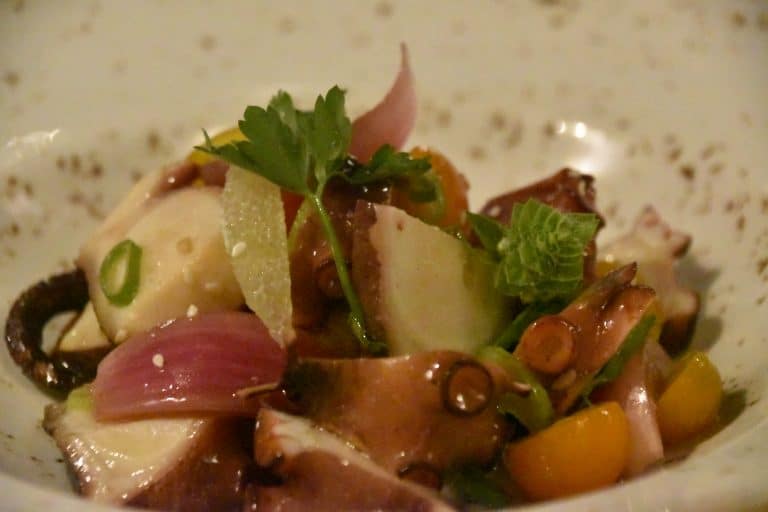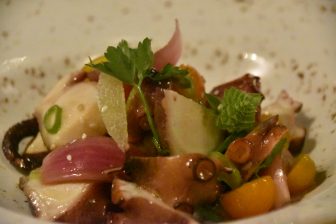 This was very good, too including the sauce which was a little sweet.
My husband chose an assorted fried seafood, which was unusual for him.
We had a bottle of Pino Grigio and as for the dessert, I had a chocolate pudding and my husband Tiramisu.
Everything was very good and when I saw the bill of €99.50, I felt it was very reasonable.
Our waiter was a Greek from Athens, but the woman who looked after downstairs was an Italian who was apparently born in Monza and grew up near Milan.
Some people may say that eating Italian in Greek is a wrong way, but when the ingredients' quality is high, Italian dishes are excellent wherever it is.
I think if you cook Japanese dishes properly here, it would be very good, too.
The streets in the old town at night were lively with many tourists and shops which opened late.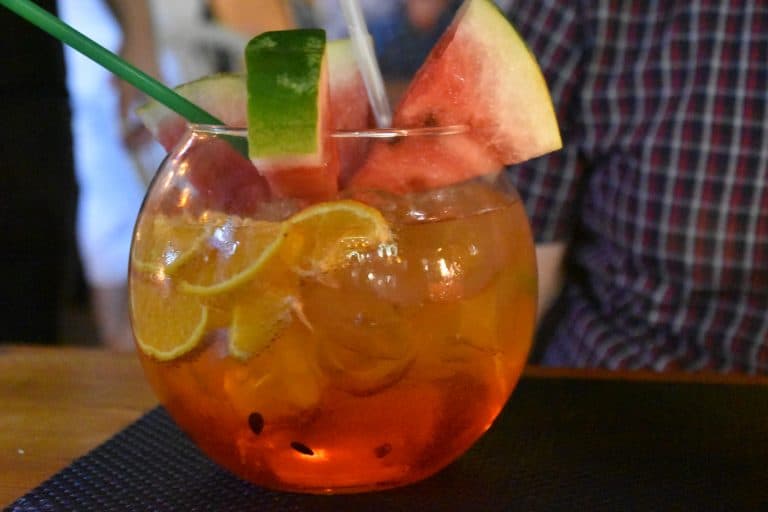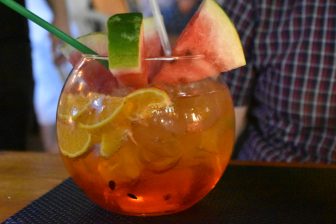 This evening we were full and satisfied, so we did not go anywhere else, but the night before, we tried one of the drinking places.
We ordered two glasses of Spritz and the waiter asked "Big or small?".
My husband chose the big one.
They served him the drink in the goldfish bowl!