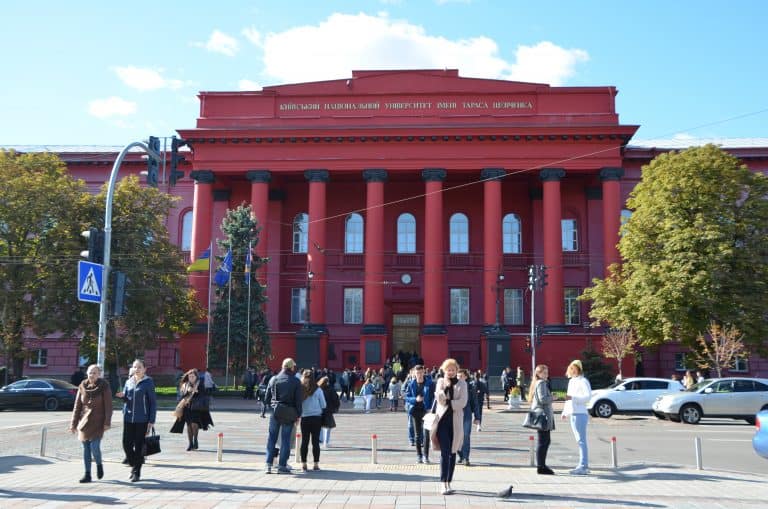 [ Sept.2018 ] The weather on the second day of our stay in Kiev in Ukraine was fine.
We met Miloslava, the guide who had taken us around the day before, in the afternoon and continued the sight seeing tour.
We met her in front of Kiev University.
This is the most eminent institution for higher education in Ukraine and apparently as many as 20,000 students are studying at this university.
The front of the building was bright red.
There is an official explanation for that, but according to Miloslava, the real reason is that they made a mistake when they were mixing the colours.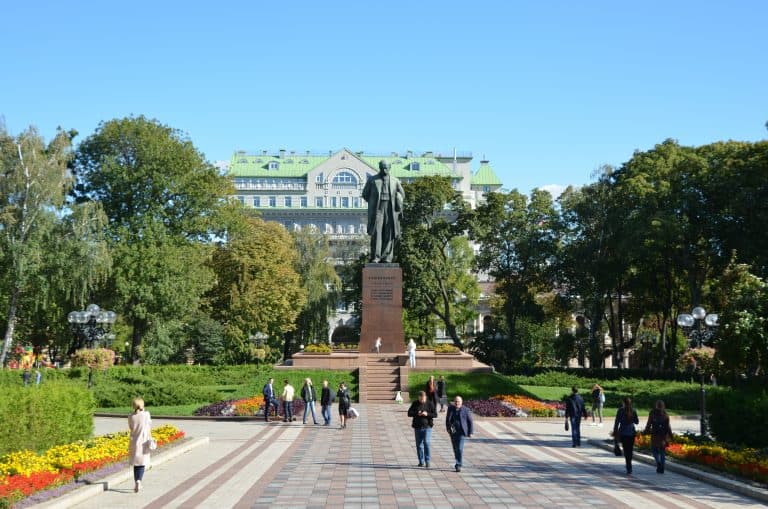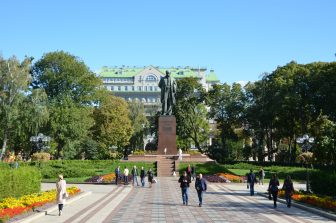 She said that they probably wanted it to be a more quiet reddish brown.
Because of this colour, I will not forget it.
The proper names of both this university and the opera theatre we had been to the night before include 'Taras Shevchenko'.
Shevchenko is the 19th century poet who wrote poems in the Ukrainian language.
Miloslava told us that the poems before him and after him are very different.
His statue was standing in the park in front of the university.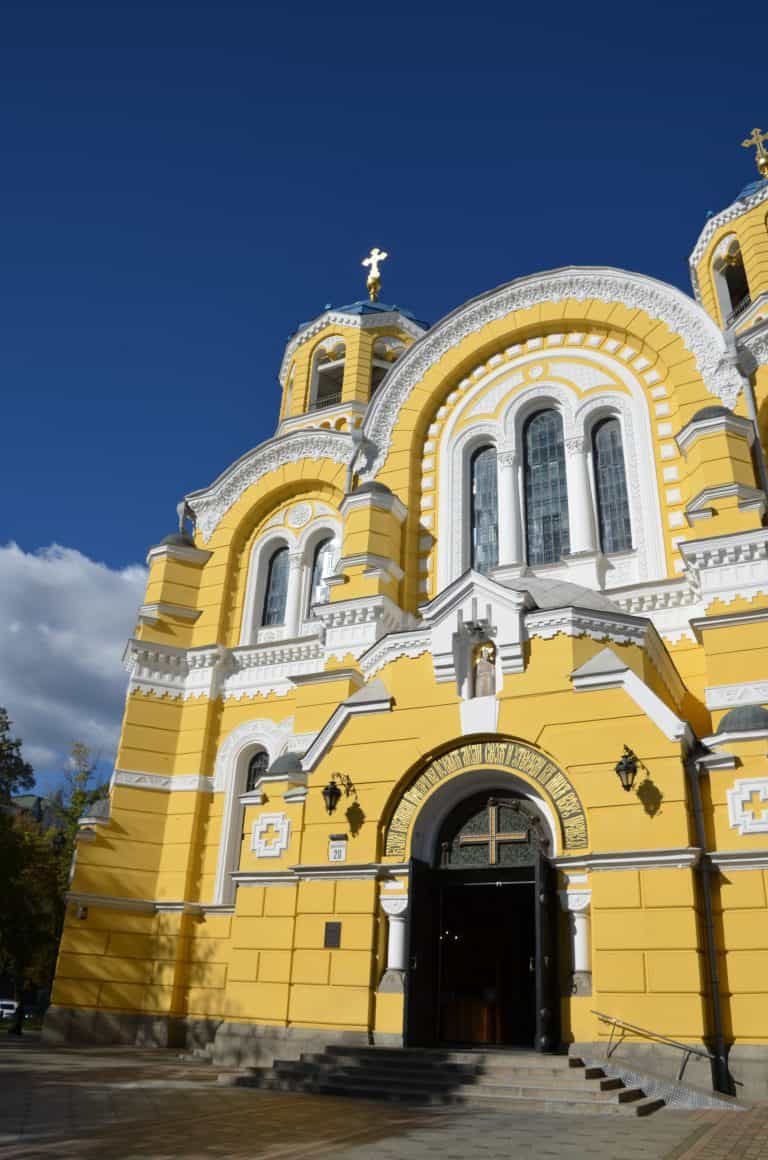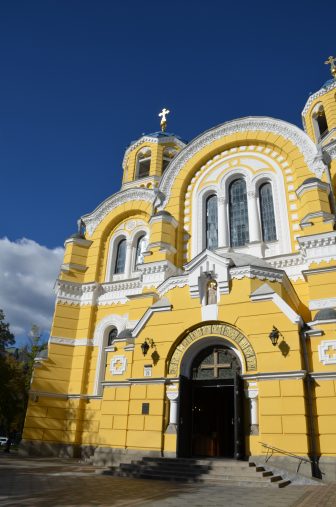 From here, we walked to St. Volodymyr's Cathedral, whose yellow building was outstanding against the blue sky.
I remember this yellow church from our last holiday in Kiev.
This St. Volodymyr is the person who made Kievan Rus' a Christian country in 988.
I said to Miloslava that the name Volodymyr is difficult to remember for me and she told me that it is the Ukrainian version of Vladimir.
They started building this cathedral in 1862 but suspended in 1866, because they found some deep cracks in the wall and vaults as the result of a miscalculation.
Apparently, the architect who made this mistake took it heavily and became ill and died in a mental hospital.
They finally restarted building it in 1875 and completed the construction of the exterior in 1882.
The dimensions of the church are 29.85 metres by 54.93 metres and the height is 48.99 metres, which makes it one of the largest churches in Kiev.
After 1882, they started working on the interior, which was supposed to take 2 years but in the end it took as long as 11 years, spending much more money than the original budget.
Apparently, as many as 96 painters worked here for 11 years and the results were very beautiful.
It is like a fine art gallery.
There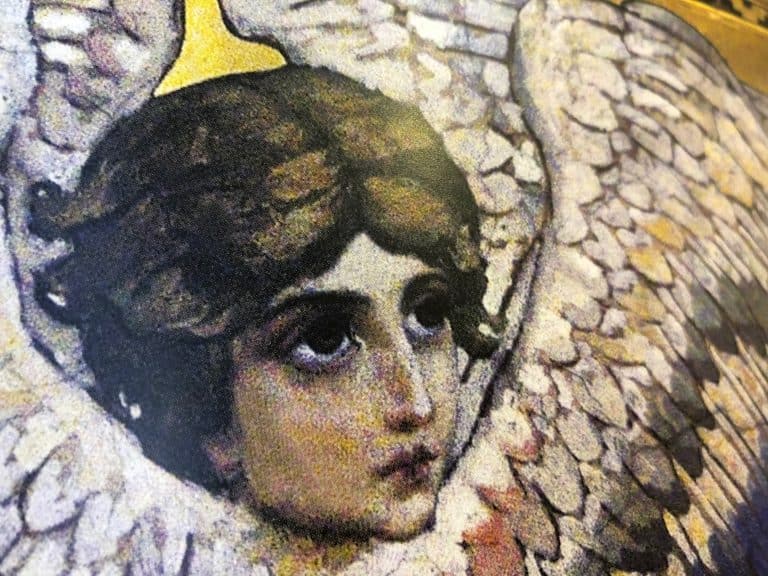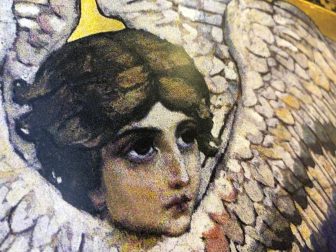 are so many beautiful paintings.
Maybe because of the trends in art from that era, the angels, saints and so on were all good looking with big eyes with large pupils.
Unfortunately, photography was strictly forbidden inside the church, so we bought a booklet, which is like a catalogue of a museum.
This angel is the photo of the page in the booklet.