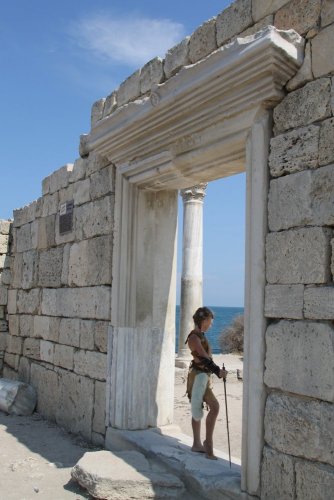 [ july, 2013 ] We had heard that Sevastopol is a city of military, so  we were not particularly interested, but learned that it has got a lot of cultural side, too.
So we visited  there from Yalta.
First, we went to a Greek ruin of Khersones.
It was founded 422 BC by Greeks and later went under Byzantine empire.
There are columns and stone arches, typical of ruins, but also a newly built big cathedral, too.
Here, Vladimir the Great of Novgorod became a Christian in 988 in order to marry a Greek princess.
This cathedral was built in the site of an ancient church and unusually it has got two stories.
On the first floor, baptism was going on.
The parents were taking photos there where photography was normally not allowed, so I took some photos, too.
The Orthodox way of baptism was different from Catholics, for example, the priest was cutting a bit of baby's hair.
In the site of this ruin, there is also a bell, which was captured from Turkey but taken away to France after the Crimean War. It was returned in the early 20th century.
So, although it was described as a Greek ruin, it had a lot more in this place.