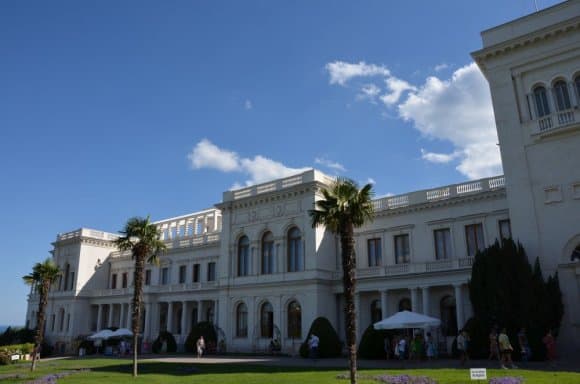 [ July, 2013 ] The Livadia Palace where they held Yalta Conference was originally built as a summer retreat for the last tsar of the Romanovs in 1911.
Russian revolution happened in 1917, so they did not spend very much time here.
We saw a lot about Yalta Conference on the ground floor, but on the first floor, there were things from the time when this place were used as a palace.
Listening to the guide, and looking at the photos, I felt sympathy towards the tser's family, as we all know what happened to them in the end.
Apparently the four girls were very close to each other and were always together, so their mother called them 'Otma', picking up the first letters of their names, Olga, Tatiana, Maria and Anastasia.
The fifth child, Alexei was sickly.
When his mother called Rasputin, the healer, Alexei's bleeding stopped.
So, Rasputin was favoured by the family, but he was the enemy of the states.
There was a relative of the family called Youssoupov, who took part in killing Rasputin and although he was extremely rich so much so that  he owned a train, the revolutionary army let him go because of the achievement of killing Rasputin and he lived long in Paris.
His photo was there taken with Alexei.
Walking along the rooms, I felt the history of about 100 years ago very close.