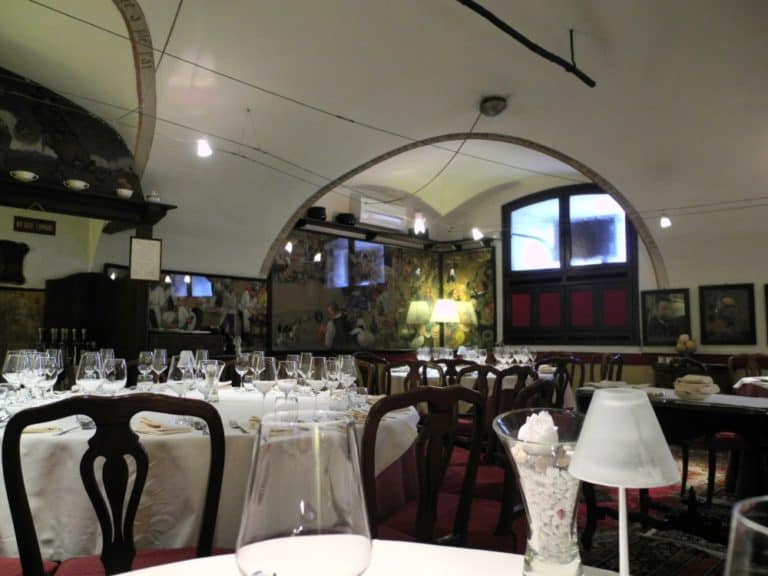 [ Mar.2016 ] We went back to Turin in Italy for business.
This time we were prepared to go to the restaurant where we could not go last time because of the timing.
The long name of the restaurant is Stefano Fanti al Ristorante Circolo dei Lettori, which had a very good review online.
The location was unusual.
It is situated in a club called 'Circle of Readers' which is housed in a late 17th century palace.
We just went to eat lunch, but we had to press the bell on the magnificent door and also press some code numbers, too.
Fortunately there was a member of staff hanging around there, so we did not have any problems.
The interior of the restaurant was very classic and the waiters were classic, too.
They were formal, but not cold.
I chose snails for the starter.
It was stewed with spring onions and potatoes.
My main dish was pigeon.
Yes, I like trying unusual stuff.
Both were elaborated and very tasty.
My husband had a set of three small dishes including tartar steak for the starter and for the main, he had a pasta dish with boar meat sauce.
Those foods were filling, so we did not have any desserts, but including a very good bottle of Piedmont wine, the bill was 91 euros, which we thought reasonable.
This 'Circle of Readers' has 10 rooms and the library has more than 11,000 books apparently.
They organise literature events, courses, tours and so on.
There is also a service that young people visit hospitals in Turin to read some books.