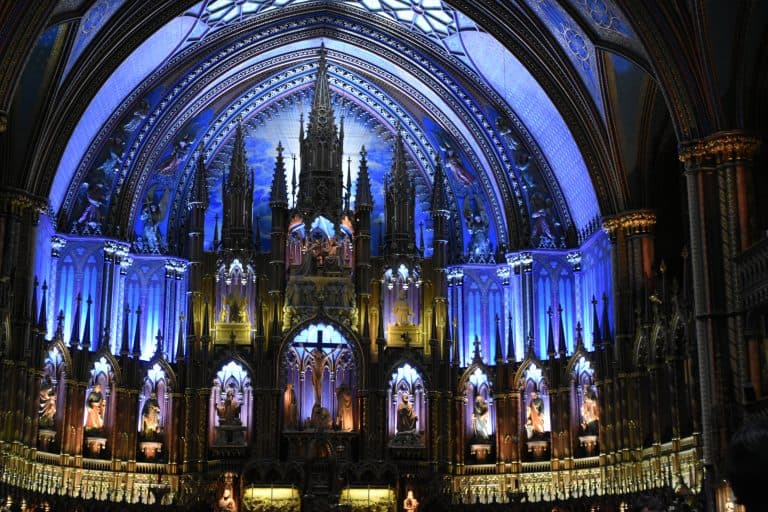 [ July 2019 ] The top tourist attraction in Montreal in Canada is probably the Notre-Dame Basilica.
The photograph of this church is on the front cover of our guidebook.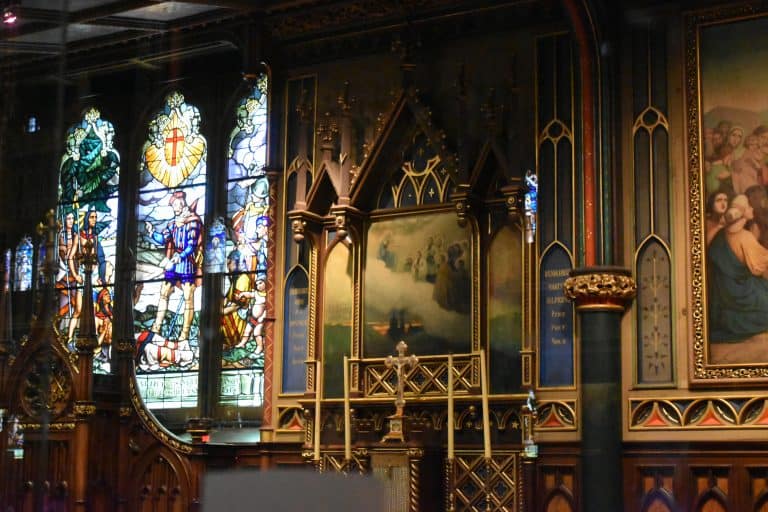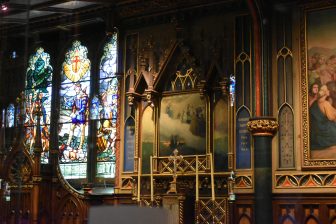 My husband had read somewhere that this basilica has the ability to attract two third of visitors of Notre-Dame de Paris.
When we went there, there was a queue in front of it.
There was a walking tour for the basilica separately, but we just joined the queue to enter the church.
The entrance fee was 8 C$ (£4.80, €5.45, $6.00) which included the 20 minutes guidance.
The guidance started at 12 o'clock and until then, we walked around the church.
Our guidebook as well as online information I looked at were all praising this church, so it is a bit difficult to say, but for me, it was not a solemn church at all.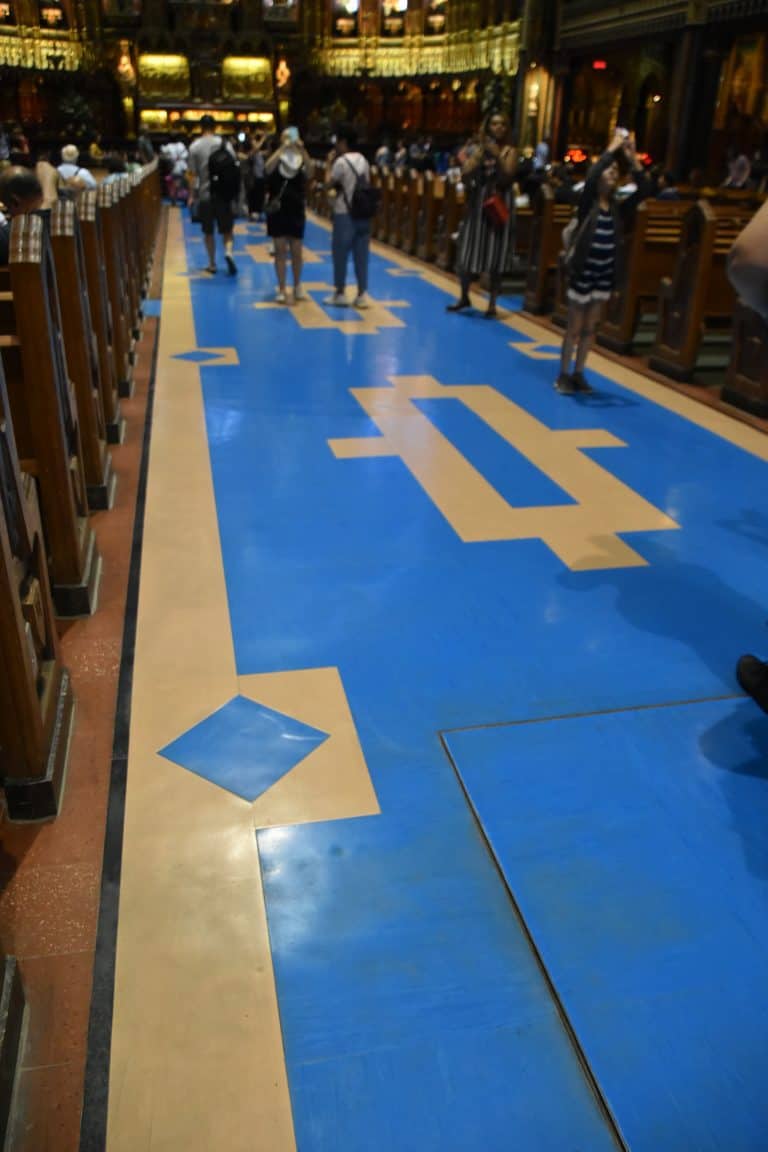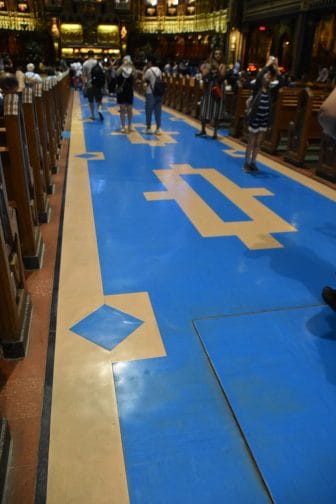 It could be in a Disney cartoon.
My husband felt the same and said "I cannot feel that the god is in here".
The interior was full of dignified dark wood carvings, but the blue light at the altar was so showy that it reminded me of Disney.
Also, the blue floor looked cheap and mismatched, which looked like a linoleum.
For me, the nearby Chapelle Notre-Dame-de-Bonsecours we had been the day before was much more solemn and refined.
We had seen some kitschy churches in South America, too, but at least I felt the simple religious devotions of the local people there.
Here they put a lot of money in and that made it gorgeous but less solemn.
At 12, a woman started explaining about the basilica, raising her voice as much as possible in front of many of us sitting on the pews.
According to her, the Catholic church people who arrived here in the mid 17th century first built a stone church with a pointed bell tower near here.
But this church soon became too small for the increased number of people and many had to hear the services outside of the church, which was too harsh in winter.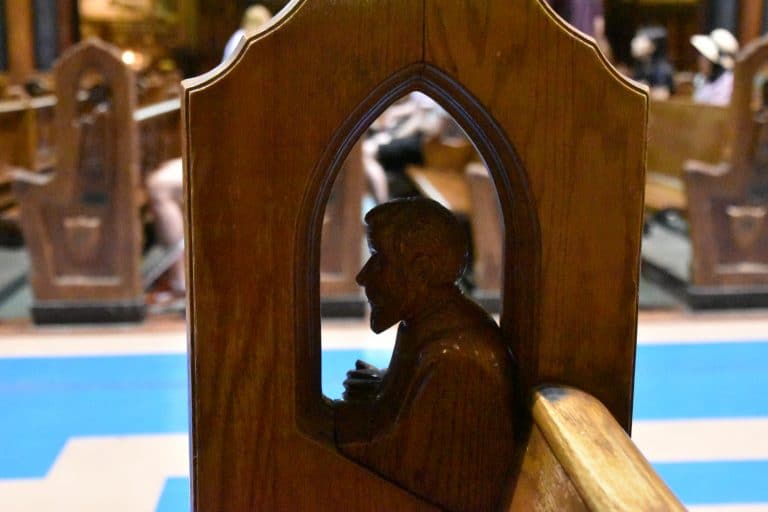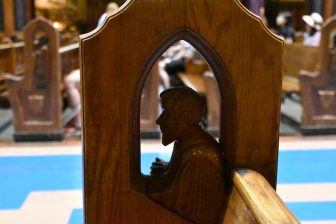 So they built this big basilica in 1829.
But at first, they did not have enough money to build the bell tower, so for a while, they used the bell tower of the old church.
And for the new bell tower, they brought a huge bell, which needs 12 people to ring.
According to our guidebook, this bell is the largest in American continent.
They would not ring this bell often apart from very important occasions such as Easter.
She said "You might have heard the sounds of the bells from this basilica, but those are from another tower which has 10 small bells".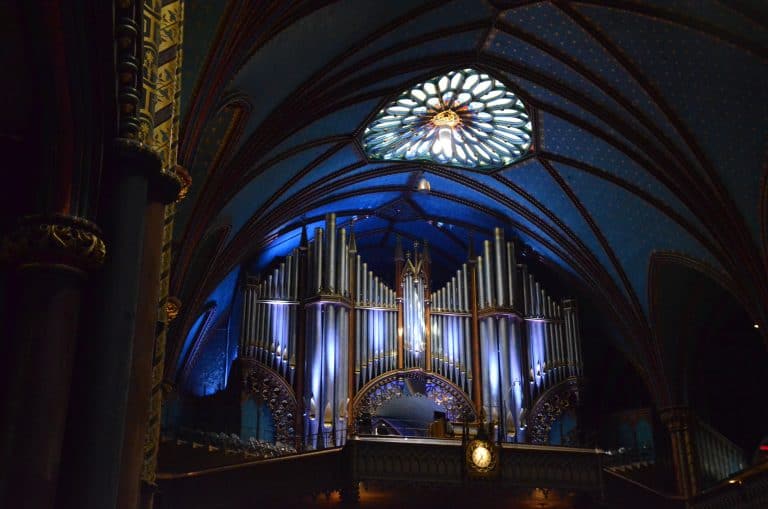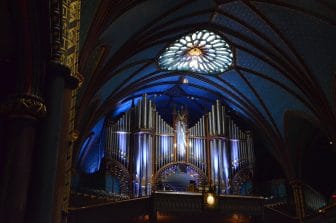 She also told us that this basilica is often said that it was built modeled on Notre-Dame de Paris, but that is not correct.
It is more similar to Westminster Abbey in London apparently.
The pipe organ in the basilica has got as many as 7000 pipes and the biggest one is 10 metres long.
It must sound really powerful.
There is a smaller chapel behind the main altar called Chapelle du Sacre Coeur, which had been burned down in 1970s by an arson and has been rebuilt.
The notice there was saying that because this place is for the people who want to pray quietly, photos are not allowed.
The arsonist is not arrested yet apparently.