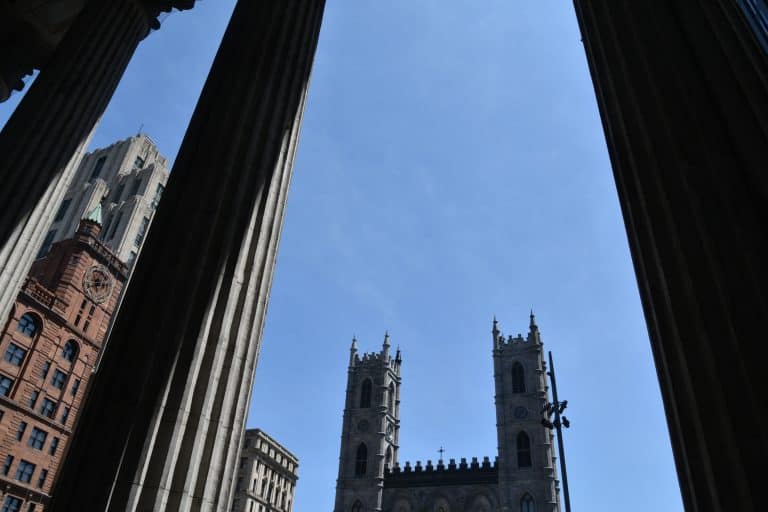 [ July 2019 ] After seeing Notre-Dame Basilica in Montreal in Canada, we went out to the Place d'Armes in front and heard the live performance of jazz music.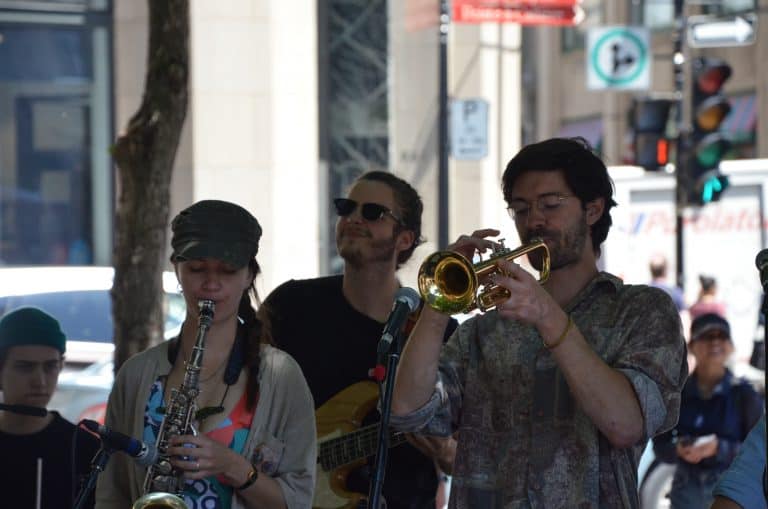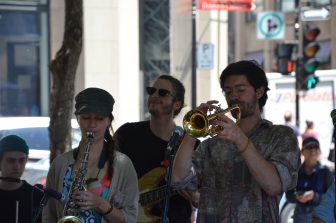 The Montreal Jazz Festival had been over, but maybe some kept enjoying jazz here.
The band was a woman playing saxophone and five men who were all young and looked well-brought up.
My husband likes this kind of jazz, so we stayed there for a while until it finished.
There was a board announcing that every day on weekdays from 12:00 to 13:00, a band played here during summer.
And it happened that this band called Uncle Funkle were playing on the day.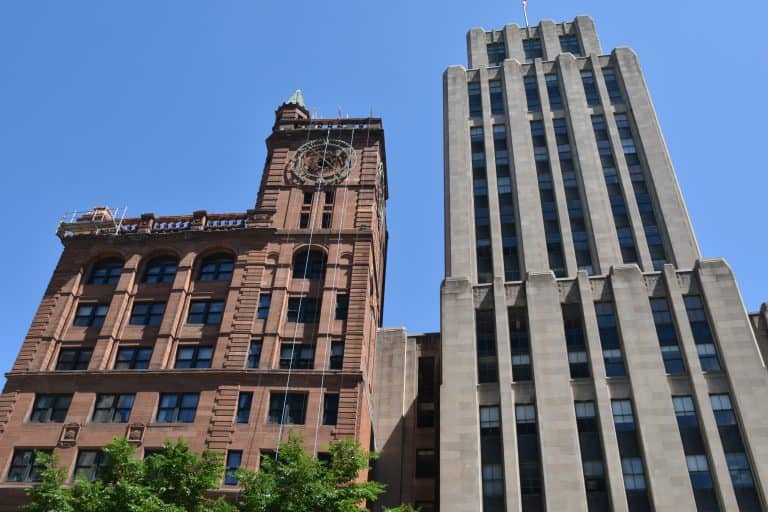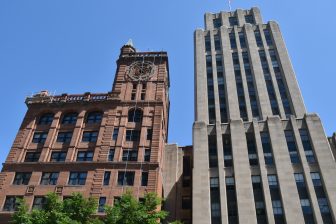 Historically, this square, Place d'Armes was apparently the violent battle place between Catholic people who arrived in Canada and the native people.
But now it is a place of rest and relaxation for both the locals and the tourists.
At one corner, some carriages were waiting for customers.
Within the buildings surrounding the square, there is a noticeable brick building that houses an insurance company and it is the first high-rise architecture built in this city in 1888.
The next door is a building modeled on the Empire State Building, which was built in 1931 and has Art Deco interior apparently.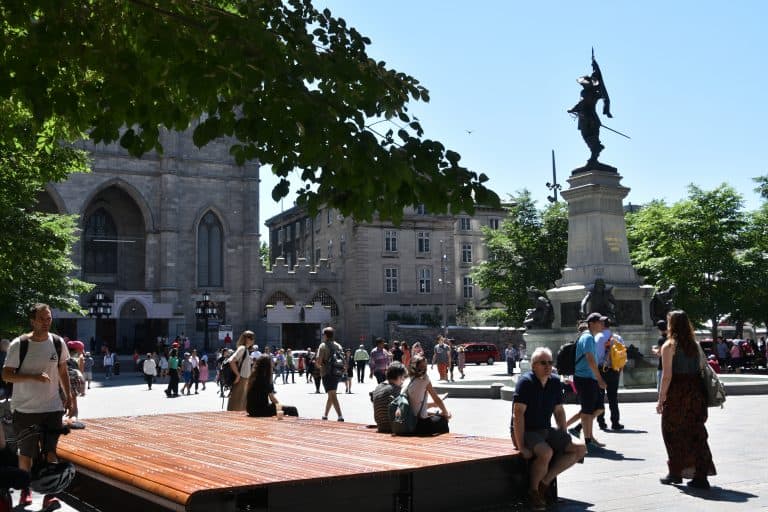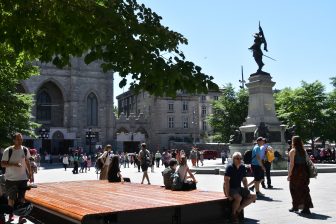 The statue in the centre of the square is Paul Chomedey de Maisonneuve who founded Montreal.
The building opposite of Notre Dame Basilica across the square is Bank of Montreal, the first bank in Canada.
According to our guidebook, it was built in the style of Pantheon in Rome in 1847.
There is a small museum within the bank and we saw some historical notes and some other artifacts there.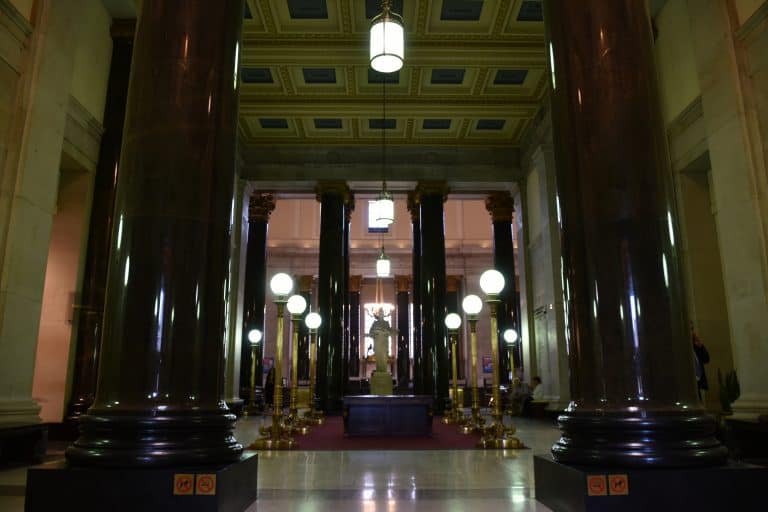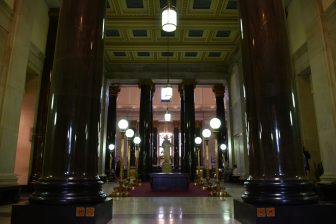 The interior of this bank is like a palace, but this is a still functioning ordinary bank.
We noticed a humorous statue outside of the bank.
This is a statue of a French woman wearing the Chanel suite, holding a poodle and she is looking at the bank annoyingly.
And 640 metres away from her, there was another statue which is an Englishman holding a pug and he is looking at the Notre Dame Basilica with the expression of superiority.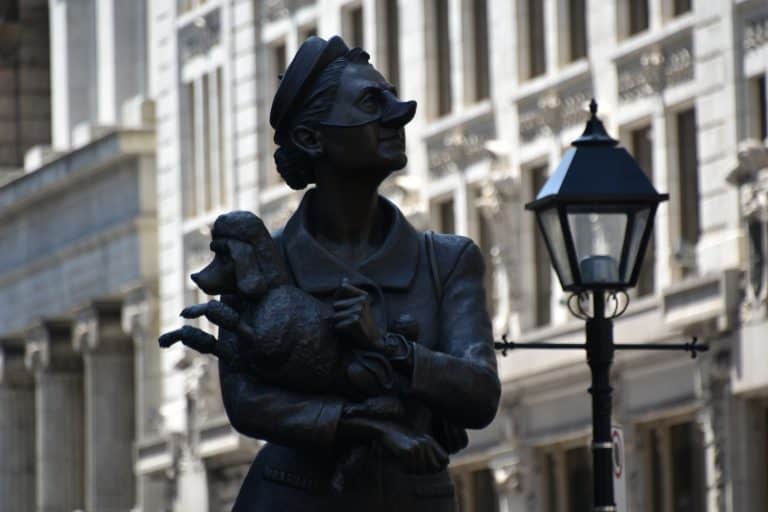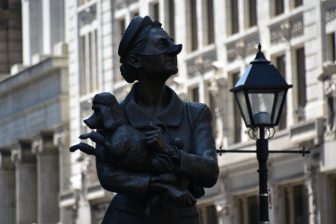 There was an information board near them and according to that, these statues are made by the local artist called Marc Andre Jaques Fortier in 2013.
And by these statues he is showing the cultural distance between English and French Canadians.
The bank represents the English power in economy and the basilica represents the religious dominance of French.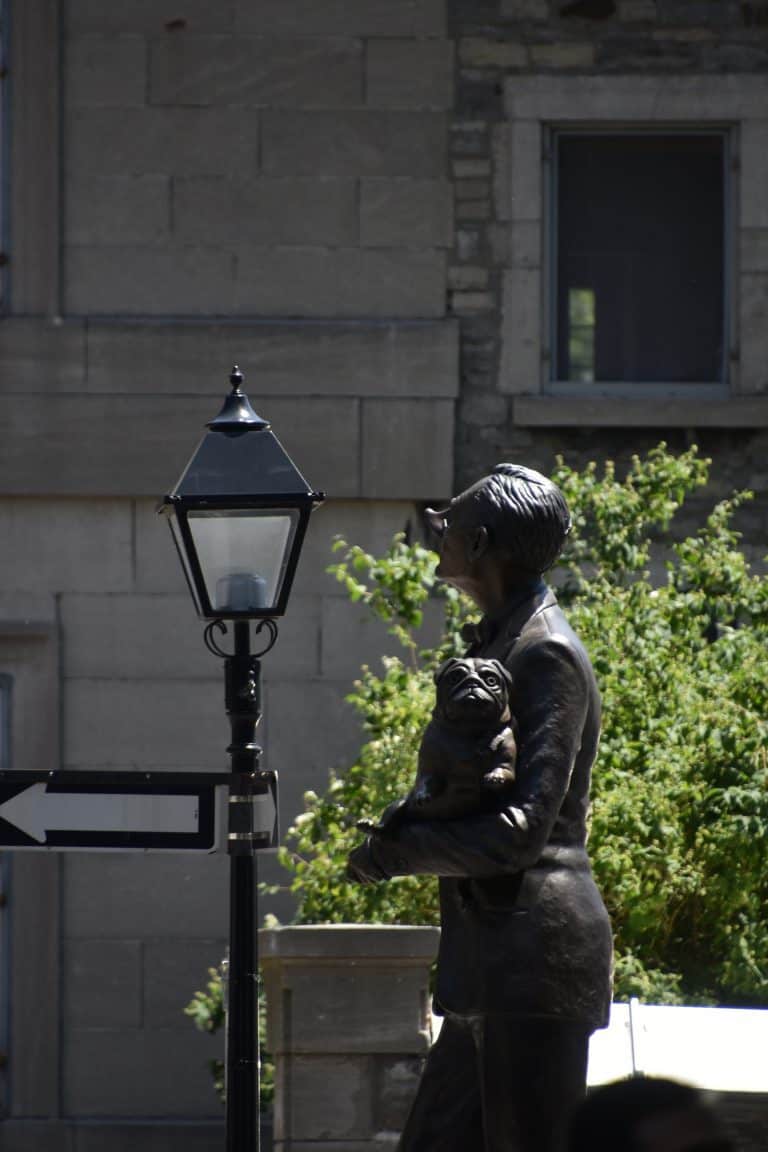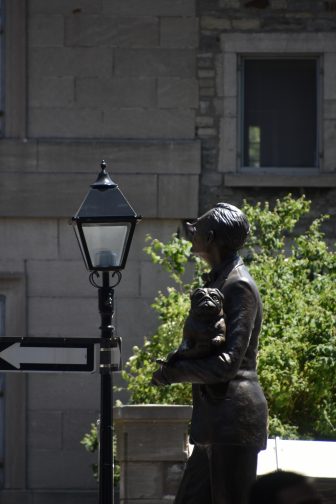 Apparently he was inspired by the Commedia dell'Arte, improvised play by actors wearing masks, which was born in north Italy and was popular between the 16th and 18th centuries in Europe and that is why there was an aspect of humour.
This information board said that these are two kinds of Canadians, but in fact, it could be French and English people who live next door each other across the channel, but they are so different culturally.