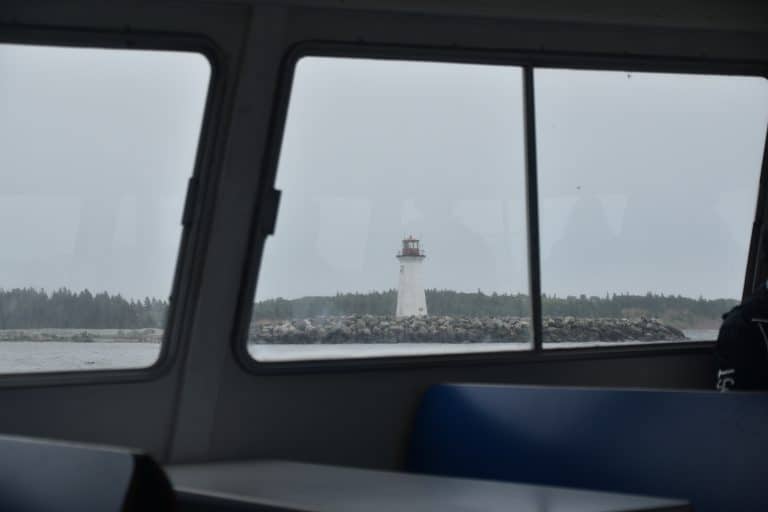 [ July 2019] On the second day in Halifax in Canada, we were supposed to have the boat trip which should have been one of the highlights in this holiday.
This is the tour booked by our agency in London and they had said it's a whale watching tour.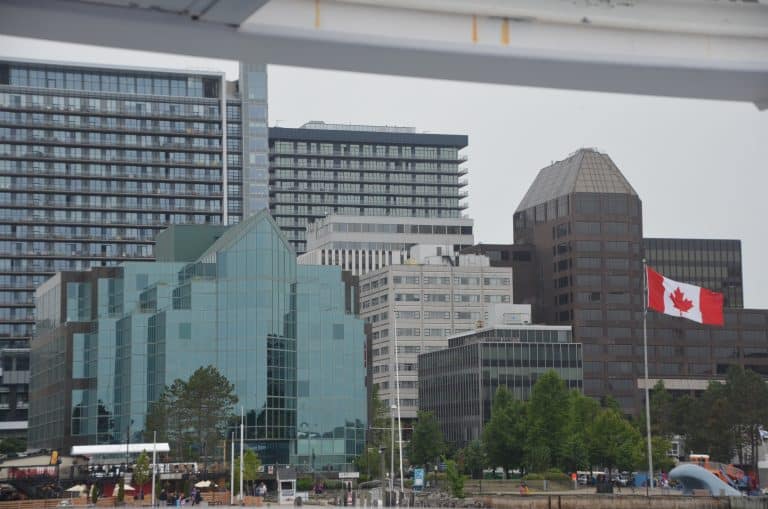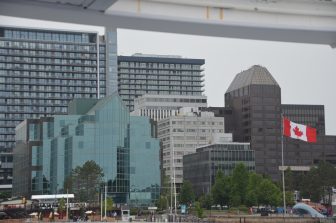 The name was Halifax Marine Wildlife Tour.
Unfortunately the weather turned worse and it started raining around 3 pm, our sailing time and became cold.
The boat started with only 16 passengers.
My husband had already suspected because there were no signs of 'whale watching' at the port, and we did not see anything, no dolphins, no seals and no whales at all.
The view was all in grey because of the bad weather.
They showed how to catch lobsters during our sail, but the attraction was just that.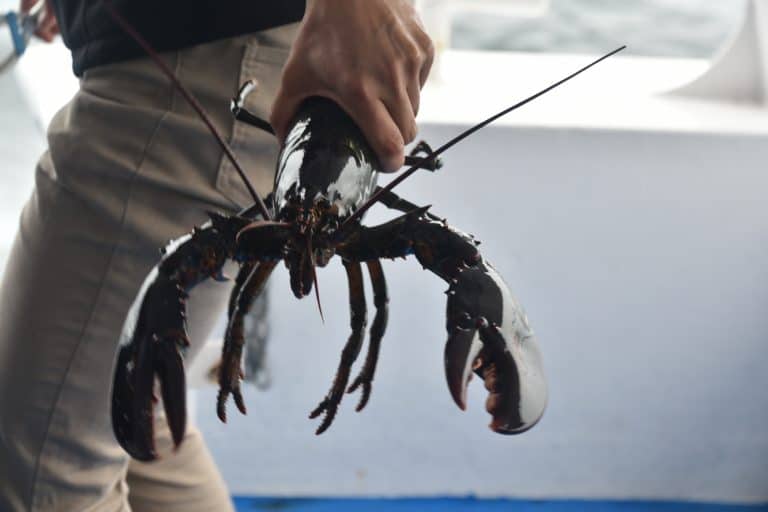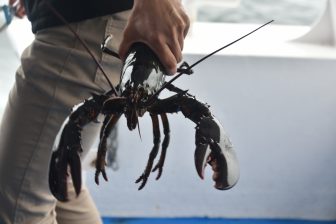 It would have been better at least if they had served some lobster dishes.
When we were out to offshore, the boat rocked quite a lot, which made me seasick.
As we knew by then that there were nothing to see there, I wished we could have gone back sooner, but it seemed that they had to sail for 2 and a half hours, so I just had to endure.
A woman was giving some information all the time, reading her files, but I gave up listening to her.
Only thing I thought it was interesting was that apparently, the sea around here does not belong to Canada but to Britain, so Canadians have to pay the rent of 1 shilling (the currency which used to be used in Britain until 1971 and worth 5 pence) every year to Britain.
They have a ceremony for that once a year.
Finally we arrived back at the port, disappointed heavily and went back to our hotel to recover.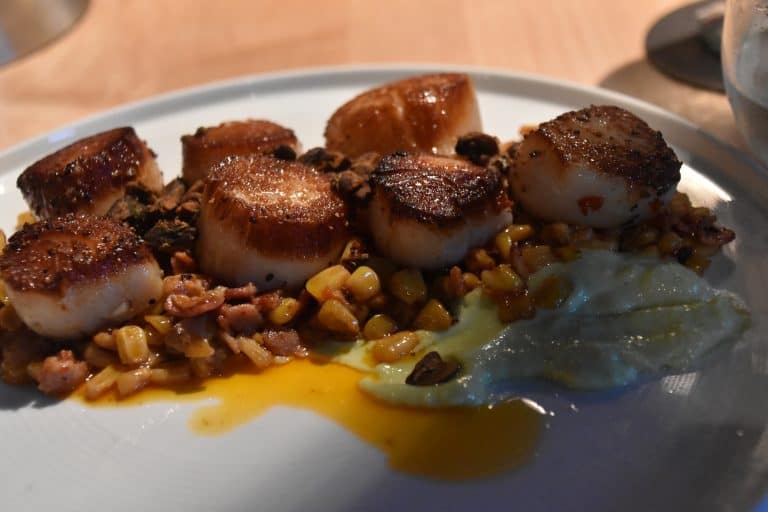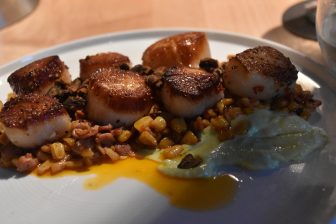 "At least we should have a good dinner" we said, so after resting, we headed for a restaurant which was recommended on the internet site.
Unfortunately this restaurant was full up, but they had a casual bar restaurant downstairs and we could have a table there.
It was called Little Fish Oyster Bar.
I had a Chowder with Haddock for the starter and scallops for the main.
The scallops were on the sauce made of corns, pistachios and pieces of bacon with some spice, which was very unique and tasty.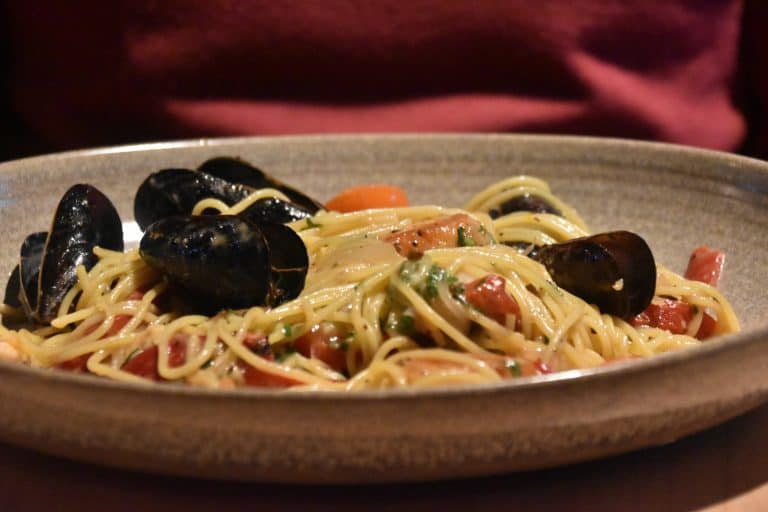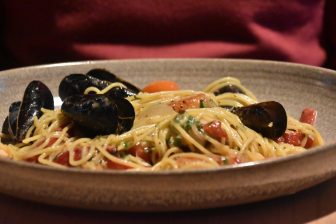 My husband had the creamed mussels and seafood spaghetti.
The sauce of the mussels was apparently excellent and he was scooping up with the spoon to eat it.
He was satisfied with the spaghetti, too.
Thanks to theses good foods, we recovered from the disappointment of the boat trip.
Well, now our holiday in Canada which lasted more than two weeks was towards the end.
On the last day, before our flight, we visited the park which was recommended by the hotel receptionist, but it was not so different from the park near our home.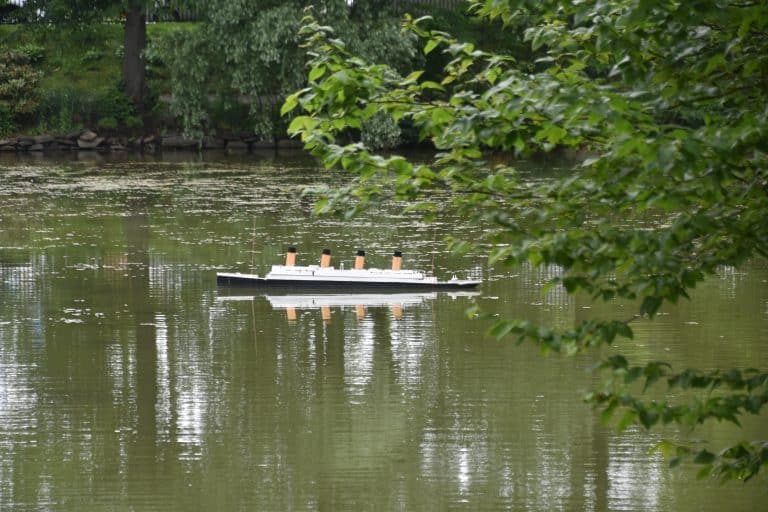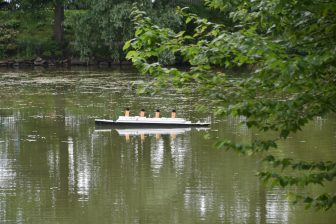 Only interesting thing was that a small Titanic was floating on a pond.
Halifax was the place where the survivors were taken to, when the Titanic sank apparently and there was a museum about that in the city.
Our flight back to London had been originally the direct one from Halifax, but they had abolished this route before our travel, so we had to fly to Montreal and change.
On top of that, the flight from Montreal was delayed more than two hours, so we had a very long journey back home.