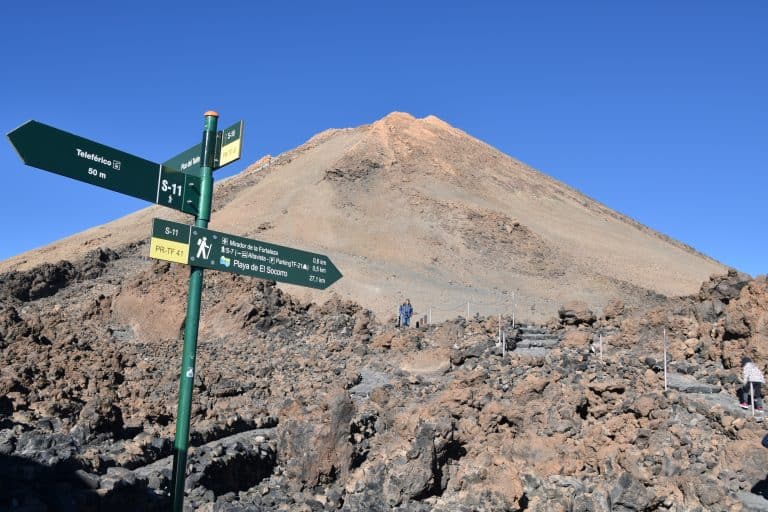 [ Dec.2018 ] Mount Teide in Tenerife in Spain is a volcano with a height of 3,718 metres, which is the highest mountain in the country.
It is listed as a Unesco World Heritage Site.
Our guidebook is devoting quite a few pages to Mount Teide and its National Park, which covers 189.9 square km, emphasizing the importance of this place.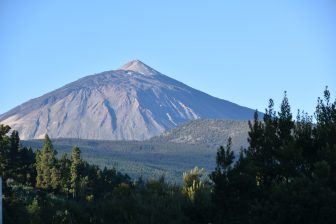 This national park seems a very attractive place for the hikers.
The Teide is very beautiful from afar, so I was quite happy leaving it there, but since we found that there was a small group tour to get there from Puerto de la Cruz, we decided to join it.
The tour consisted of 8 passengers and the driver, who was the guide as well.
I cannot remember the guide's name, but he said that he was a descendant of the Guanche, the indigenous people of Tenerife.
That was fine but unfortunately his English was not great, so I could not get much information.
But he was a cheerful man, so people accepted him and were kind to him.
Still, I got some information, for example, on the north side of Tenerife, the clouds drift at the height of between 1,000 – 2,000 metres and for some reason, that helps to maintain the primitive forest.
We saw the forest with the trees whose trunks were bending and twisting.
Apparently, this forest can be seen only on the north side of the island.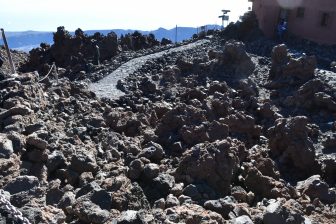 Also, I learned that because the oxygen is thin on Teide, athletes who do bicycle racing come from across the world and practice here.
Approaching Teide, the landscape was becoming more like one from another planet.
Our guide told us that the original 'Planet of the Apes' was filmed here.
That reminded me of another place which looked like another planet, the desert of Tunisia where they filmed 'Star Wars'.
There is a cable car to go up Teide.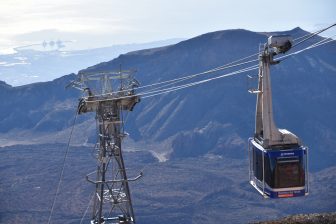 According to our guidebook, you could be queuing for 2 hours for that.
We were lucky and did not have to wait so long.
It was already cold at the cable car station, but when we got up there at 3,555 metres high, it was really freezing cold.
According to the information board, it was 1 degree centigrade.
We had expected it would be cold, so we were wearing as many layers as possible, but still, it was cold, and my husband could not stop shivering and stopped functioning.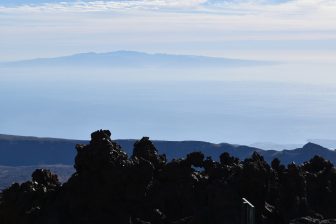 But the view was fantastic and we could see the La Gomera island in the distance, so I can say that it was worth coming.
By chance, a Japanese family was there and I heard that they were saying "To go up further, you need permission, so we have to stop here", which I did not know.
Mount Teide is an active volcano.
People become worried for a huge eruption every time they have an earthquake.
But the last eruption was in 1909 and it happened to one of the many craters within the National Park.