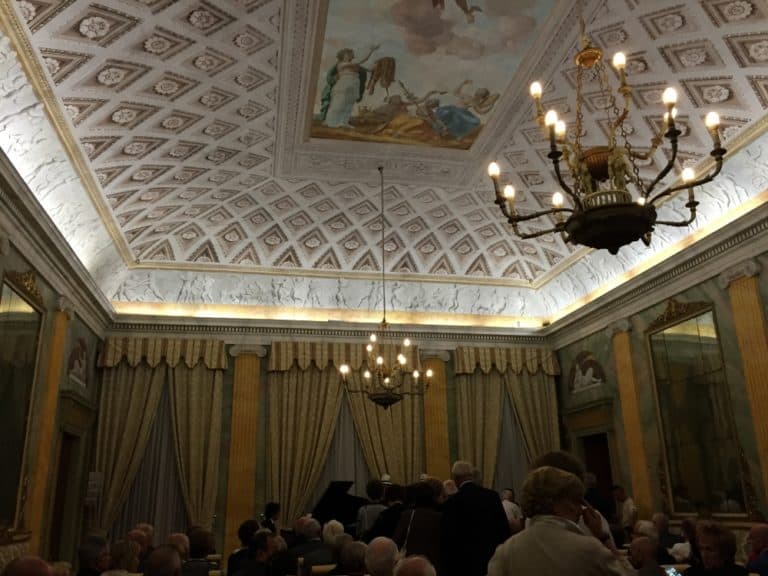 [ Sept.2015 ] We had a chance to visit an event to celebrate the golden and silver wedding anniversaries of the people in Cinisello Balsamo, which is in the suburbs of Milan.
The couples who have been married for 25 years and 50 years were invited and recognised by the mayor.
There is not only the serious ceremony but also some performances going on in the town hall and surrounding area.
This town started celebrating the long married couples in this way four years ago and each year they have a theme.
This year's theme was a film called The Great Beauty, which won an Oscar as the best foreign film.
People could listen to the film dialogues while they were looking around the venue.
I have not seen the film, so I could not tell the connections, but in some rooms of the town hall, which was a historical villa, they were showing some artwork.
In another room, there was a classical concert of female chorists.
A violinist and a Mexican music band were playing outside.
In the garden, there was a big screen and they were showing the old wedding photos of the couples who were celebrating their 25th or 50th anniversaries.
A comedian was doing a performance on the stage.
Italy is a Catholic country and they have to go through some complicated proceedings to divorce, so the divorce rate is much lower than in the UK or Japan, but it is getting higher.
I thought it is a lovely idea that the people of the town altogether praise the long time efforts of the couples.