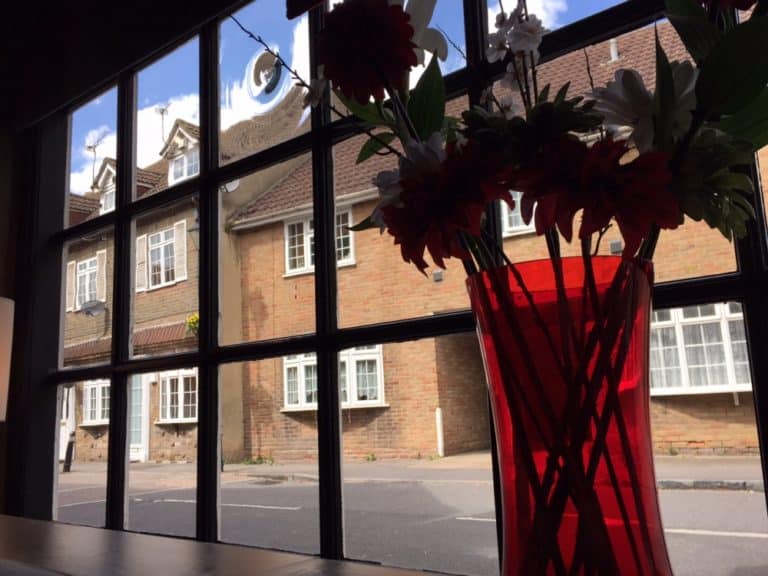 [ May, 2015 ] On the way back from Dartmoor, in the southwest of England, we stopped at a village called Colnbrook, near Heathrow Airport, before going back to London.
We had lunch in a  pub called "Ostrich" and the sign says "The third oldest inn in England".
Surely, the pillars and beams looked old and quaint.
The food was good.
But the most interesting thing was the stuffed ostrich upstairs.
It was in a big glass case and its eyes were shining eerily.
Intrigued, I looked at their website and found that the eerie thing is not only the stuffed ostrich, but its history, too.
The history goes back to 1106.
During the 17th century, the couple who owned the pub, the Jarmans, made a secretly devised trapdoor under the bed of their most expensive room.
This was just above their kitchen and at midnight, they opened this door so that the rich guest who was sleeping there fell down in to their cauldron of boiled water.
By this method, they killed as many as 60 people.
So here in this inn, lots of ghosts appear now and then.
There are some pretty houses in the village, but somehow, there was an atmosphere that it has seen better days.
It was probably a lovely English village in the past, but now aeroplanes fly low with overwhelmingly loud sounds one after another, so the house prices probably went down and the people changed, too.