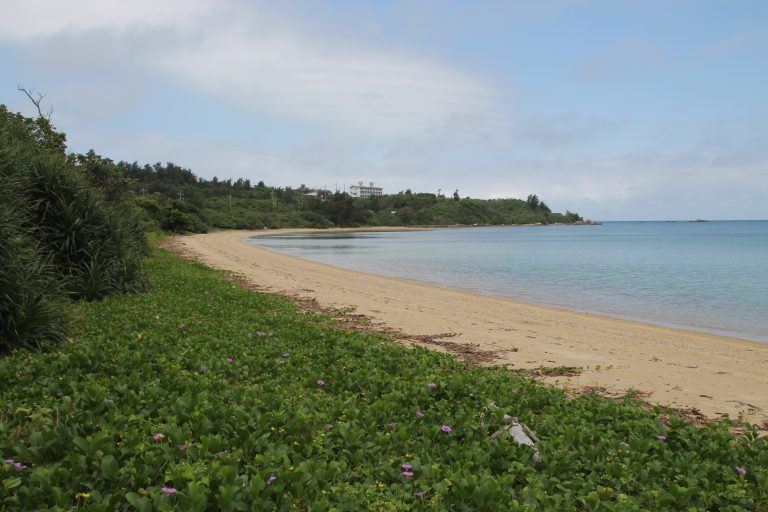 [ Apr.2017 ] On the 4th day on Ishigaki Island in Okinawa, Japan, we would have liked to swim in the sea again if the weather had been good, but unfortunately, it was cloudy.
We did not know what to do, but in the end we decided to take a sightseeing taxi.
The driver, Mr. Miyakawa took us around on the island for 5 hours.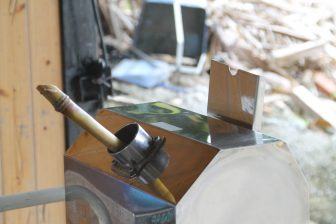 First, he asked us if we had ever drunk sugarcane juice and took us to a biscuit factory with a sugarcane juice machine.
The name of the place I think was Bussan Centre Ishigaki-jima.
A glass of juice cost 200 yen.
It was surely sweet, but tasted like a grass.
I did not know that sugarcane looks like bamboo.
We bought a box of biscuits called Chinsuko which is a traditional sweet in Okinawa for my family and then moved on to the next door where there was a Chinese Grave.
In the mid 19th century, Chinese labourers were sold to USA as slaves and they were treated very badly on the voyage back, so they rebelled against the Americans and killed them.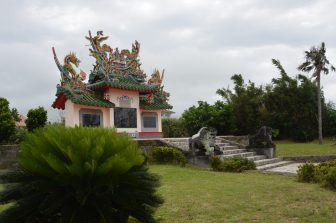 The boat was stranded near Ishigaki Island and many Chinese landed here.
But many of them were killed by Anglo American soldiers who tracked them down and others fell ill and died.
This site is the memorial for those Chinese people.
According to Mr. Miyakawa, the Americans wanted to use Chinese as slaves after liberating black slaves and British were trading them.
It is a horrible story.
In those days countries with the greatest military might held the balance of power in the world, but now, economic strength is everything, so both British and Americans have a great esteem for Chinese.
After that, we visited a salt factory whose name was "Ishigaki's Salt".
First, we went through a narrow path to get to a beautiful beach called Nakura Bay.
They take seawater about 15 km away from the land where the depth of the water is as deep as 220 metres.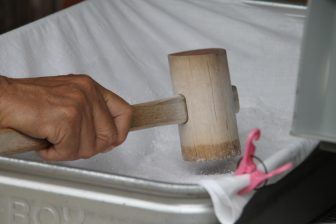 Then they divide the salt from the water into jars.
And they dry them by sunlight for 2 weeks to one month, crush them, remove the impurities and have some checks to make it a selling product.
The elderly man who explained this to us was in the process of crushing the grains.
Next to this factory, there was a facility called "Mineral Therapy, Salt Spa Bian".
We did not go in but I took a leaflet and according to this, this is the world first salt spa.
It might be interesting to experience it, if you have a time.