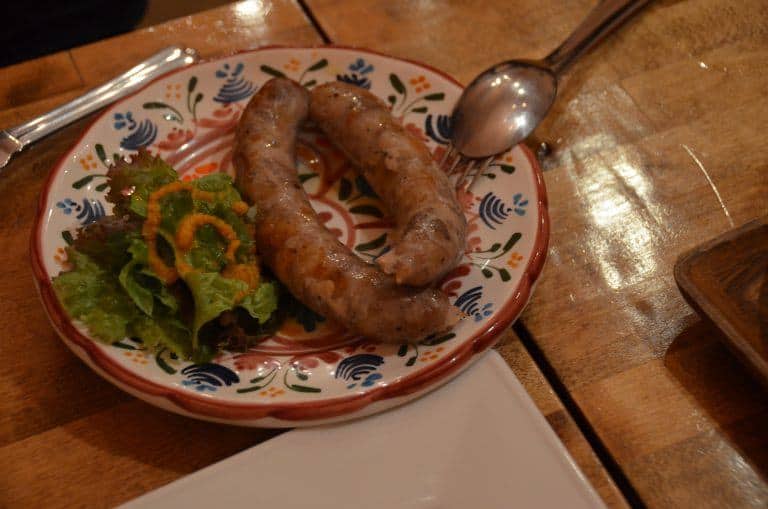 [ Apr.2017 ] While we were staying on Ishigaki Island in Okinwa, Japan, we went to two Italian restaurants.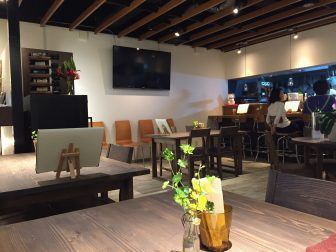 One was called Il Pozzo.
When we were walking on the back streets in the Ishigaki town, we were attracted to the sign saying that they served Bellini, so went in.
The interior had an urbanized sophisticated atmosphere.
That night we had two glasses of Bellini each and ate Bruschetta, stir-fried vegetable with geoduck clams and Porpettini.
For us who are used to the European portion, everything here was miniature, but all of them tasted very good and we could relax and enjoy.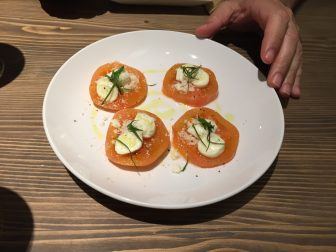 Because we liked it very much, we revisited there.
On the second night, the Bellini had pieces of mango in it.
We had a glass of red wine and some snacks such as Caprese.
Il Pozzo means a well.
I asked why, and apparently because the owner is Mr. Inoue (meaning 'on the well' literally).
"Also, because the well is historically the place where people gather" he explained.
He himself has not been to Italy, but his master was someone who studied cooking in Milan.
The second Italian restaurant was called Solemare where we went on the last evening of our stay.
We could not decide straight away where we should go for the last dinner, but in the end we chose this one which was advertised as the Italian which uses Island's food materials.
And it was a good choice.
Mr. Sato, the owner and the chef learned how to make pizzas in Naples and worked as the pizzaiolo (the one who makes pizzas) in Tokyo and then moved here to have his restaurant.
So he speaks Italian and English, too.
There was a young waiter, too who lived in Rome for 10 years and he spoke Italian with Roman accent.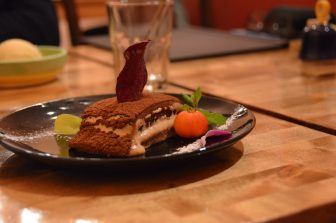 We chose the assorted starters of 7 styles of cooking which included Caprese and Zeppole and for the main, I chose sliced beef without any fat.
The sweet onion sauce was delicious.
My husband chose sausages (main photo) made from local pigs, which tasted very nice and rich.
The Tiramisu I had for the dessert, made with raw sugar was very good, too.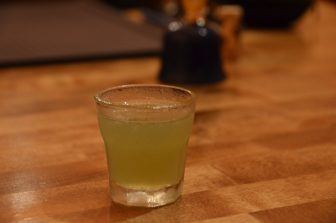 At the end we had a glass of Limoncello whose colour was green.
With a bottle of wine of Primitivo from Apulia in Italy, the bill was a little less than 13000 yen (about 88 pounds or 100 euros), which I thought was quite reasonable.
This restaurant might have been already well known among foreigners visiting the Island, because we heard the Italian language from another table.