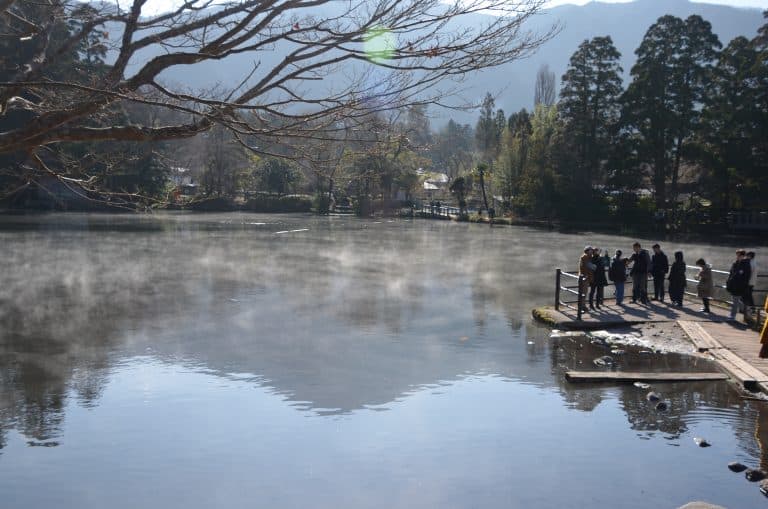 [ Dec.2019 ] We walked around Kinrinko Lake in Yufuin in Oita prefecture in Japan.
The steam was coming out of the water in this lake and that makes mysterious and beautiful scene.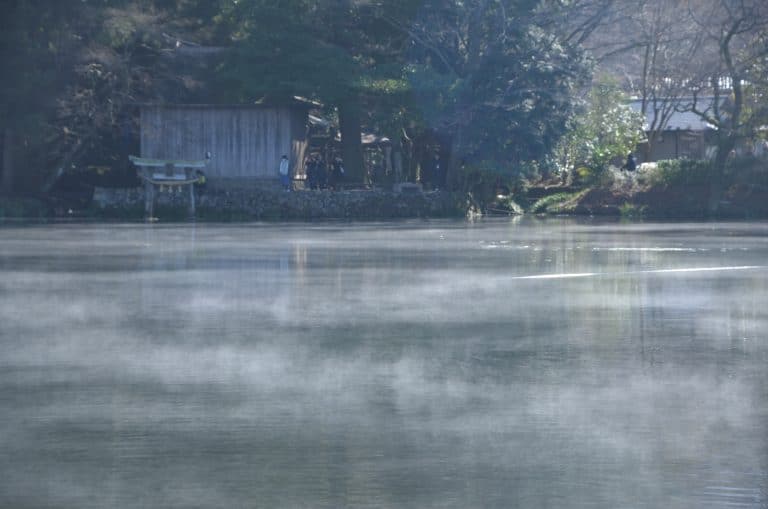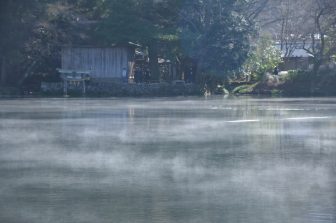 According to our rickshaw driver, because the hot spring water which is higher than 30 degrees centigrade is mixed with the cold spring water, the water temperature is high and that is why the steam is rising.
When he said "There are some tropical fish living here", I could not believe him, but later I saw the information board beside the lake explaining what sort of fish lives here and one of them was Guppy.
I did not know but the Guppy, a kind of tropical fish can be seen not only in Kinrinko Lake, but in some hot spring resorts in Japan, too.
Kinrinko is a lake, but in fact the circumference of this lake is only 350 metres or so, so it is more like a pond.
The deepest part is about 2 metres.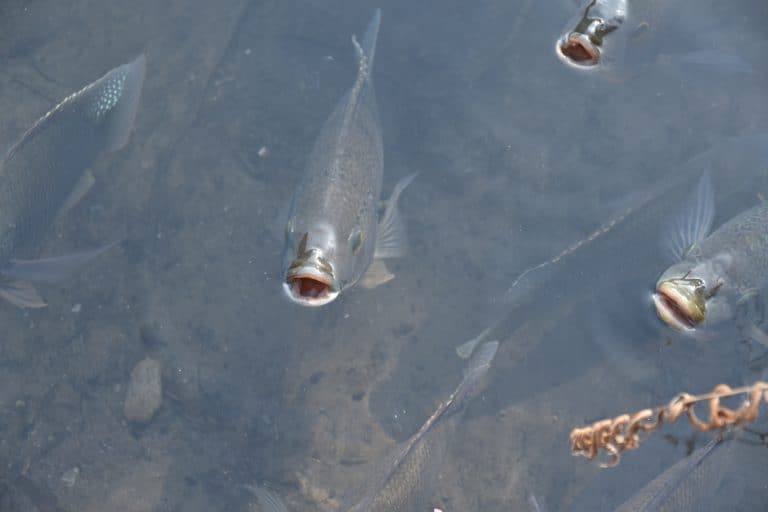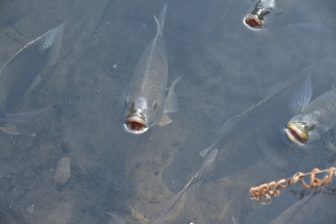 According to the information board, it used to be recognised as a pond and it was called "Take-n-Shita-n-Ike", meaning 'the pond at the foot of Mount Yufu'.
But in 1884, when Mouri Koosou, a Confucian scholar from the local Oita prefecture was enjoying the open air hot spring bath beside the pond, a fish jumped from the water and the evening sun shone its scales in gold colour.
So he named this pond, Kinrinko Lake which means 'gold scales lake'.
As Mr. Mouri had done, we saw many fish in the water, too.
And as many tourists were around the lake.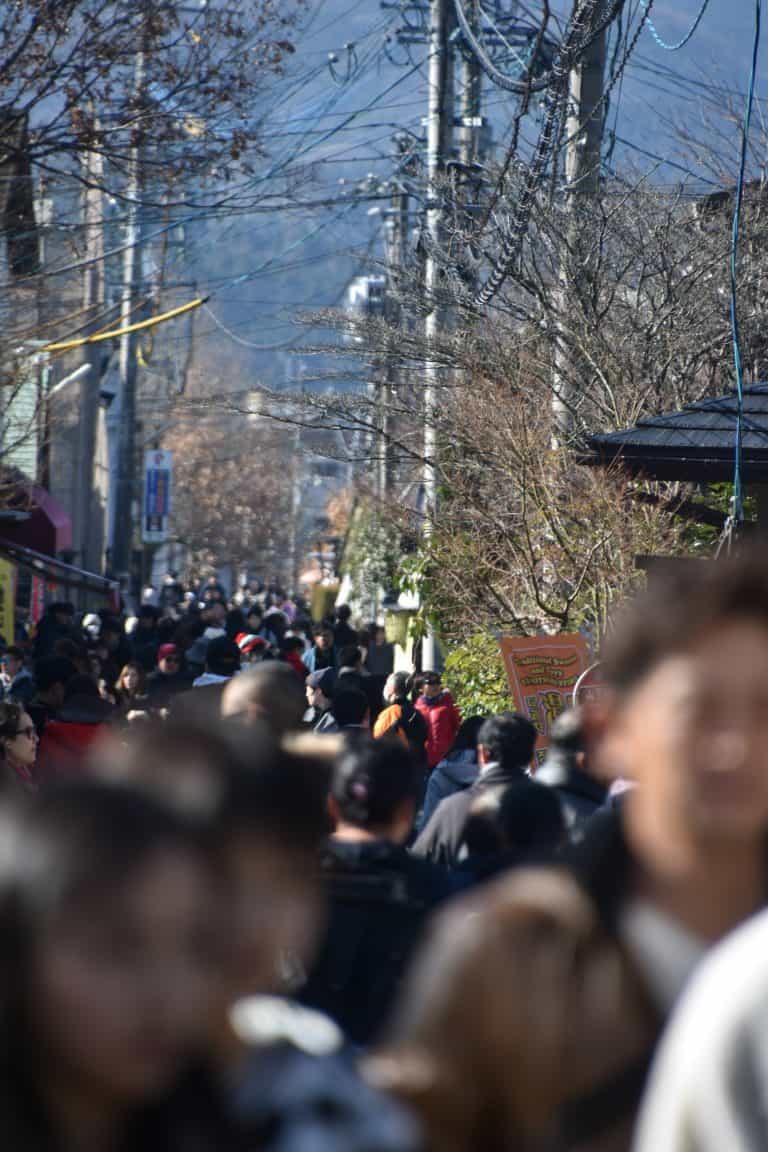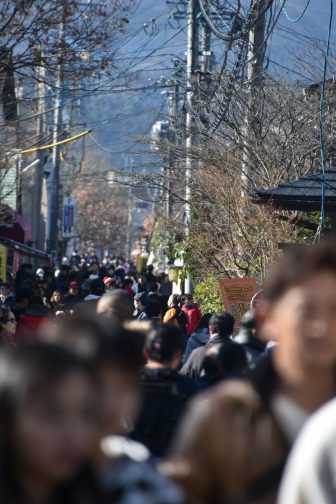 I wrote above that this lake has the mysterious beauty, but in fact to feel that, you have to ignore the tourists who are working hard on taking selfies.
I am not certain, but my impression was that more Chinese and Korean tourists than Japanese.
This was my second visit to this lake and the first time was decades ago.
In those days, this lake was really quiet and attractive with few people.
This time, after the lake we walked back to the station through the main street with many souvenir shops and cafes and this street was almost as busy as Ameyoko Market in Tokyo at year-end.
Compared with the time of my first visit, this was as if it were a completely different place.
The driver of the shuttle bus, run by our accommodation told us "Yufuin has become international, but the most of the foreign visitors are from Asia. They seem interested in Onsen (hot spring bath)".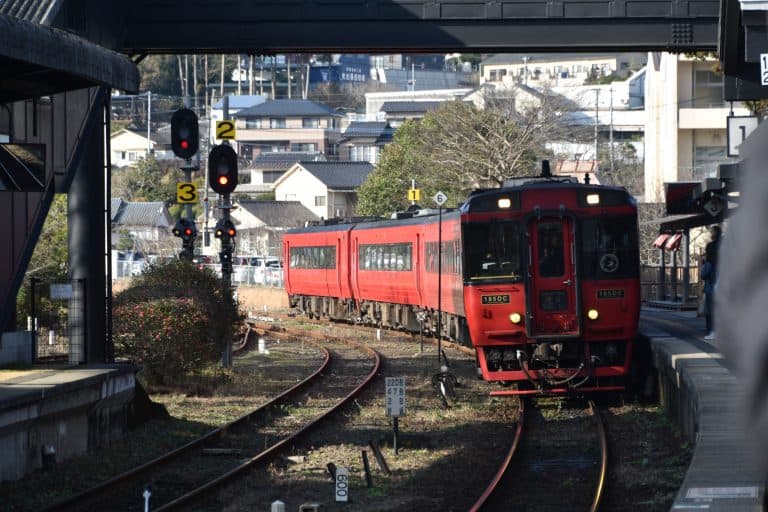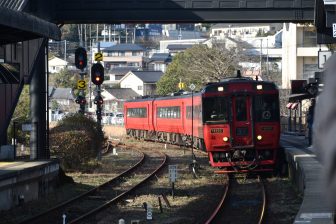 And he complained, "But they do not know how to have the Onsen bath properly. We put the notices on the walls to show how to do things in the bathrooms, but they do not follow them. We cannot get into the bathroom to teach them when they are totally naked, can we?"
Yufuin used to be a rustic hot-spring resort, but now it is an international tourist destination, which is good for the local people, but at the same time I could see that they are having some difficulties facing the cultural differences.
We had some time before taking the train, so had a rest having a cup of Amazake (sweet rice drink).
Then we headed for our next destination, Beppu by the red limited express train, "Yufu No.3".