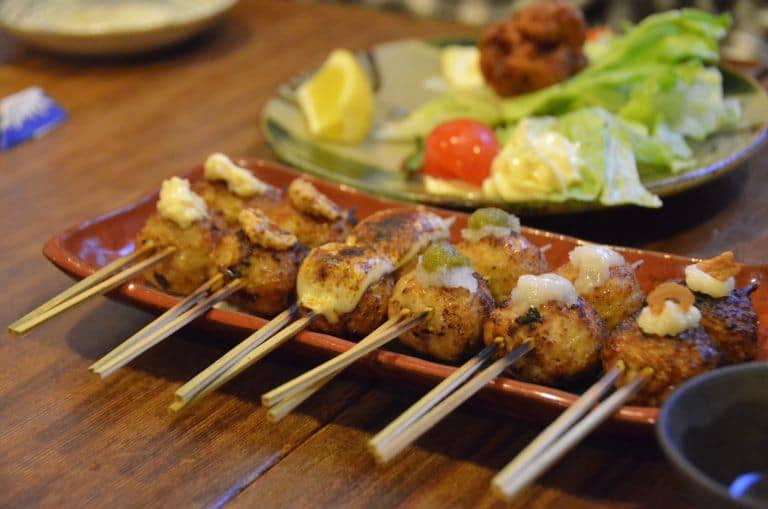 [ Apr.2017 ] After walking around in Asakusa with our friend who was born there, we took the bus called "Megurin" run by the ward to get to Yanaka.
We went to the pub restaurant there run by friends of our friend.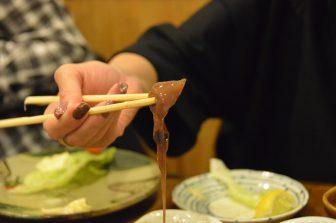 It is called "Hyoutan-Ike" owned by the couple and it is very small where probably only up to 15 people can sit at the tables and the counter.
Our friend who knows the menu very well chose the foods for us all.
The speciality is Tsukune – fish balls.
6 skewers were on a plate and each one had the different toppings which were all very good.
Then we had bonitos grilled with the straw burned cooker, bamboo shoots which were picked that morning, Saikyo-yaki (Kyoto style grilled fish), Sashimi with the soy sauce with the poultry liver, firefly squid, etc. etc.
They tasted perfect.
We drank Japanese sake with the foods, which was called Kubota, a famous one from Nagaoka City in Niigata.
So all were genuine Japanese dishes, but the customers who came in after us were foreigners.
We asked and found that they were a middle aged couple from Switzerland.
They traveled all over Japan over a period of one month and they spoke some Japanese.
Apparently their son is married to a Japanese woman and they are living in Japan and "Because our grandchildren speak only Japanese", they are studying Japanese.
That reminded me of someone else … it was an elderly woman we met in Poland.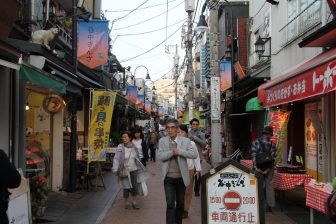 So, the meal was very satisfactory and the bill was very reasonable, which was 18000 yen (about 122 pounds, 137 euros or 162 US dollars) for four people.
I wonder if that was the special friend price…
Before the dinner, we had a short walk in Yanaka Ginza street.
This street is famous in Japan now because it has been used in films and TV dramas.
The length of the street is only about 170 metres and on both side there are many small retailers which are old fashioned like the ones I used to know when I was a child.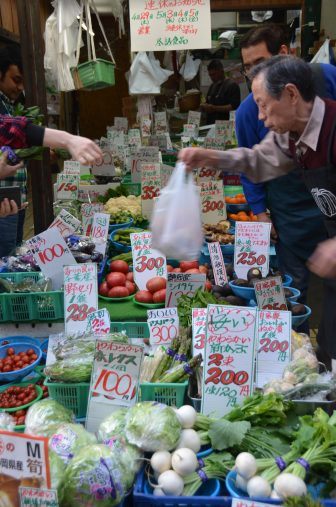 According to our friend, this place is famous for many cats, too.
At the end of the street, there was a staircase which is called "Yuuyake Dandan (Sunset Stairs)" and they say that the sunset you can see from the top of the stairs is lovely.
I looked on the website of Yanaka Ginza and it says that every time when they came under the threat of big supermarkets or convenient stores, the shops cooperated well to devise some events or campaigns such as special discount or summer festival to survive.
And the number of the visitors increased in the last 20 years by about 1.8 times.
I hope this place will remain as it is forever, not just as the temporary trendy place.