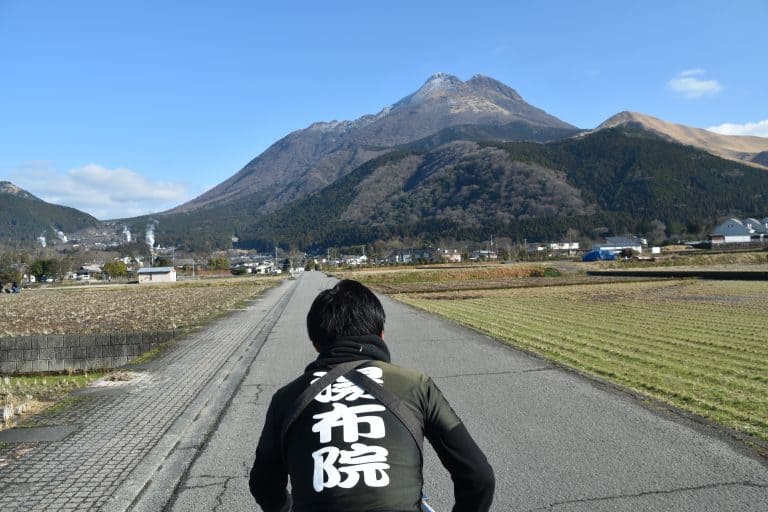 [ Dec.2019 ] It was another fine day on our second day in Yufuin, the hot spring resort in Oita prefecture in Kyushu in Japan.
The shuttle bus run by the accommodation took us to the railway station and we left our luggage in a coin-locker and started walking towards Kinrin-ko lake, the most popular tourist destination in Yufuin.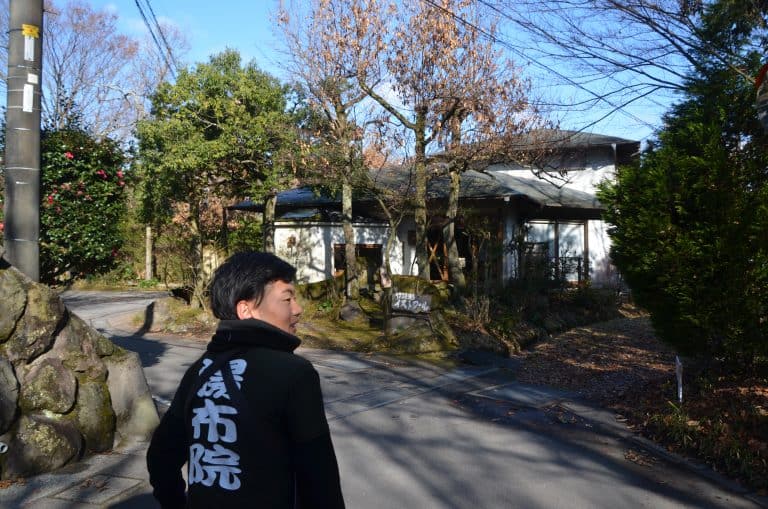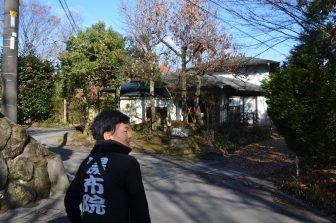 On the way, we were caught by a Rickshaw operator.
He recommended us for a ride so that we could visit the point where the view of the Mount Yufu is wonderful without so many tourists as well as a forest area.
We were intrigued and agreed with the half an hour ride for 9000 yen (£65, €75, $84), which was not cheap.
The rickshaw driver was a young and slim man, but he said that he was strong as he had trained in kickboxing in Thailand.
There was an apprentice driver who ran after us, too and he had lived in Italy for five years apparently.
The rickshaw drivers are unexpectedly international.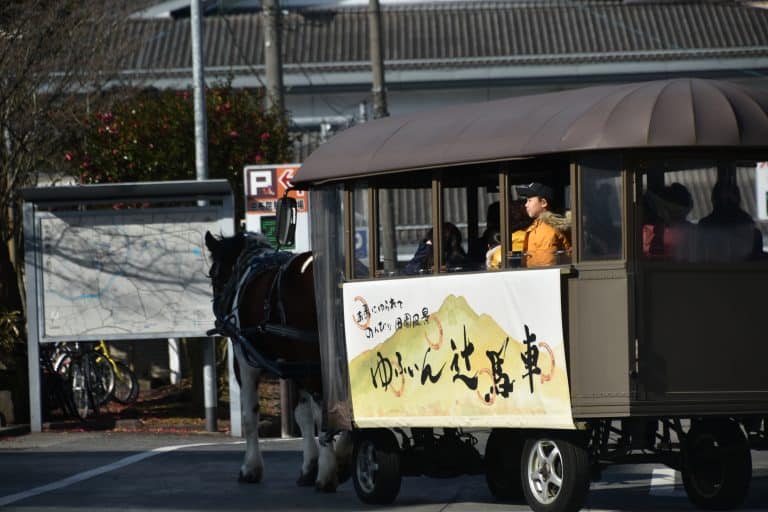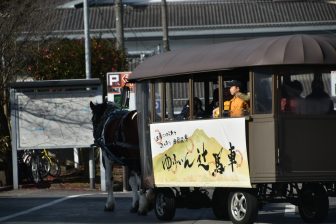 The good things about rickshaw ride is that not only it is comfortable with the good slow speed to look around the views, but also the driver gives us some information about the places.
According to him, Yufuin is a successful tourist destination now because it kept focusing on the individual tourists rather than big groups, without building many large hotels in the period of the bubble economy in Japan.
Also, an owner of one of the top three local Ryokans (Japanese style hotel) thought of running a carriage for tourists , so he studied about horses himself and succeeded to launch the service, which became famous all over Japan and that made the name of Yufuin well-known.
We saw the carriage afterwards.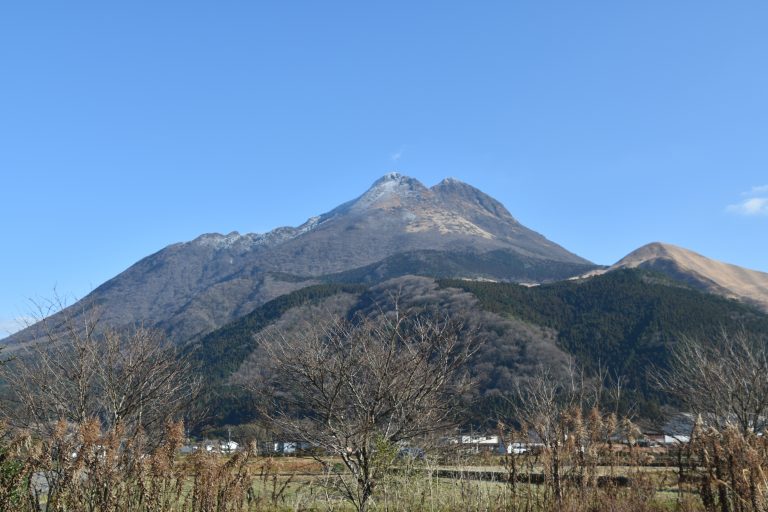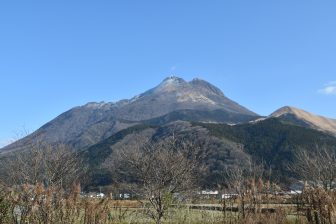 Now as many as 4 million tourists come to Yufuin every year, which means roughly 10000 a day.
And the number of the local residents is about 10000, too.
We arrived at the point where we could see the Mount Yufu very well in front of us and not many people were around.
Here he took a photo of us.
Apparently, they had buried the telegraph poles underground around here so that people can see the mountain better.
Mount Yufu is a volcano with the height of 1500 metres and it has been dormant for 2000 years.
We could see it very clearly.
He was saying "It is very rare that you can see the summit without any clouds".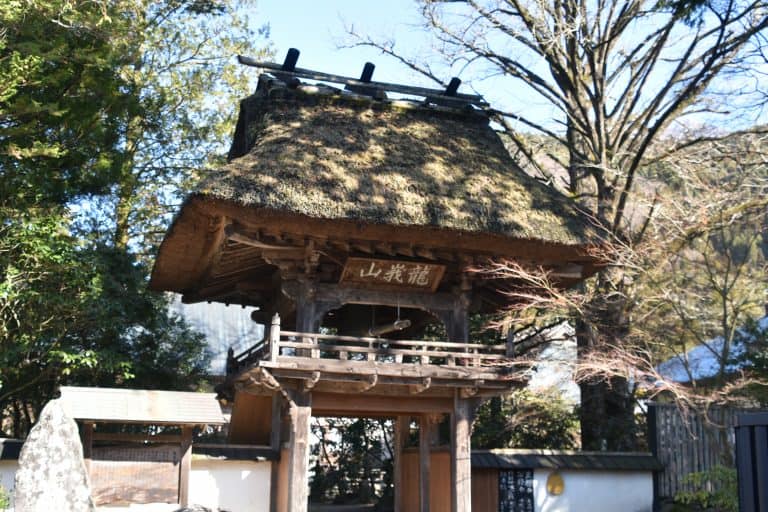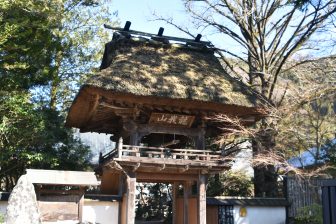 He took some photos of us not only here, but also at the place with the lovely long stone wall of a Ryokan and in front of a quaint temple gate.
The temple is called Bussanji.
Apparently, this temple used to be located on top of Mount Yufu, but it was destroyed by an earthquake 400 years ago and a statue of the Budda rolled down the mountain and stopped here.
"So they build the temple here" he said.
It is a temple of Rinzai school of Zen Buddhism and he told us "When they brought Rinzai Buddhism from China, they brought tea as well, so that during practicing Zen, people do not sleep".
So historically it has been known that tea has got a lot of caffeine then.
The half an hour passed very quickly and we got off the rickshaw beside the Kinrinko lake.
This rickshaw company was "Ebisu-ya", which is the largest in Japan operating in 11 places.
This was the third time for us to have a ride, the first was in Asakusa in Tokyo, the second was in Otaru in Hokkaido and I found out that all of them were operated by "Ebisu-ya".
The driver gave us a discount ticket which is valid for three years.
I wonder if we will have a chance to use it.