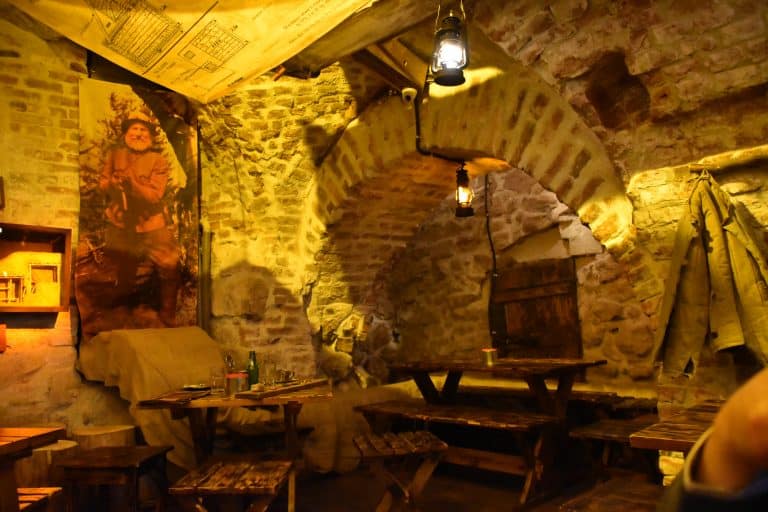 [ Sept.2018 ] The first restaurant we went to in Lviv in western Ukraine was very interesting.
First, it was very difficult to find it because it is inside a building that you would not imagine has a restaurant inside.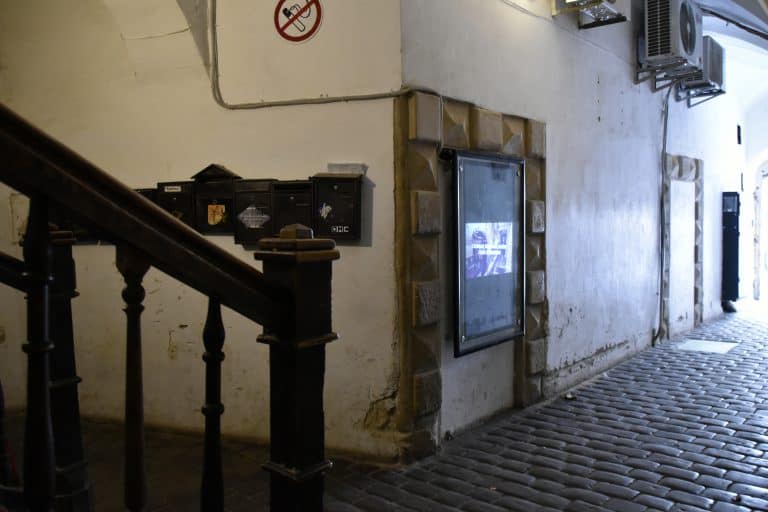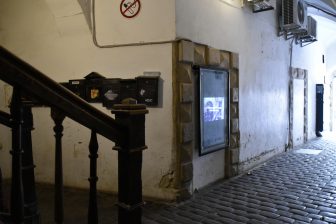 Even our local friend, Alina, got lost.
When you knock on the door, a window opens and you have to say the password.
Unless you say the correct word, the door would not open for you.
I think the password was something like "Glory to Ukraine" in Ukrainian.
The person who opened the door was wearing a shabby combat uniform.
The room we were in looked like a small room, but there was a shelf which was a door that led to the large dining area.
The interior was designed as a hiding place for partisans.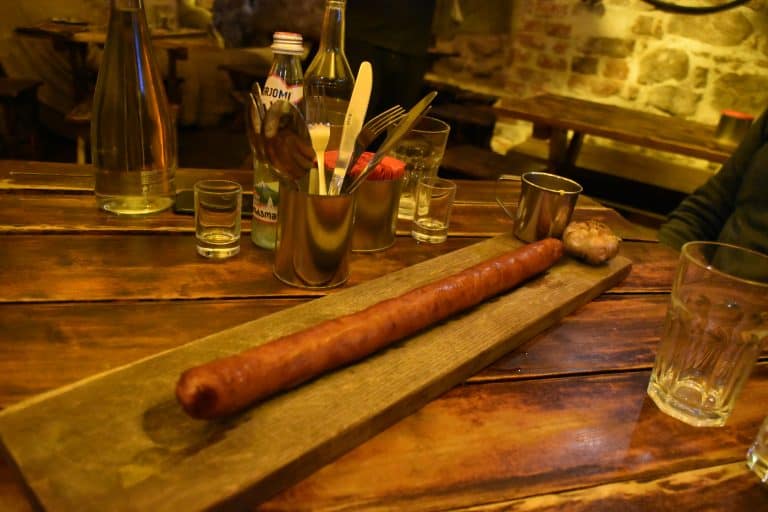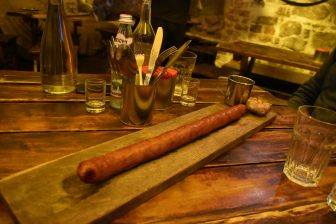 This restaurant seemed very popular and Alina was saying "It is bigger than before".
The food was served in aluminium containers, like camping pots.
So it was a great, fun place and the food was good, too.
W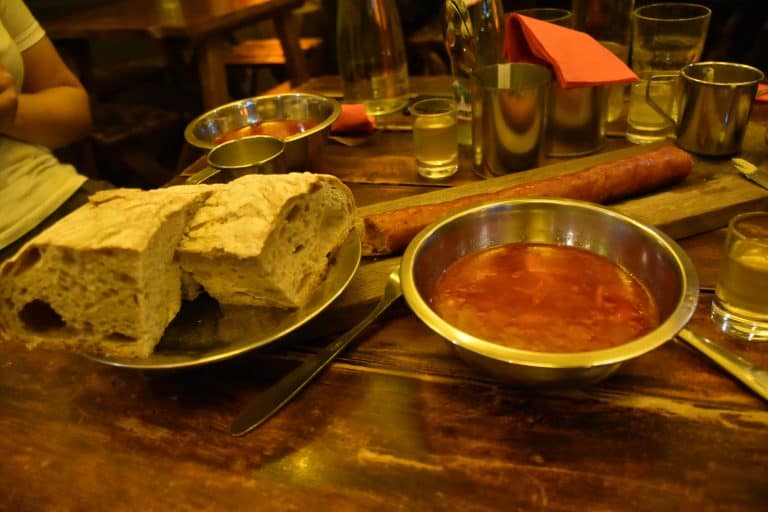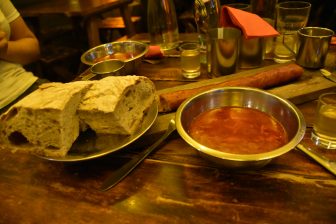 e particularly liked the long sausage, whose length was 50cm.
Also, the Borscht was good.
Alina told us, "We cannot do without soup in every meal in Ukraine".
After the meal, we had fun taking photos wearing the military uniforms and holding the toy guns.
According to their card, the name of the restaurant was "Kryivka" but the address was "somewhere around the Rynok Square".
After lunch, we had a rest at our hotel.
We stayed at Hotel Wien, conveniently located in the centre.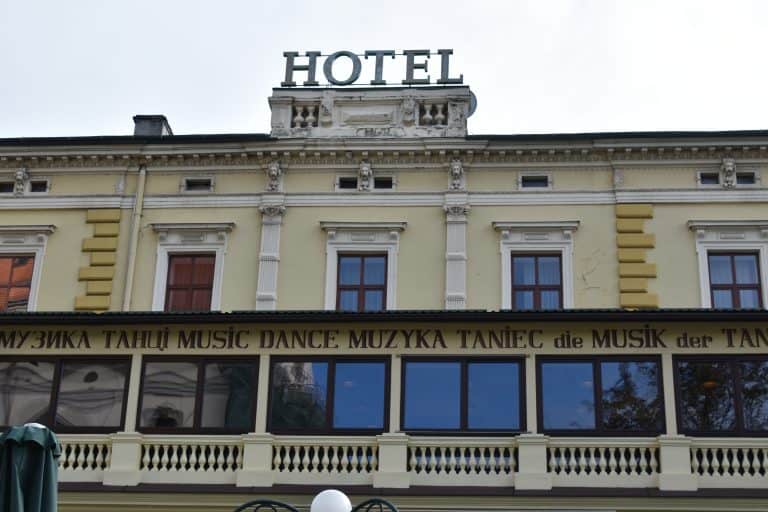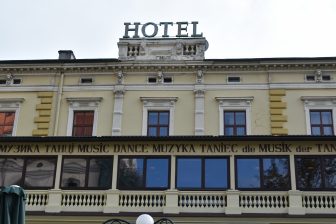 The receptionist was rather unfriendly, the type whom we sometimes come across in eastern Europe, but the doorkeeper downstairs was very kind.
At a glance, he looked sullen, but when we asked for the location of an ATM, he took us all the way to the nearest one.
He did not speak English, but we communicated by gestures and found that his name was Ivan.
He gave us the hotel card so that we did not get lost and for some reason he gave us some sweets, too.
At a kiosk just outside the hotel, we bought a toilet roll with the face of Putin, the Russian president, as a souvenir for my friend.
The relationship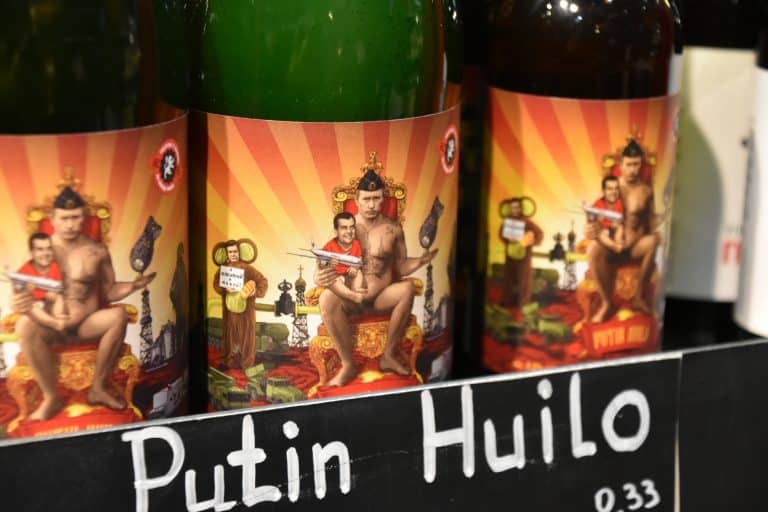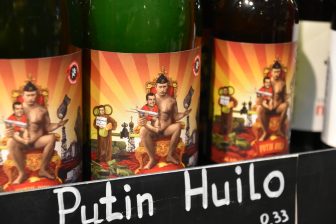 between Ukraine and Russia is not very good, especially after the 2014 Ukrainian revolution.
In the western part of Ukraine where Lviv is, Putin is apparently disliked more than everywhere else.
When we did the sightseeing tour in this town later, we visited a beer shop called "Pravda" and they were selling beers with a label which was making fun of him.
We looked at this shop briefly, but apparently they have their beer hall upstairs and people can watch the process of beer making there.